FONT
SHARE THIS
MORE STORIES
---
Imago-nation uncaged
Details

Jason Vondersmith
Famed Portland puppet theater turns its 'ZooZoo' loose on New York stage
Imago Theatre certainly has its niche in the entertainment world, which people recognize from coast to coast.
---
Imago recently sent its 'ZooZoo' play to the famed New Victory Theater. It was the third time the Portland company has been on the big stage in New York City.
The play's bounty of ornate animal masks and costumes and puppets set in an often physically humorous fantasy world amid colorful lights and circus-like music was a resounding success. Most of the shows at the New Victory were sold out.
'Every time we've been there we've been lucky with the reviews,' says Carol Triffle, who, along with Jerry Mouawad co-founded Imago in 1979 and co-created 'ZooZoo,' a hybrid production meshing the best of the company's other hits, 'Frogz' and 'Biglittlethings,' with some new pieces with rabbits and polar bears.
'Imago … wants you to use your imagination … (and) creates beings that want not just to look at you but also to meet you,' wrote Laurel Graeber of The New York Times. 'Whether you find this delightful or unsettling (or both) will depend partly on your age. … If your kids identify with Max in 'Where the Wild Things Are,' this is their show. … The inanimate springs to life; the animal gains human curiosity. Just watch.'
An NYtheater.com reviewer used words such as 'magic and spectacle … amazed and enchanted … thrilling … hysterical … a supremely theatrical spectacle … completely immersing … the most purely gratifying moments of theater I have seen.'
Some stops in the Northeast and California followed the two-week New Victory run, and 'ZooZoo' plays in Portland from Dec. 10 to Jan. 2, before the second leg of the national tour continues.
But, nothing boosts a theater company more than a successful run in New York, especially at the New Victory Theater at 42nd and Broadway.
'It's quite monumental,' Mouawad says. 'I don't think too many (local) theater companies, with a few exceptions, have had as much national prominence and plan shows in the middle of Manhattan.'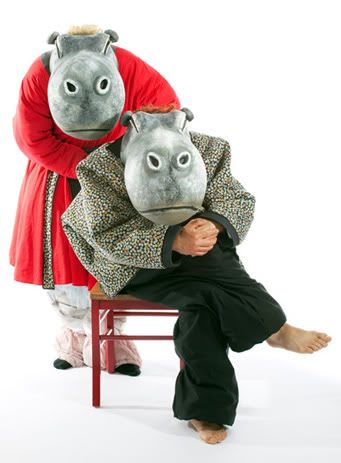 COURTESY OF FRITZ LIEDTKE • Defying classification, Imago Theatre introduces stage characters as diverse as insomniac hippos, comedic amphibians, mischievous penguins, and metamorphosing humans.
Imago also appeared at the New Victory in 2000 and 2002. Imago has benefited from a connection with New Victory's Mary Rose Lloyd, who books shows.
'We've been touring nationally since the mid-1980s, and she's known of us and our national reputation piques her interest,' Mouawad says. 'From 2002 to 2009, she kept coming to see our work. So, she decided to bring us back again.'
It isn't just talk to say Imago raises its game in New York, says actor Jonathan Godsey, who plays a part in the opening 'Bugeyes' scene, a frog, a polar bear, a rabbit, a 'windbag,' a penguin and a bit in the finishing ensemble.
'It is intense, the pressure is high, and you're probably in the most prestigious theater to play that style of family theater,' says Godsey, who has worked with Triffle and Mouawad since 1998. 'The bookings roll in after you play there. We get offers all the time.'
It's a different environment in New York.
'You're dealing with a lot of bureaucracy and hierarchy and unions, and the pressure of the press,' Triffle says. 'It's glamorous like no other place is, though. Everything there is more technical, and you have support in ways you could never afford to have here. It takes it up another notch.'
One false move
Imago certainly has its niche, and Mouawad and Triffle have not wanted to mess with success through their productions of 'Frogz,' 'Biglittlethings' and now 'ZooZoo.' More than 30 years of such productions have been made and toured throughout the U.S. and other countries.
Mouawad says his inspiration for such theater came at an early age, 20 or 21, when he watched a man with a mask perform, putting the thing on backwards and distorting his body. 'I went into another world,' he says. 'I was very excited about making something that is very simple that you could put on the human form, yet take the audience on some journey that wouldn't be possible any other way.
'It's like going to the zoo and circus at the same time. … It's very, very fun. That's one reason it's a big hit nationally. It appeals to a large age range, four years and up, and crosses cultural and intellectual boundaries.'
'ZooZoo' is a series of vignettes, with illusion and transformation and all performed without language, only the music of resident composer Katie Griesar's score and sound effects.
TRIBUNE PHOTO: CHRISTOPHER ONSTOTT • Actor Joseph Lymous climbs into his large polar bear costume to practice scenes from the theater show "ZooZoo," which will be performed in Portland Dec. 10 to Jan. 2 before it goes out on the second leg of a national tour.
It goes like this: 'Bugeyes,' or eyes that look like fireflies catching a boy and putting him into a jar, where he's transformed into a bird; hippos that have terrible bouts of insomnia; anteaters that are hungry in a restaurant; frogs with inferiority complexes; polar bears depicted in the circus and wild; rabbits that get caught up in traffic; an abstract creature that looks like a worm doing acrobatics; giant and tiny accordions that are called 'windbags'; penguins in the Arctic playing musical chairs; giant bags that come to life; and the ensemble, featuring performers in the show who appear as super heroes and then unmask themselves.
There are about 25 characters in all, with five or six people performing them.
'Every one of them is challenging in their own way,' says Godsey, 40, who attended Cleveland High (Class of 1988). ' 'Windbags' is difficult, because you're inside the costume, like a giant slinky, and it doesn't have a face so it's difficult to convey any kind of emotion, and you're not on your feet walking as a human.
'In regular acting, you have other devices to fall back on to kinda cheat your way through a performance. In this theater, you have to be 110 percent on your game 110 percent of the time. One false move, even a finger moving the way it shouldn't be bent, it distracts from the character.'
Some new guys
Triffle designs most of the costumes, Mouawad will come up with ideas for masks. Mark Forrest, who has worked with Portland puppet designer Michael Curry, does some construction and maintenance of masks and costumes. Masks are made of foam.
'Often, Jerry will sculpt a clay, life-size model and we pattern graft the foam of the head,' he says. 'Going from flat foam to three-dimensional head can be challenging.'
Imago's productions will only continue to evolve, Triffle says.
'People really want to see it,' she says. 'It's fun to do. It's tough to find the right creatures or right (humanized, humorous) situations to put them in, but with the transformation in the characters, there's a lot of comedy in it. We have some ideas for some new guys to come in.'