Steppin' out on the town
Portland's popular Walking Tour gives outsiders a peek at city's inner workings
On a gray November morning, a cluster of people stand on a street corner in the Pearl District, laughing and hesitating as they stretch hairnets over their heads.
This is a Portland Walking Tour - a group of eight good sports and one effervescent guide, getting ready to file into the back of Pearl Bakery for a behind-the-scenes baguette tasting.
Since 2001, Portland Walking Tours has shown tourists around and is becoming increasingly influential as a lens through which outsiders see Portland. The tours are ranked No. 1 on Tripadvisor's list of Portland activities, and the company has tripled in size since 2006. More than 20,000 people total have gone on the tours, according to Gary Corbin, whose official title with the company is Royal Storyteller.
Tourists learn about Portland's sordid past on the company's Underground Portland tour (rated PG-13) and they look for ghosts in the tunnels of Old Town on the Beyond Bizarre tour. On the sunnier side, the Best of Portland tour explores the city's history, public art and culture, while the Epicurean Excursion and the new, extremely popular Chocolate Decadence tour highlight the city's food scene. Adult ticket prices range from $19 to $59.
The company runs multiple tours daily in the summer and on a more limited schedule in the winter. The Epicurean Excursion departs from the Heathman Hotel twice a day, with the morning and afternoon trips offering different tastes of the town.
Tour guide Joe Streckert says that if they didn't have a 'rain or shine' policy, too many walks would have to be canceled. The tours demand some of the same intrepidness that's required to live in Portland year-round. On this particular chilly morning, a group of Canadians, Californians and southerners are all ready and willing, and all wearing sensible shoes.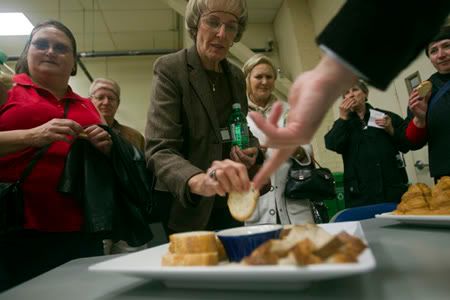 TRIBUNE PHOTO: CHRISTOPHER ONSTOTT • Hairnets are required for a behind-the-scenes bread sampling at Pearl Bakery, part of Portland Walking Tour's Epicurean Excursion.
From cocoa to soup to pizza to wine, no one turns anything down. Streckert, one of about 30 guides employed by the company, bounds through the city. He points out culinary destinations like the site of the Wednesday farmers market as well as other points of interest: the Benson bubblers, Powell's Books, the high-rise where Gus Van Sant lives.
He keeps the tone light, allows plenty of openings for questions and comments, and doesn't shy away from an occasional joke at the city's expense. The whole thing comes off as genuine, not rah-rah promotional.
Winery tour
While the walking tours are meant as introductions to the city, there's no reason a resident couldn't enjoy them. You may already know where Courier Coffee Roasters and Cool Moon Ice Cream are, but it's not every day that you get a talk and Q and A from a roaster or an ice cream maker.
The guests on today's tour are mostly women. In fact, there's only one man, part of a family group that is celebrating the grandmother's 80th birthday. They've come from Southern California, stopping in Portland on the way to their ultimate goal, the Heceta Head Lighthouse.
Another guest, Christin Doeinghaus, on vacation from Vancouver, B.C., did the Best of Portland tour the day before. Marlene Johnson, also from Vancouver, B.C., plans to return to In Good Taste, where wine and condiments were sampled, to take a cooking class. Her husband is in Portland on business, and she's come along to learn more about the city, as she also did on a recent trip to New Orleans.
Robin de la Llama of Atlanta and Janet Fleegal of Memphis are friends and business associates who spend a lot of time in Portland for work. They're staying at the Embassy Suites and learned about the tour from the hotel.
'We're foodies,' says Fleegal, and they like to delve into the local cuisine wherever they go. They're planning a Willamette Valley wine tour for the weekend. Their favorites on the Epicurean Excursion included truffle salt and pinot noir - they joke that a refill on the wine wouldn't have been amiss.
Falling in love
Portland Walking Tours was founded by an outsider. David Schargel came to Portland in the 1990s, choosing the city for its quality of life after leaving a career in the high-tech industry. He became a concierge at the Portland Hilton, where he saw a need for something like the tour programs that he eventually began organizing.
His business has grown and now also offers privately arranged tours and team-building games from sister company Run Brain Run.
Schargel has tapped into a trend that is still growing. Despite a dip that coincides with the recession, travel spending in Portland remains higher than it was 10 years ago. Meanwhile, the national press - especially the food media - have fallen in love with Portland.
As culinary tourists, eco-tourists and others come to town, Portland Walking Tours is poised to keep pace with them every step of the way.
This email address is being protected from spambots. You need JavaScript enabled to view it.