Portland Tribune photographers look back at an eventful year in features
---
LEAD PHOTO:
Nov. 7: Fans of the Ducks have loved their team through good times and bad, and the team rewarded them with an unbeaten regular season and No. 1 ranking in polls.
Since then: Oregon (12-0) plays Auburn (13-0) for the Bowl Championship Series national title Jan. 10 at Glendale, Ariz.
---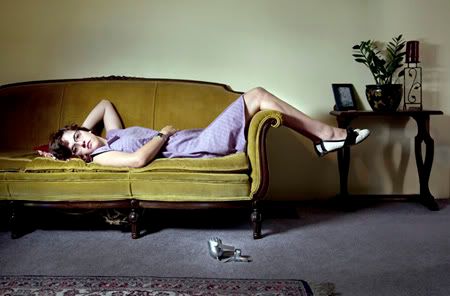 TRIBUNE PHOTO: CHRISTOPHER ONSTOTT
Aug. 5: Sallie Ford takes a moment from jamming with The Sound Outside to stare into her future and contemplate life without a day job.
Since then: One of the hardest working women in the music biz plays with The Sound Outside, Friday, Dec. 31, at Doug Fir Lounge (info: 503-231-9663); catch her locally year-round.
---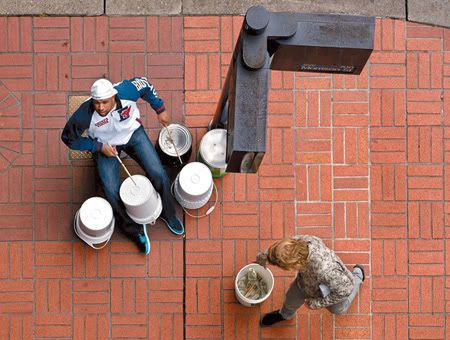 TRIBUNE PHOTO: L.E. BASKOW
May 27: Portland resident Thomas Brown picked up bucket drums about seven years ago, and his street playing the past two years has helped support his family while he has worked to be a licensed plumber. He appeared in "Cirque Dreams Illumination" at the Keller Auditorium after winning an audition.
Since then: Brown still beats the buckets on the streets, and he has landed gigs at Nike and elsewhere while also working toward his career as a plumber.
---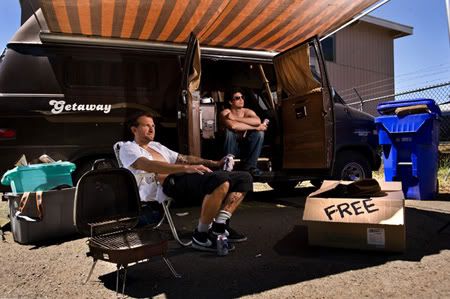 TRIBUNE PHOTO: JEFFREY BASINGER
July 22: Drew Hicks (left) and Jon Meyer, co-creators of the Web series 'The Free Box,' relax in the shade of Meyer's residence - a van parked behind Brick's Barber in Southwest Portland.
Since then: The fellows of "The Free Box" still churn out their low-budget, 10-minute (or shorter) "webisodes," which can be seen at youtube.com/user/thefreeboxshow.
---
TRIBUNE PHOTO: L.E. BASKOW
Feb. 25: Employee David Lytle gets a lick while playing with Chihuahua Dazo in his cage at Oregon Humane Society. Lots of Chihuahuas have been shipped from California because of overpopulation.
Since then: The Oregon Humane Society eclipsed its goal of 10,000 adopted pets 2010, scores of them the cute little Chihuahuas, but the strays and rescued still arrive every week (OHS info: 1067 N.E. Columbia Blvd., 503-285-7722).
---
TRIBUNE PHOTO: CHRISTOPHER ONSTOTT
Aug. 26: Paraplegic cycling coach John Benenate, a former bicycle racer and U.S. Air Force avionics technician, uses cycling as a catalyst for reaching at-risk youth.
Since then: Winner of the Oprah Use Your Life Award, Benenate continues to teach young people about bicycling, mostly at the Alpenrose Velodrome.
---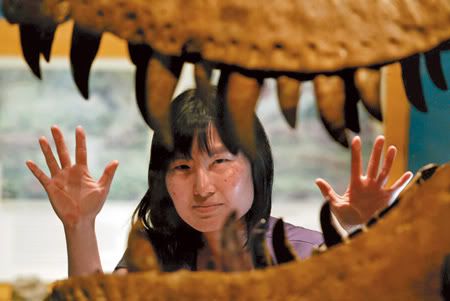 TRIBUNE PHOTO: L.E. BASKOW
Jan. 21: OMSI's Sue Wu, senior educator in science education, gets up close and personal with the mouth of the museum's new exhibit, a T. rex called Samson.
Since then: Thousands of people visited OMSI for the Samson exhibit, which stayed in Portland for several months, giving them a fantastic and educational view of ancient history.
---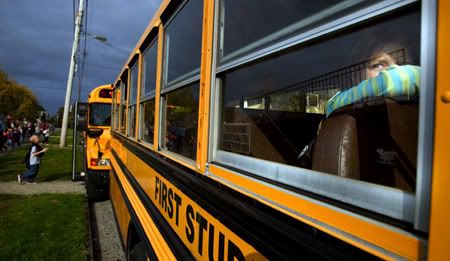 TRIBUNE PHOTO: CHRISTOPHER ONSTOTT
Oct. 21: Marysville School second grader Darbi Rush sits aboard a school bus to go home in late October. A year after a fire destroyed the outer Southeast Portland school, the Marysville community made a new home at Rose City Park, in Northeast Portland.
Since then: If voters approve the school bond measure in May 2011, Marysville is first on the list to be rebuilt at its original site.