FONT
SHARE THIS
MORE STORIES
---
Graduating into life
Harsh Union Gospel program leads lucky few out of despair
The Union Gospel Mission held its LifeChange graduation ceremony two Sundays ago at a hall packed to overflowing in Northeast Portland. The size of the crowd was remarkable in itself - since the graduating class consisted of only two men, and a few years ago neither one of them would have been able to scratch together more than a handful of people willing to come see them do anything.
---
The Gospel Mission both feeds and ministers to the homeless in Old Town, and it does so with a heavy dose of traditional Christianity. That means there were plenty of 'Praise Gods' and 'A-mens' shouted about, and more than a few moments given over to mention of pain, sorrow and missed chances, which is a bit unusual for a graduation ceremony. But then, the lives that graduates Alvin Taylor and Dan Torgerson have been living the past four years are more than a bit unusual.
Union Gospel's LifeChange program requires a total adherence to principles and rules that few would choose to engage and even fewer could tolerate.
For the past four years, Taylor and Torgerson have sworn off just about anything material they would have once called their own. For the first year, they went without any money of their own and without possessions. Not even the clothes that they wore each day were their own - they could dress only in what the mission supplied.
They were not able to maintain contact with friends outside the LifeChange program. Their days and nights have been spent almost exclusively studying scripture, working on their own recovery from alcohol abuse, helping maintain the LifeChange dormitory and thrift store, and feeding men and women living on the streets who line up along Northwest Third Avenue, day and night.
In their second through fourth years at LifeChange, the restrictions loosened up a bit for Taylor and Torgerson. But not much.
The austerity of the LifeChange program is reflected in its completion rate. Since LifeChange became a four-year residential program in 1995, 48 men and women have graduated. That represents less than 8 percent of those who entered the program.
If the Union Gospel Mission drives a hard bargain with its LifeChange participants, it does so knowing it also offers something pretty substantial - salvation.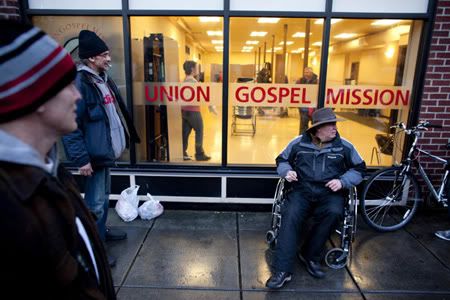 TRIBUNE PHOTO: CHRISTOPHER ONSTOTT • Men and women living on the streets line up at dawn along Northwest Third Avenue outside the Union Gospel Mission, waiting for breakfast. The Christian mission is dedicated to feeding the hungry and helping addicts through recovery.
A bargain with God
Four years ago, Taylor was a man in constant motion, moving back and forth between Los Angeles and Portland, running from a pattern of destructive relationships with women and reliance on alcohol, with occasional side trips using and selling crack cocaine. What he was unknowingly seeking out, Taylor says, was turmoil.
'If it wasn't going on, I was looking for it,' Taylor says.
Throughout, he had jobs and money, a career as a computer technician and the moxie to be able to hide his increasingly desperate drinking from bosses. He recalls binges lasting months at a time in 2005, the same year he won an employee-of-the-year award.
That year, Taylor was also jailed on a domestic violence charge he insists was bogus, but that carried a five-year prison sentence. In jail awaiting trial, he says, he got down on his knees and offered God a bargain - he would change his life if he could be spared going to prison. The charges were reduced, and he spent the day after his release drinking in a bar.
Later that same day, Taylor was walking through Old Town and saw the Union Gospel Mission sign. He inquired about the LifeChange program and was told a spot might open up in two or three days. He had money in his pocket that could have been spent on a hotel room, but Taylor says he spent the next two nights sleeping on the sidewalk outside the mission, waiting for word that he could enter the LifeChange program. And the money in his pocket he used for drink, even as he waited to change his life.
TRIBUNE PHOTO: CHRISTOPHER ONSTOTT • Alvin Taylor wakes before dawn to prepare food with other staff members at Union Gospel Mission (above), then greets many hungry men and women who line up around the block for a morning breakfast of eggs, biscuits and gravy (below). Taylor hopes to start a new career as a minister after completing the LifeChange program.
Trying to reconnect
Four years ago, Torgerson was 44 years old, at the tail end of 30 years of alcohol abuse. He says he started drinking at 14.
He was living in a motor home, estranged from his family, shifting from job to job - sometimes a roofer, sometimes a security guard, always an alcoholic. Alone in his motor home one night, he prayed for guidance and saw the Union Gospel Mission name on a list of diversion programs he could enter, mandated as part of a plea agreement following an arrest for driving under the influence. He entered LifeChange not sure it could really make a difference in his life. Four years later, Torgerson says he has learned that he was living in the grip of an anger that grew in him since seeing his four older siblings victimized by an abusive father.
This week Taylor and Torgerson, newly graduated, can claim to be clean and sober and are free to get on with their lives as they wish. Ironically, or maybe not so much so, both say they intend to stay on at the Union Gospel Mission, living in their old quarters in Old Town, among their friends, for an extra year.
For LifeChange graduates, that has become the increasingly popular choice, says Bill Russell, Union Gospel's executive director. The voluntary fifth year gives graduates a cushion of support as they search for apartments and jobs and pay off old debts. LifeChange participants enter the program with an average of $13,000 in debt, which reappears as they re-enter normal workaday lives.
Taylor says he is planning to continue to reconnect with his family. After years of estrangement, two years ago he began looking for his son on the Internet. And every Sunday for the past year, he's been on the Union Gospel telephone, talking with that 26-year-old son. Among the family members who traveled up from Los Angeles for the graduation ceremony was Taylor's 1-year-old grandson.
Taylor is also contacting local churches in hopes of finding an apprentice position and starting a new career as a minister. Everybody present at graduation day can attest that he has the makings of a firebrand of a preacher.
Freedom not as important
Torgerson had a brother and sisters, a son and a daughter at his graduation. He is also starting a job search. He'd like to go back to operating a forklift, or try out some business position after all the experience he's gained as a manager at Union Gospel Mission.
The Union Gospel program may appear to many to be out of step, an anachronism in a 21st century that honors personal freedoms. For most, it would be intolerable. Executive Director Russell says for the men and women in LifeChange, freedom has to take a back seat.
'You need to understand that choices are distracting for a person who needs to focus on the root causes of their substance abuse,' Russell says.
Taylor and Torgerson say they aren't apprehensive about confronting a life without the structure and support they have known for four years. Taylor says there is security in knowing he can always come back to the community of people who nurtured him at Union Gospel Mission.
Everybody takes something different from their graduation day. For some, it's the end of a journey, for others a personal statement of perseverance. Certainly for Taylor and Torgerson, considering the spartan regimen of their last four years, a sense of achievement is understandable. For longtime alcoholics, however, there can be an added twist.
'This is one thing I've completed and I remember it,' Taylor says. 'I don't remember my high school graduation. I was always drinking.'