FONT
SHARE THIS
MORE STORIES
---
Kelowna downs Winterhawks 5-1
Details

Jason Vondersmith
The Portland Winterhawks got smacked in the mouth, literally and figuratively, in their first game with the Kelowna Rockets.
---
Shane McColgan had a natural hat trick, and Portland wasted 46 shots on net, took bad penalties and made some defensive and goaltending mistakes Thursday night at the Rose Garden. The result was a 5-1 Kelowna win, as the Rockets stole home-ice advantage in the best-of-seven, second-round Western Hockey League playoff series.
"I thought we did a lot of good things, actually," Portland coach Mike Johnston said. "I know you can look at the scoreboard and wonder what happened. We handed them three goals ... and that's unusual for that to happen. Those mistakes we have to correct."
(ABOVE PHOTO: Portland's Nino Niederreiter splits two Kelowna defenders.)
Goalie Mac Carruth made two mistakes leading to goals.
An uptick in competition and intensity was definitely palpable, as Brad Ross received a five-minute charging major and a game misconduct amid Portland's flurry of first-period penalties.
Troy Rutkowski took a stick to the chin while falling down after scoring Portland's lone goal, and Brendan Leipsic suffered a fat lip courtesy of Zak Stebner's high stick, and when referees failed to stop play for injury or penalty, the Rockets seized the momentum and scored the game's pivotal goal late in the second period to go ahead 3-1.
Kelowna added two third-period goals to seal the victory.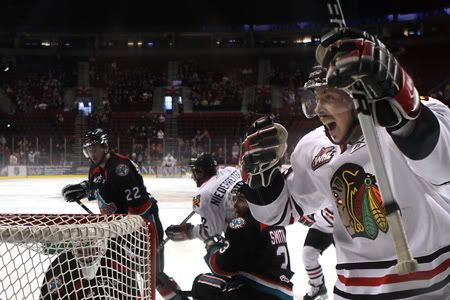 (ABOVE PHOTO: Ryan Johansen (right) cheers after Troy Rutkowski's score for the Winterhawks.)
Goalie Adam Brown stopped 45 of 46 shots as Portland outshot the visitors 46-36. The Hawks ripped off 21 shots in a terrific second period, but they couldn't score.
"Kelowna's a really strong team and played a great game," Hawks center Ryan Johansen said. "We knew they'd be prepared in the first game. Brown played strong. We'll be better next time."
Game 2 will be at 5 p.m. Sunday in the Rose Garden.
"We expected early on we needed goaltending to keep us in the game, and (Brown) did that," Kelowna coach Ryan Huska said. "They're a team that has a lot of offense. We're going to give up some opportunities, but we have to find a way to be opportunistic with our chances. Tonight we did that. The third period was probably our best period."
Stebner opened the scoring on the power play. Rutkowski tied the game on a diving shot, and then took a stick to the chin. No penalty called.
"I was falling down as I was going in, tough angle for the refs to see," he said. "I don't blame them if they don't see it."
Johnston was disappointed with the first-period penalties, although the Hawks killed Ross' major. The Hawks will have to wait and see whether Ross will be suspended.
Huska said that forward Zach Franko, who Ross hit after exiting the penalty box, would likely miss Game 2. Huska wouldn't disclose the injury.
McColgan scored at 15;45 of the period, when the Portland defensemen committed to an offensive play, and McColgan took the puck in the neutral zone and beat Carruth, who had ventured far out of the net to challenge him.
Then came the second period, which was highlighted by Leipsic taking a stick to the lip from Stebner.
"He's bleeding on the ice, and you have two things you can do," Johnston said, of the officials. "Blow the whistle because the player's injured or you can call a penalty. Either one of them I would have accepted. Leipsic's laying in the corner, and we're playing 4-on-3, he's trying to get off the ice and he's bleeding, uh, if they felt it wasn't a penalty, it was an injury."
Said Leipsic: "It's obviously frustrating when calls don't go your way after it's pretty blatant. Refs are refs, you gotta respect their judgment, and maybe we'll get a call down the road. Can't really make any excuses."
The Rockets stayed in Portland zone, thanks to a turnover, and scored on McColgan's second goal for their 1-3 leadl.
"Key momentum changer in the game," Johnston said.
Then, only 2:04 into the third, Carruth's clearing attempt got tipped and Joe Morrow whiffed on another clearing attempt, and McColgan scored again.
Portland's third-period highlights came via Leipsic, who returned with his fat lip and pummeled one Rocket player against the boards, and then checked Brett Bulmer, a nemesis in the game, into the Portland bench. Leipsic also ended up in the bench area. Tayler Jordan then jawed with Bulmer.
"I tried to spark some energy," Leipsic said. "Even if the game was out of reach ... a couple of those hits can wear on their players in a long series."
Kelowna's Evan Bloodoff finished the scoring, capitalizing on Rutkowski's turnover.
"That's a tough play," Rutkowski said. "I was trying to reach for it to bat it to my D partner. The puck was bouncing. You wish you could have a lot of plays back. That's how it goes."
Johnston is confident the Hawks can bounce back Sunday. Portland hasn't lost two games in a row since Jan. 12 against Spokane and Jan. 14 against, ironically, Kelowna.
"We'll make sure we capitalize on our chances," Johansen said.
Rutkowski put it best in Portland's quest to make the Memorial Cup:
"We weren't going to win 16 games in a row. We'll come back Sunday and play as hard as we can."