FONT
SHARE THIS
MORE STORIES
---
Winterhawks blow their cool, home-ice advantage
Ross faces possible suspension after Rockets steal opener
A couple of things were evident Thursday night on the Rose Garden ice.
---
The Winterhawks are a better team that the opponent in their Western Hockey League second-round series, the Kelowna Rockets.
Also, if the Hawks don't keep their cool any better than they did in a 5-1 loss to the Rockets, it's not going to matter.
Kelowna is a decent team, better than the Everett club Portland swept in a first-round series. But the Rockets aren't in the same class talent-wise as the Hawks, who did just about everything wrong in handing the home-ice advantage back to the Rockets in the opener of their seven-game series.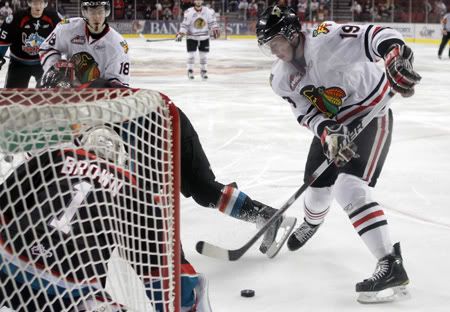 (ABOVE PHOTO: Portland's Ryan Johansen takes a shot on goal.)
Portland took 14 penalties for 47 minutes, compared with eight penalties and 16 minutes for the visitors. The Hawks had three power-play opportunities, the Rockets seven.
The most agregious infractions came in the first period when Portland left wing Brad Ross - who plays on the first line with Nino Neiderreiter and Ryan Johansen - came out of the penalty box and leveled Kelowna's Zach Franko, knocking him to the ice. That set off some temporary mayhem as the Rockets took issue with the hit. A lot of pushing and shoving ensued, and Ross went half-crazy as he was pulled off the ice and into the locker room.
When the smoke cleared, Ross was assessed a five-minute major for charging and a game misconduct. WHL officials will review the play and could assess Ross with a suspension for Sunday's Game 2 (5 p.m. at the Rose Garden), or perhaps even further depending on the severity of Franko's injury.
(ABOVE PHOTO: Portland's Brendan Leipsic lays on the ice after taking a Kelowna stick to the face late in the second period.)
Kelowna coach Ryan Huska said afterward that Franko's condition is 'not very good.'
Did he suffer a concussion? 'I'll just say he's not very good,' the coach said.
Will Franko play in Sunday's game? 'Probably not.'
That's worse news for Portland than for Kelowna. Franko is a bit player for the Rockets; the feisty Ross is one of the lifeblood players for the Hawks. If Ross draws a suspension, it's a great trade for the visitors on the ice.
Portland coach Mike Johnston didn't seem to take issue with Ross' hit.
'He's a hard-hitting guy,' Johnston said. 'Those type of players, that's their job - to deliver hits and play physical. He never intended to catch (Franko) like that. He was coming in from the side and caught the guy leaning into his shot. At the NHL level, all those hits are under scrutiny nowadays.
'Brad is a key player for us. He played so well for us in the first series. You don't want him to take a penalty like that, you don't want a hit like that, but there's a fine line. If the guy were turned one more step to the left, (Ross) would have been fine on that hit.'
Johnston was more concerned with three mistakes - two by goaltender Mac Carruth - that resulted in three Kelowna scores, all by Shane McColgan.
The first one came in the first period when Carruth came way out of the goalmouth to challenge McColgan on a breakaway. McColgan easily deked Carruth and deposited the puck into the net for a 2-1 lead.
'It looked like (the puck) was coming off a stick hard,' Carruth said. 'I went out there and thought I was going to be able to stand up and just play it fine. It ended up slowing down on the snow there, and I got a tough break.'
McColgan scored again off a turnover with 12.9 seconds left in the second period, a backbreaking goal that gave Kelowna a 3-1 advantage.
The Rockets' fourth goal came when the puck flipped into the air in the crease after a Carruth save. With Carruth out of position, defenseman Joe Morrow fanned as he tried to clear the puck, and McColgan was there for the putaway.
'We made three mistakes, and that is really unusual for our club,' Johnston said. 'We handed them three goals. We made mistakes on two of them for empty-net goals, which never happens.'
Despite all the penalties and mistakes, Portland carried the flow of the game, winning the shots-on-goal battle 46-36. The Rockets, though, got inside the Hawks' heads, and it paid off.
Late in the game, pesky Winterhawk center Brendan Leipsic laid a hit on Kelowna's Brett Bulmer that sent him into the Hawks' bench. After some jostling, Bulmer climbed back onto the playing surface and motioned for any of the Hawks to join him. Taylor Jordan obliged, jumping onto the ice, and when he did, Bulmer scooted to safety onto the Rockets' bench.
Bulmer 'is a really good player for them,' Johansen said. 'Leipsic got a pretty good hit on him; whatever he wants to do after that is his problem.
'They're going to try to get under our skin, and he did that pretty well on that play. We'll talk about it the next couple of days and make sure we're keeping our composure on Sunday.'
The Winterhawks 'got a little frustrated,' Huska said. 'Every team has agitating players. Brett does a good job sometimes of getting under the skin of opponents, but every team has that type of players.'
The problem is, Portland has better players than Kelowna and is playing into the Rockets' hands when tempers get out of control as they did Thursday night.
'You have to be able to handle that in playoff hockey,' Johnston said. 'You have to have some resolve that, when those things happen, you react, recover and make a difference on the next shift. You can't do anything about what's happened.'
'Playoff hockey is about handling the moment and keeping your composure,' Johansen said. 'There are different opinions on a few of the (referees') calls out there, but that's the way it goes sometimes. We have to be a little more focused on our gameplan.'
Referees Devin Klein and Trent Knorr didn't have a great night, for sure, missing one call when Leipsic was slashed in the face late in the second period, drawing blood. The officials allowed play to continue, and McColgan scored on an odd-man rush to give the Rockets their 3-1 lead.
'There are two things you can call - blow the whistle because the player is injured, or call a penalty,' Johnston said. 'Either one of them I would have accepted. When Leipsic is laying there bleeding, then trying to get off the ice, if they felt it wasn't a penalty, stop play.'
Carruth, solid in all four games of the Everett series, pointed the finger at himself after Thursday's game.
'I put most of the loss on me,' he said. 'I didn't play well at all. The score should have been 1-1. Kelowna probably got a few lucky bounces, but I didn't really give us a chance to win. I didn't do my job.
'The first thing I said in the locker room was, 'Boys, it's my fault. Don't blame yourselves.' I should be able to take that responsibility.'
Noble, but not entirely accurate. There was sloppy play in front of Carruth on defense that proved costly. Nino Niederreiter and Craig Cunningham both missed point-blank attempts at the net. Near the end of the game, Johansen deflected a clear-out attempt by Kelowna goalie Adam Brown and had an open net, but hit a post.
I don't think Thursday's loss will cost the Winterhawks the series. I expect them to come out Sunday and play a strong Game 2. They have to hope that Brown - who made 45 saves - doesn't stand on his head again. Then they'll have to steal one in Kelowna in Games 3 or 4.
'This was more of a wakeup call than anything,' Carruth offered.
Huska knows the opener was just one victory, with three more to go.
'We have enough experience in our room to know we have a lot of work in front of us,' he said. 'We have to be prepared to work much harder if we want to try to get another win (Sunday), because this is a very good team we're playing. Our older guys who have been around won't allow themselves to get too high by what happened in this game.'