Blazers send Lakers to fourth straight defeat
Victory keeps Portland in sixth ahead of Hornets, Grizzlies
The beauty of the Trail Blazers' 93-86 victory over the Los Angeles Lakers Friday night at the Rose Garden was in the eye of the beholder.
To Lakers coach Phil Jackson, it didn't mean much, other than that his players are slacking as they bide time before they begin a bid for another long playoff run.
To the Blazers and their fans, the win meant much more than that.
LaMarcus Aldridge, Gerald Wallace and Andre Miller all had monster games as the Blazers avoided being swept by the Lakers in their season series with a triumph that was more one-sided than the final score indicates.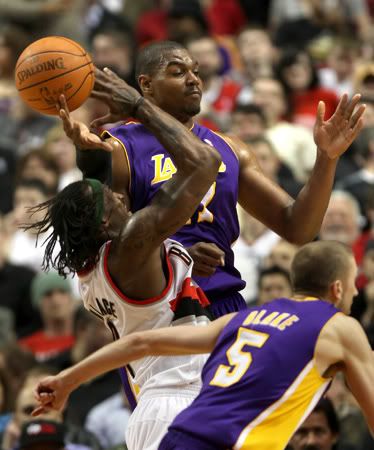 (ABOVE PHOTO: Trail Blazer forward Gerald Wallace is fouled by Laker center Andrew Bynum on a field-goal attempt.)
Aldridge collected 24 points, 11 rebounds and four blocked shots, Wallace had 19 points, 13 rebounds and seven assists and Miller dished out 13 assists to go with 12 points and six rebounds as Portland led by as many as 24 points in the third quarter.
Blazer supporters hate the Lakers more than any opponent, and the usual 'Beat L.A.!' chants began before the opening tip from the sellout crowd of 20,697.
Beyond that, Portland is in the midst of a furious battle with New Orleans and Memphis for the sixth spot in the Western Conference playoff seeding. The victory kept the Blazers (47-33) in sixth, a half-game ahead of the Hornets (46-33) and a game and a half ahead of Grizzlies (45-34). All three teams scored victories Friday night.
(ABOVE PHOTO: (From left) LaMarcus Aldridge, Gerald Wallace and Wesley Matthews celebrate the Portland victory.)
It was an electric atmosphere, for sure, as the Blazers laid the wood to their hated rivals from Tinseltown.
'Felt like a playoff game,' said Portland's Wesley Matthews, who scored 18 points and made Kobe Bryant work hard for his 24 counters.
'WAS a playoff game,' corrected teammate Nicolas Batum, who shook off the effects of a sprained right ankle to score 13 points in 26 minutes. 'The playoffs start next week. We may be playing this team next week.'
(ABOVE PHOTO: Gerald Wallace of the Blazers has a word with L.A.'s Ron Artest.)
The Lakers (55-24) currently hold the second seed in the West, a game ahead of third-place Dallas. But the Lakers have lost four straight games, not the way their coach wants them playing as they prepare to go for their third straight NBA championship.
The Laker players 'know the end result comes in a week and a half, when you start the playoffs,' Jackson said. 'It's not fun to go through these games when you're coaching. I ask them to give some kind of recognition to what this is about - the job and professionalism and responsibilities.'
On Friday night, the Lakers looked old - four of the five starters are in their 30s - and the Blazers made them look slow by getting out in the transition game as they haven't all season.
(ABOVE PHOTO: Wesley Matthews goes up for a layup, with inside position on Kobe Bryant.)
Portland - 29th in the NBA in fastbreak points at 9.8 per game - had 20 fastbreak points through the first 2 1/2 quarters.
'I have no explanation for not getting back on defense and letting a team run out on you like that,' Jackson said. 'Giving up easy baskets is a bad recipe for a loss.'
All part of Portland's game plan.
'Some teams you can't run against,' Miller said. 'The Lakers are kind of methodical. They get into a rhythm in the triangle, get the ball to their big men and let Kobe work his way into the game. We found a way to get the tempo our way early. It set the tone.'
'It has been awhile,' Portland coach Nate McMillan noted, 'since we've seen us with 20 fastbreak points. We wanted to try to take advantage of our speed.'
During Gerald Wallace's time with Charlotte, the Bobcats often exploited the Lakers in transition.
'All we did was just run them,' said Wallace, who came to the Blazers in a Feb. 23 trade. 'We make their bigs get out in the open court and run. Attack, attack, attack.
'They have trouble getting up and down the court. If you're running them, their legs get heavy. It forces Kobe and them to do more than they want to do, and they don't get a chance to set up their halfcourt defense.'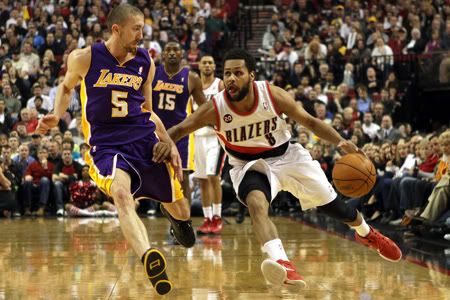 (ABOVE PHOTO: Blazer guard Patty Mills tries to shake the Lakers' Steve Blake for a shot attempt at the end of the first quarter.)
When the Lakers were able to set up defensively in a halfcourt, the Blazers often attacked the basket through the air, converting seven lob passes for dunks. Miller served up six of them; Aldridge was the recipient of four.
The Lakers 'were trying to be really physical, overplaying us,' Aldridge said. 'We always talk about back-dooring and spinning to the basket when that happens. It was good for us tonight.'
The Lakers led 29-24 early in the second quarter when the Blazers used a 17-2 surge to go in front 41-31. Only a near out-of-body experience by Bryant - he sank four straight 3-pointers in a span of 1:53 - kept the visitors as close at 53-47 at the half.
But the Blazers meant business from the opening tip in the third quarter. With Aldridge scoring and rebounding, with Matthews shadowing Bryant on one end and scoring at the other, with Wallace going toe to toe with Ron Artest, Portland outscored L.A. 21-3 the first seven minutes of the period to seize a 74-50 lead.
The Lakers finished the quarter with a 12-point flurry to go into the final period down only 74-62. It was 81-64 with 7:45 left before the Lakers made a final run, cutting Portland's lead to 84-77 with 2:09 to go. Then Batum's 3-pointer kicked off a 7-0 Blazer spurt, and it was over.
'We were lazy and inefficient in the first half,' Jackson said. 'The second half, we just didn't knuckle down and do the right thing offensively the third quarter. These guys just don't want to play hard right now. It's a product of knowing where their position is and just playing.'
Jackson was asked if it matters that the Lakers now have the same record as Boston and Miami, opponents they could meet in the NBA finals.
'What matters is how you play in the playoffs, it really does,' he said. 'But I hate to get in the playoffs when we're not playing hard.'
Jackson didn't have a lot to say about the Blazers.
'They ran out and got some layups,' he said. 'You have to give them some credit in that regard. They played pretty well in the third quarter. They had a real good run then.'
The Blazers had lost their first three meetings with the Lakers, twice when holding leads in the fourth quarter.
'We didn't want to get swept,' Batum said. 'We should have won the last two times we played.'
'You never want to have a team say they beat you every time,' Matthews said. 'You never know what's going to happen in the playoff run. If we do match up with the Lakers, they could have said, 'We took care of them four times during the regular season.' It's big for us to pull a win out.'
Matthews had primary defense on Bryant, who made only 10 of 25 shots from the field.
'You can never shut out a player like that; you just try to make everything as difficult as possible and hope he misses,' Matthews said.
Wallace, meanwhile, was making himself a nuisance to the Lakers at both ends of the court.
'His name is no longer Gerald Wallace - he's the MVP,' Aldridge said. 'He's been huge for us, taking charges, blocking shots, he rebounds well, making big threes.
'People told me how tough he was, but you don't really know how tough he is until you see him play. He puts it all out there every night.'
With the Lakers still in range late in the game, Wallace took a charge from Andrew Bynum - the Laker center's sixth personal foul of the game.
'I would say 90 percent of the league would not have done that,' McMillan said. 'He's fearless. At the time, I'm thinking Bynum is out of control, and there appears Gerald. That's the type of guy he is. You've got a 7-footer coming down the paint, nobody but you and him, and he gives up his body and steps in front of that kid.'
The fans appreciated, too, chanting 'Ger-ald Wall-ace!' in the fourth quarter while rewarding him with a standing ovation.
Wallace had a spirited battle with Artest, who was 4 for 14 from the field and seemed somewhere between frustrated and confused by night's end. They received matching technicals after one fourth-quarter dispute.
'It was just a point that needed to be made,' Wallace said. 'I wasn't going to back down from him. I play just as physically as he does.'
Then there was Miller, whose third-quarter bounce pass from near halfcourt to Wallace for a dunk was a thing of beauty.
'I said, 'Dre, Can you do that again?' " Aldridge said. 'He was like, 'Probably not.' He was in a zone passing. He got us so many easy baskets.'
It was a fun game for the Blazers. What did it mean? We'll know more about that in a week or so.
NOTES - Portland's next action is Tuesday night at home against Memphis. ... Marcus Camby sat out his second straight game with a strained neck. Will he be available for the game against the Grizzlies? 'That's the plan,' he said after Friday's game. ... Batum said the sprained ankle was minor. 'It should be OK by Tuesday,' he said. ... Through 2 1/2 quarters, the Blazers held a 20-0 advantage in fastbreak points. The final tally was 20-6 in Portland's favor. ... It was Aldridge's 35th double-double of the season and the 24th time he has scored at least 20 points with 10 or more rebounds. ... It was Miller's 11th double-double of the season. ... The Laker bench outscored its Portland counterparts 29-7. ... The Lakers won the rebound battle 52-41. ... Bynum finished with only three points and six rebounds in 31 minutes. ... Pau Gasol had 13 boards but only eight points in 33 minutes. ... The Lakers won the season series with Portland for the first time since 2004-05 and the second time in the last 18 seasons.