Fourth Pirate Festival hopes to hook Portlanders
Movies and books portray pirates as lawless rogues and grog-swilling louts who wont for wenches. Sociopaths. Scourges of society.
---
But, much of the image is a fallacy, apparently.
'Really, they were some of the first democrats and part of the first social welfare organization, on the high seas,' says Don Gavitte, a Grant High School teacher, who wrote his thesis for his master's degree at Portland State on 17th century piracy. 'The whole pirate code was talking about your brother, and whether you would be killed or maimed defending your brotherhood.
'They definitely had a love for democracy, and disregard for privilege and prestige from class or birth,' Gavitte says. 'Prestige or honor came from deeds. It's about what you could do for the ship and to better the crew. … And, they didn't just jump on ships and starting killing everybody. They'd jump on and say, 'Where's your captain?' If the captain was a good man, and they felt camaraderie with him, yeah, they'd take things, but they wouldn't cut off ears and slit throats.'
The fascination with freedom, and the opportunity to dress up in period garb and act like pirates, has spurred a plethora of pirate festivals across the world. The Portland Pirate Festival, in its fourth year, takes place Saturday and Sunday, Sept. 19 and 20, under the St. John's Bridge at Cathedral Park on the Willamette River.
Saturday, Sept. 19, is International Talk Like a Pirate Day. Organizers are hoping to establish the Guiness Book of World Records mark for most pirates gathered in one place at 2 p.m. Sept. 20, with the record being 1,467 set in England earlier this year. Judging by the popularity of last year's Portland festival, when about 13,000 showed up, the record could be obliterated.
'It's gone crazy,' says Kate Larsen, cofounder of the event along with Shuhe Hawkins. Both of them are part of the Boom Pirates, or Brotherhood of Oceanic Mercenaries, an actors ensemble that teamed with the band Captain Bogg and Salty to get the festival going.
Requirements for the Guiness record are that people have to wear an eye patch, a bandana or a hat, carry a toy or cardboard or real sword and wear pirate attire.
A tall ship won't be in port this year, after the Lynx from California made previous stops for the festival. But the Boom Pirates plan reenactments, the band will play and good times will surely be had by all.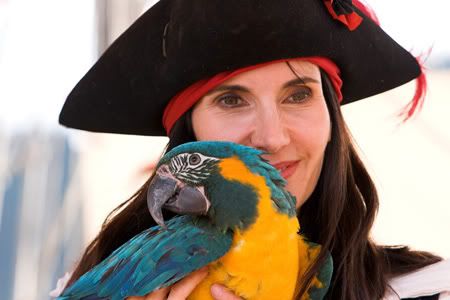 COURTESY OF BYRON DAZEY • The BOOM Pirates put on reenactments and (above) fans and their accessories revel at the the Portland Pirate Festival.
Ships and crews
Hawkins, aka 'Luc the Lucky,' says the 'Pirates of the Caribbean' movies contributed to pirate popularity taking off. Larsen, aka 'Margot La Merchante' de Marseilles,' says her love of pirates stems from the feeling of freedom - and that pirates weren't that bad of people.
'A lot of things came from books, like Treasure Island, like burying treasures,' says Larsen, whose sons Rafe, 16, and Signe, 18, are also pirate fanatics. 'Which didn't happen - a lot of times they spent the money as quickly as possible.'
There are different forms of piracy. Gavitte says the Northwest never featured classic pirates, but had its share of rum runners and organized crime.More recently, Somali pirates, who have invaded ships in international waters, more closely resemble the 17th century pirates, for which the whole image has been constructed.
Any form of piracy, Gavitte adds, occurs 'when there's not a real distinct line between what's legal and illegal.'
'From the 17th century, when we think of pirates, they are mostly British, Dutch and French stealing from the Spanish,' he says. 'But pirates were not about nationality, either. Most pirate ships were very diverse places, with guys from Africa and multiple European ports. It was about ships and crews … but they tended to be mostly English.'
What people expect
There is obviously a theatrical appeal to the Portland Pirate Festival. But, it has spun off from the original intentions of organizers.
'That's why we're going for the Guiness record,' Hawkins says. 'At any given time, half the people there are in costume. No one expects you to be anything but a pirate.'
The festival runs from 10 a.m. to 10 p.m. Sept. 19 and 10 a.m. to 6 p.m. Sept. 20. Tickets are $12 for both days (in advance) or $15 at the gate and can be purchased online at www.ticketsoregon.com. For more information, go to www.portlandpiratefestival.com or call 503-853-1497.