Budget cuts put innovative middle school program at risk
Japanese immersion in middle school? Sure, why not? How about a combined sixth-, seventh- and eighth-grade program that keeps students with the same teacher for three years? A great concept.
---
Classrooms that give extra attention to students who are deaf and hard of hearing and medically fragile? Absolutely.
With seven separate programs under one roof, Mt. Tabor Middle School has for years tried to be everything to everyone.
Now - due to budget cuts, increasing mandates and other factors - the school might not be able to keep all of the plates spinning any more.
In particular, the school's Cedar Lodge - the unique mixed-age program that's built on relationships, mentorship and collaboration - could be cut, since it appears to be the only Mt. Tabor offering that isn't mandated by the district.
Parents, students, teachers and alumni are fighting back, hoping to come up with a creative solution to save the successful program.
They see the battle as part of a larger epidemic.
'It's not just a Mt. Tabor problem; it's not just Portland Public Schools; it's the way education is going throughout the U.S. - we want to put more mandates on the schools as we're cutting the resources at the same time,' says Deidre Krys-Rusoff, a parent who started a 'Save Cedar Lodge' movement in February.
'What's falling by the wayside are the more creative programs that are getting cut as a result.'
Quite literally, Mt. Tabor is getting squeezed in the middle. The school of 580 students is set to grow by 25 this fall, adding a Spanish immersion program and expanding its Japanese program to serve students coming up from Atkinson and Richmond elementaries.
At the other end, Mt. Tabor is facing a ripple effect from the high school redesign effort. Since art will be offered at each of the comprehensive high schools, Mt. Tabor as well as other middle and K-8 schools must boost their art offerings.
Despite the increased load, Mt. Tabor won't get any additional staffing - it will instead lose at least one full-time staff position. And it would lose even more if the five-year operating levy on the May ballot does not pass.
Principal Van Truong thought she had resolved the issue in February when she announced that the school's 100-student Cedar Lodge program would be cut, due to the complex set of challenges. She pulled back on that decision after 150 supporters showed up at a community meeting to make their case to district officials.
'We're going to fight for our survival,' says Connie McDonald, one of four teachers who helped create the program 18 years ago.
Truong, in her fifth year at the school, created an 18-member advisory group to consider the data and report to the school's site council. The council will report its findings to Truong before she submits her proposed budget on May 6.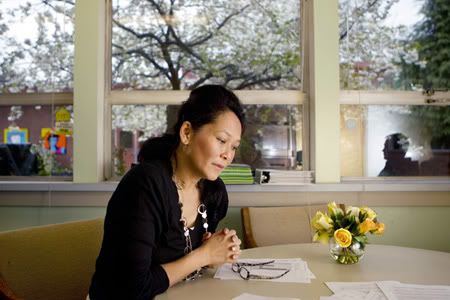 Tribune Photo: Christopher Onstott • Mt. Tabor Middle School Principal Van Troung, like other principals, faces a complex balancing act as she tackles budget cuts for next year. Her proposal to cut Cedar Lodge in February was met with pushback. A public process will consider all of the challenges facing the school. 
Lodge works wonders
In the meantime, parents are keeping the pressure, skeptical about a process that might be one in name only.
'We're really concerned this is a facade, a distraction,' says Susan Yates Miller, parent of a sixth-grade son at Cedar Lodge. 'We feel like it's a decision that's already been made.'
Like most parents, Yates Miller says Cedar Lodge has done wonders for her child, who struggles with dyslexia and was two grade levels behind in math last year. He's now at benchmark, with a B average.
'We are 100 percent certain that without Cedar Lodge, he wouldn't be showing the progress he is today,' Miller says.
She attributes that to the cross-curriculum approach. Rather than teach language arts, social studies and science separately, those subjects are integrated.
A higher-than-average number of special education students - 23 percent - enroll in Cedar Lodge because of the individualized attention teachers can give them. Students are in the same class for three years in every subject except P.E. and math. This 'looping' practice, as it's called, gives teachers a close bond with their students' families, learning styles, habits, strengths and weaknesses. Teachers know when students are falling behind, and how to get them up to speed.
Students also get to reinforce their learning by mentoring each other.
Twice a year, Cedar Lodge students are required to do an 'expert project' - an in-depth research project and presentation that entails a 20-page paper and 30-minute speech.
Miller appreciates the rigor, noting that her son is rising to the challenge: 'Why break something that's working?'
McDonald, a Cedar Lodge teacher who will retire at the end of the year after 32 years of teaching middle school in the district, says the concept just makes sense.
'We like to keep our kids close to the vest,' she says. 'Teachers need to see fewer kids for a longer time. When you give them a second year, it's so much better.'
Programs target many needs
The model behind Cedar Lodge has been tried in other places. Several of the high schools have ninth-grade academies serving a similar purpose. It's also embraced by some of the districtwide focus-option programs, such as Sunnyside Environmental School, Winterhaven School and Da Vinci Arts Middle School.
Cedar Lodge, however, isn't a focus-option school and isn't part of any mandate - hence parents' concern that it will disappear. Truong says she recognizes Cedar Lodge's success. But she doesn't play favorites, insisting that visitors to the school last week take a tour of all seven lodge programs.
There's Sequoia (grade six), Redwood (grade seven) and Hawthorn (grade eight), which consist of four classrooms each.
The 'Taborsan' Japanese program, now one classroom, will double next year, then add a third and fourth classroom in coming years.
Truong pops her head into the Maple Lodge, which serves 10 deaf and hard of hearing students - and the Sycamore Lodge, which serves 11 medically fragile special education students.
In her five years at Mt. Tabor, Truong has had to cut 10 full-time staff positions. She doesn't consider this year's budget squeeze to be extraordinary.
'It is hard to change,' Truong says. 'If it was my own kids, I would do the same thing. But as principal I have to respond to all parents, the whole community. I have to look at data not just for this year, but the next five years.'
Last year, the school had to cut its 120-student band. There also is no drama department, and art was chopped but reinstated last year.
The list of the school's mandates is long and complex, Truong notes. There are union staffing rules and district program expansions, as well as legal requirements for special education and English language learners.
The district also has a new 'Response to Intervention' initiative, for students two grades below grade level who sometimes must be pulled out of class for extra language help.
The master schedule must accommodate all of that.
Miller hopes the result won't just be about balancing numbers, but instead will be a thoughtful reflection of the school community.
'The easiest course of action is not always the best course of action,' she says. 'Because this is a decision that has far-reaching effects, I think we need to look at how we're making decisions about schools.'