The worlds new China
Museum exhibit takes a graphic look at a rising power
The People's Republic of China was a closed society for decades under Communist rule, but things have opened up in recent years as the Asian nation strives to be an economic world power.
On display at Portland Art Museum, Oct. 10 to Jan. 17, the show 'China Design Now' presents the many facets of economic change in terms of architecture, fashion and graphic design, film, photography, product and furniture design, youth culture and digital media.
The show focuses on development in three Chinese cities: architecture in Beijing, fashion and lifestyle in Shanghai and graphic design and visual culture in the manufacturing capital of Shenzhen.
The exhibition originated at the Victorian and Albert Museum in London. It's an unusual show for the Portland Art Museum, which rarely does design exhibits - especially considering that 'China Design Now' is multi-sensory with sound, animation, film and video. The Northwest Film Center will be showing Chinese films concurrently; a large, 180-degree screen, displaying video of a fly through Beijing, greets visitors in the museum's lobby.
'It's definitely an interesting look at a country that is extremely powerful that people don't know about except for broad stereotypes,' says Beth Heinrich, the museum director of marketing and public relations.
Tickets are $15 for adults and $12 for seniors (55 and older) and students (18 and older with student ID). Advanced tickets are available at www.portlandartmuseum.org.
The Portland Art Museum is at 1219 S.W. Park Ave. Museum hours are 10 a.m.-5 p.m. Tuesdays, Wednesdays, Saturdays and Sundays, and 10 a.m.-8 p.m., Thursdays and Fridays.
© Chen Shaohua • Graphic Design in China, poster for the 1992 exhibition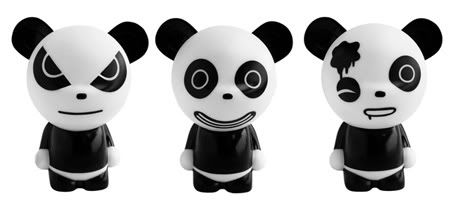 © Pole Design • Ji Ji, Hi Panda, 2006