FONT
SHARE THIS
MORE STORIES
---
Steppin into Gagas Haus
Lake Oswego dancer kicks it as one of Lady Gaga's Monster Ball world tour performers
When Montana Efaw tossed her mortarboard with the Lakeridge class of 2009, she had stars in her eyes. This Jiminy Cricket-size hip-hop dancer was heading to Hollywood - to see if dreams really do come true.
---
A short five months later, Efaw has made it - big time. She is one of 11 hip-hop dancers touring with pop sensation Lady Gaga on The Monster Ball world tour that started Nov. 28 in Montreal. Efaw and the 'Haus of Gaga' performs in 50 cities in the U.S. and Canada and then heads to England and Ireland.
'When Montana called me to tell me about the Lady Gaga tour, I thought something was wrong she was so hysterical,' says Wendy Efaw, Montana's mother. 'Finally she got it out, 'I booked the tour!' It was unbelievable.'
'I was boarding a plane when my agent called to check my availability; I knew better than to get my hopes up,' Montana says. 'I sat there for hours wondering if this was my make-or-break moment. When my agent finally called back and said 'Congratulations, Lady Gaga wants you for the tour,' I went crazy. Rehearsal started that afternoon - it was all so fast!'
'While I feel like I am living the dream, I know that I've been preparing,' she says. 'I've put in a lot of hard work over a lot of years to get here.'
At 18, Montana has already been a commercial professional dancer for six years. She started as a dancer and choreographer with Radio Disney and then performed with the Junior Trail Blazer Dancers.
'At 11, she was actually a late starter in the dance scene,' her mother says. 'She had tried tap and ballet and just hated them both. But then she saw hip-hop on TV and started making up her own routines - we knew right away that she might have something special.'
Montana started teaching hip-hop at the Dance Vision studio in Portland when she was just 12. At 15 she had an agent in Los Angeles and was making money working jobs in video, television and on stage. Montana was doing choreography for Capezio Dance Wear Fashion Shows, college dance teams and for her home studio, Dance Vision's pre-professional groups.
She became the youngest protégé to dance with The Pulse, a touring dance team with world-renowned choreographers. And last year, at 17, she was hired as a choreographer by the University of San Diego dance team, which ended in third place in its division competition.
Says Wendy: 'Montana missed a lot of school (about 33 days a year), and my husband David and I are now both MVP gold flyers, thanks to all the travel. We went to workshops and conventions almost every week. It was really busy, but somehow Montana managed to maintain friendships, a social life and a 3.6 grade point at Lakeridge. I did make her un-book a job on the day of her graduation. I wanted her to walk with her class.'
'It is hard to believe that last year she was dancing in an assembly in the Lakeridge gym and now she is on stage with Lady Gaga,' says Steph Tarlow, a friend and classmate of Montana's from Lakeridge who is at the University of Oregon.
'It is so awesome,' Tarlow says. 'I love telling people that my best friend is performing with the biggest pop star in the world. Keely Mohr and I just got tickets to fly to San Francisco to see her show.'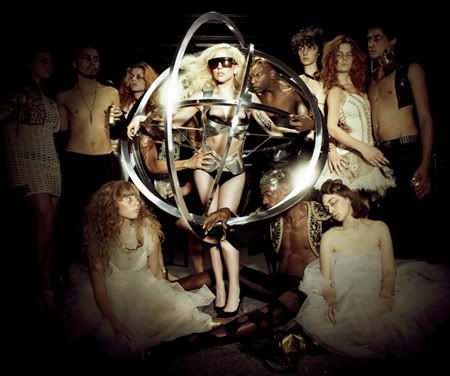 COURTESY OF INTERSCOPE RECORDS • Montana Efaw will be on the road with the 'Haus of Gaga' until April.
Glamorous and gritty
Montana first entered the 'Haus of Gaga' after she auditioned for this September's Video Music Awards.
'Hundreds of us showed up for the Lady Gaga audition,' she says. 'We were all crammed into a hallway. After several cuts, they had it down to 20 of us - they were taking six girls and six guys. Dancing for a big event like the VMAs with everyone in the business there was so huge.'
It also gave Lady Gaga's choreographers a look at Montana's talent and was likely her edge to being one of the only two girls and five boys originally selected to dance on The Monster Ball tour. (They since have added two more girls and two more boys.)
'Gaga hasn't used a lot of girl dancers in the past. Plus, she has a team of dancers that have been dancing with her. I'm not exactly sure why they chose me - I actually thought my long blond hair might work against me (Lady Gaga also has long blond hair.) But I know Gaga and her choreographers like a lot of passion - passion is their big thing.'
While dancing with Lady Gaga sounds glamorous, it is hard work. The dancers put in long days with a rare break. Montana spent the first week working through the aches and pains with warm baths.
The youngest dancer by several years, Montana is working with the best of the best from Toronto, Hawaii, Arizona, Kentucky, South Carolina and Atlanta.
'But the person that works the hardest is Lady Gaga,' Montana says. 'She is there an hour before anyone. She is such an amazing artist; she is absolutely fearless. I am so lucky to work with someone like that.'
'Her persona was not created by mistake,' Wendy adds. 'She has earned it.'
Gaga graduated from the Tisch School of the Arts at New York University. She plays three instruments and she designs many of her own 'shock art' stage outfits.
'She cares about her dancers and appreciates their hard work,' Wendy says. 'Her productions are so much more than dance-dance, formation-formation, window-window. This is a huge production of musical theater. The tour outfits are going to be crazy.'
Life on the road
For long Monster Ball Tour legs, travel will be done on planes, but for smaller hops the team will travel aboard the Gaga bus, a well-appointed moving cruise ship with private bunkrooms, televisions and wi-fi.
To ease being on the road for the holidays, Lady Gaga had a huge spread for Thanksgiving. At Christmas, the tour will fortunately be in Los Angeles, where Montana's family can visit in her new condominium (which she shares with a roommate who dances for Janet Jackson.)
'There was never a time when she questioned the dream,' her mother says. 'It seems it was never a choice. Montana had to dance. It was like a blind vision.'
'First I danced because I loved it, and it made me feel good,' Montana adds. 'Then when I was 13 or 14, I said, 'What? I can do this for real? Seriously?' '
Seriously.
The Monster Ball Tour won't stop in Portland, but will be in Vancouver, British Columbia (Dec. 9 to 11), San Francisco (Dec. 13 and 14), Las Vegas (Dec. 17 and 18), San Diego (Dec. 19) and Los Angeles (Dec. 21 to 23).
For more information, go to the Web site www.ladygaga.com.