FONT
SHARE THIS
MORE STORIES
---
The changing face of Oregon
Census could bring legislative shift toward Asians, Latinos
The Portland area is growing more ethnically diverse, though it's hard to tell from the sea of white faces representing it in the Oregon Legislature.
---
Now that the 2010 Census is done, legislative districts must be redrawn to reflect population growth in the past decade, and that foretells greater political clout for underrepresented minorities.
Minorities account for more than a third of the population in 12 of the Portland area's 26 House districts, from Gresham and Portland to Clackamas, Beaverton and Hillsboro. In six districts, the minority share jumped more than 10 percentage points in 10 years.
'We're on the cusp of having, for the first time in Oregon's political history, minority communities big enough to play a significant role in the state,' says Jim Moore, political scientist at Pacific University in Forest Grove.
Statewide, the Hispanic population jumped 63.5 percent in the past decade, the Asian population grew 39.4 percent, and the black population grew 24.3 percent - three times the growth rate of the white population.
'We are experiencing the browning and graying of America,' says Alfonso López-Vasquez, diversity specialist at Pacific University, 'and places like Oregon are oblivious to that.'
But growing minority population gets extra attention during legislative and congressional redistricting. Because of past discrimination, legal protections were enacted to assure that minority voting blocs aren't diluted.
Gentrification documented
Redistricting doesn't always lead to expected results. White candidates often have won in the specially tailored 'black district' of North/Northeast Portland, and no Latino has yet captured the 'Hispanic district' created a decade ago in Woodburn and Salem.
New Census data confirms that House District 43, the black district, is now only 18.5 percent African-American. Its combined minority population is still 39.3 percent, but that fell from 55.5 percent in just 10 years.
State Rep. Lew Frederick, D-Portland, an African-American who is the lone minority representing the metro area in Salem, says those numbers confirm the black Diaspora long observed in his district. Frederick blames gentrification and predatory mortgage lending, which has disproportionately hurt elderly black homeowners.
Only one other Oregon House district, in neighboring North and upper Northeast Portland, has a lower share of minorities than a decade ago.
'The community has spread out; it's no longer as concentrated,' Frederick says of Portland's traditional black enclave.
He hears of many black residents moving to what they call 'the numbers' - avenues in the 100s east of Interstate 205 - plus Clackamas, Troutdale and Gresham.
Dispersal of the population could make it harder for a black politician to win in the future, but Frederick sees a silver lining. 'There'll be a greater understanding of minority issues outside of Portland,' he says.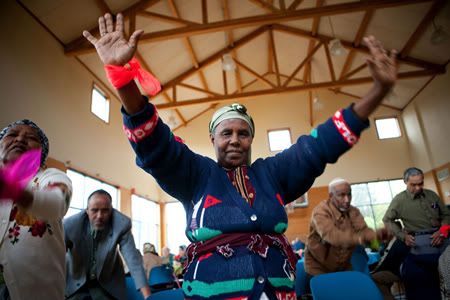 Tribune Photo: Christopher Onstott • Ethiopian immigrant Momena Ogato stretches during an exercise class offered by the Immigrant and Refugee Community Organization in East Portland. A surge in African immigrants to Portland helps explain why Oregon's black population has grown at triple the rate of the white population in the past decade.
Asians seek consideration
While two Oregon House districts are more than 10 percent black, there are now four districts that are more than 10 percent Asian-American - inSoutheast Portland, Beaverton and Hillsboro.
Some Asian community members have demanded more consideration when district lines are redrawn, in hopes of improving their political clout. Yet that may be hard to realize this time, given their relative mobility, the differing interests of various Asian groups and their dispersal throughout the Portland area.
'I don't really expect political power to come from concentration of populations,' says Ronault 'Polo' Catalani, a longtime lawyer in the area immigrant community who works for the Portland Office of Human Relations.
The Chinese community shifted from Chinatown to inner Southeast Portland's Ladd's Addition to outer Southeast Portland, Catalani says. There were once so many Southeast Asians in Northeast Portland's Parkrose area that there was never a shortage of grandmas to do child care, he says.
But many Asian immigrants have relocated from East Portland to Beaverton and Hillsboro to get better schools, Catalani says.
'Newcomers on the whole are very ambitious and hardworking and disciplined,' he says, and often 'don't stay poor long.'
Immigrants only tend to get more interested in politics, he notes, after they are settled down in new communities.
Latino political clout unrealized
Latinos have a greater claim to special consideration during redistricting. They account for more than 10 percent of the population in 13 of the Portland area's 26 House districts, more than 20 percent in three of those districts, and 36 percent of District 29, which includes Cornelius, Forest Grove and central Hillsboro.
Yet a disproportionate share of Latinos here are too young to vote, not registered, or not allowed to vote because they aren't U.S. citizens. Oregon's two House districts with the highest Latino population usually have the lowest number of total votes cast of all 60 House districts.
'It's by and large a fairly poor community,' says Sal Peralta, a Latino McMinnville resident who is secretary of the Independent Party of Oregon. That makes it harder to raise funds for legislative campaigns, notes Melanie Davis, the Latina publisher of El Hispanic newspaper in Portland.
Davis sees ample signs of future political clout. There are now 6,600 Latino-owned businesses in Oregon, she says, and 66,000 foreign-born students in Oregon colleges and universities, which includes a new crop of Hispanic professionals. Many well-established Latinos also are relocating to Portland from California, Texas and other states because of Portland's quality of life, Davis says.
Ironically, Peralta observes that Spanish radio stations and Latino churches have proved remarkably effective at mobilizing Latinos to rally on immigration rights issues. That hasn't translated yet into participation at the ballot box.
'It's really the next generation of kids,' Peralta says. 'Those are the people who are going to actually start to vote and make their presence felt.'
López-Vazquez says Portland leaders have tended to focus on African-American concerns and neglected Latino concerns. He also faults the Democratic Party for failing to develop budding Latino candidates.
Latinos, he says, need to unite with other minority groups around common concerns, and take advantage of bigger numbers.
'We have created our own silos,' López-Vazquez says. 'We need to create a whole different approach to working together.'