FONT
SHARE THIS
MORE STORIES
---
Goin Bowlin
Details

Jason Vondersmith
Flocking Duck fans expected to paint the Rose Bowl green, yellow
Fifteen years ago, a sea of green and yellow occupied one part of the Rose Bowl in Pasadena, Calif., and blue and white the other - it was Oregon vs. Penn State.
---
On Jan. 1, the green and yellow of the Ducks returns to the Rose Bowl, and scarlet and gray will also be well represented as Oregon plays Ohio State in the granddaddy of them all.
In two of those seats, Charlie and Betty Holden of Beaverton will be cheering, somewhat conflicted. The retired couple moved from Ohio in 1978, diehard fans of the Buckeyes and coach Woody Hayes. Their allegiance changed when their kids went to Oregon, and the Holdens attend most UO games, home and away.
'We're going as Duck fans,' says Betty Holden, whose brother, Tom Kiehfuss, played for the Buckeyes in the 1960s.
'It's a win-win in a way,' says Charlie Holden, a Columbus, Ohio, native. 'Whichever team wins, we'll be equally happy, equally sad. I always say Ohio State is my backup team.'
Chances are not many fans will be split like the Holdens. The Ducks' ticket allotment of 32,000 sold out to Duck Athletic Fund members, donors, various UO alumni, students and season-ticket holders (through a lottery) - none would be available to the public - and talk is the Ducks have inundated the Rose Bowl and Ohio State folks during general public sales. The Rose Bowl seats about 90,000.
'I predict 50,000 will be cheering and wearing green and yellow,' says Mike Marlow, UO senior associate athletic director for external affairs.
Many of them will be from the Portland area. The Ducks have about 41,000 season-ticket holders and 8,700 Duck Athletic Fund members, and about 31 percent of each are from the Portland-metro area. Like any bowl game, people who can procure tickets often sell them, for various reasons - to make a few bucks or they can't afford to go, or because they had previous plans or simply can't go.
Tory Foster of Portland already had a Maui vacation planned a week after the Rose Bowl.
'If they were playing for the national championship, I'd say I'd eat the Maui tickets. Maybe next year,' he says.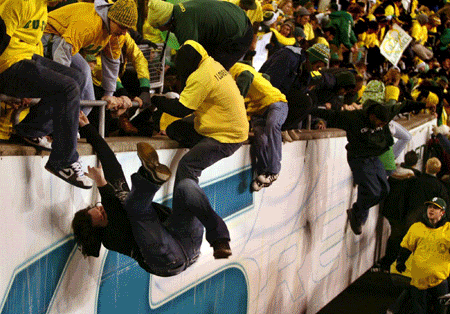 TRIBUNE PHOTOS: L.E. BASKOW and JAIME VALDEZ • Ducks fans by the thousands celebrate the Dec. 3 win over Oregon State. Many of those same fans are hoping to take part in a similar party in Pasadena.
Out of nowhere
Dave Williford, Oregon's longtime sports information director, remembers the 1995 Rose Bowl and how many Oregon fans filled the stadium. It sure seemed like more UO fans than Penn State. Things were different back then. It was a huge shock for the Ducks to win the Pac-10 Conference and play in Pasadena.
'You would think (fan numbers) would approach the same thing,' he says. 'If you look at the comparison between then and now, we had roughly 14,000 season-ticket holders in '94 and 41,000 now, and DAF members were in the neighborhood of 4,000 in '94 and 9,000 now. Not that it'll sway the numbers, but there appears to be more regular Duck fans and followers than 15 years ago.'
Williford adds that Duck fans have changed during the years. Former coach Mike Bellotti, now athletic director, once lamented about newer fans jumping on the bandwagon and not having the historical perspective of how far the Ducks have come, or the patience when the team struggles.
'Because it came out of nowhere in '94 … certainly the expectation was we weren't going to the Rose Bowl,' Williford says. 'The expectations are much higher now. I think there is every bit the excitement, it's just different. It's not so much euphoria, but it's more, 'It's what we're supposed to be doing, playing for conference championships.' '
An 'odd feeling'
The Holdens went to the '95 Rose Bowl.
'Even though the Ducks didn't win, it was so amazing to be sitting in the Rose Bowl,' Betty Holden says.
'We've been waiting to go back to the Rose Bowl since. This is the perfect scenario for us: cheering for the Ducks, but we won't be totally devastated if the Bucks win.'
Charlie Holden says, 'Even though we're going to be playing Ohio State, I feel fairly confident' because Oregon beat Purdue and USC (by a combined score of 85-56), and the Buckeyes lost to both teams this season.
'Otherwise, it might be, 'Oh, my God, we're playing Ohio State,'' he adds.
The Holdens have a unique perspective, too, of experiencing both fan followings.
'When you look at Ohio, this year you have Cincinnati, but over the years Ohio State has dominated the whole state - unless you were a Notre Dame fan,' Charlie Holden says. 'Ohio State is more about tradition (than Oregon), like with people anticipating the band coming out as much as the team.'
When the Buckeyes and Ducks take the field, 'it'll be an odd feeling,' he adds.
'We'll see people in scarlet and gray. 'Hey, wait a minute, they're the enemy.' We're looking forward to it.'
A special team
Ohio State has played in six Bowl Championship Series games in eight years under coach Jim Tressel, and seven total, but it'll be the first Rose Bowl game since 1997 for the Buckeyes.
Oregon played in the 2002 Fiesta Bowl, after winning the 2001 Pac-10 title, when the Rose Bowl was tabbed to be the game for the national championship between Miami and Nebraska. Since then, the Ducks have not made the BCS party - until now.
The Ducks beat Oregon State 37-33 in a wild Civil War game at Autzen Stadium Dec. 3 to win the Pac-10 championship and finish 7-0 on their home turf - an extended their Autzen sellout streak to 68 games.
Oregon fans were pretty excited about the game, with their team having rebounded from an opening loss to Boise State and midseason loss at Stanford.
'It doesn't seem like it's been 15 years (since last Rose Bowl), but this is a special team,' Foster says. 'You don't realize how hard it is to get to the Rose Bowl till it's been 15 years.
'It's been a roller-coaster ride, but very satisfying.'