FONT
SHARE THIS
MORE STORIES
---
Hawks hang on, beat Spokane, go ahead 3-2 in series
Details

Jason Vondersmith
Portland can close out series Monday in Spokane
Symbolically, Saturday's Spokane-Portland game ended with Winterhawks center Ryan Johansen falling down to block Jared Cowen's shot off a faceoff with 1.5 seconds left.
---
It's legal for a player to flop down on the faceoff, as soon as the referee drops the puck, and Johansen sacrificed his body in a game where Portland had to pull out all the stops to win 3-2 before 9,486 fans in the Rose Garden and go ahead 3-2 in the Western Hockey League Western Conference finals.
The Winterhawks can close out the series at 7 p.m. Monday at Spokane Arena and move on to play Kootenay in the WHL finals. Then again, Spokane won 8-3 at home in Game 4 Friday.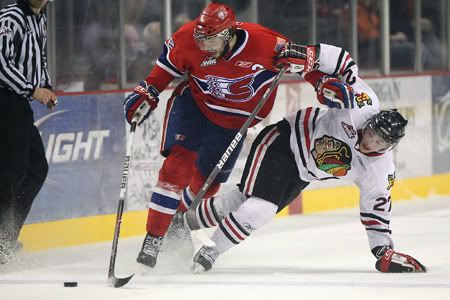 ABOVE: Sven Bartschi of the Portland Winterhawks and Jared Cowen of the Spokane Chiefs battle for possession of the puck in the third period.
The game was tight throughout, and included four faceoffs to the right of Portland goalie Mac Carruth in the final 18.5 seconds with Spokane having pulled its goalie for an extra attacker, capped by Johansen's play.
"I meant to block the shot," Johansen said, "with all four or five of their guys going to the net. The main goal was to not let that puck get to the net. I fell down, he didn't get it through, and he shot it into me."
ABOVE: Portland forward Sven Bartschi hits the deck.
Earlier, Portland made a key adjustment to counter Spokane's use of Cowen, a 6-5 defenseman and first-round NHL draft pick. Coach Mike Johnston split up Johansen and Nino Niederreiter, the Hawks' scoring stars and first-round NHL picks. Johansen went with Sven Bartschi and Ty Rattie, and Craig Cunningham teamed with Niederreiter and Brad Ross.
And the results couldn't have been better. Bartschi had a goal and two assists, and Rattie banged home a one-timer for a goal. Cunningham also scored on a breakaway, taking a pass from Bartschi during a line change.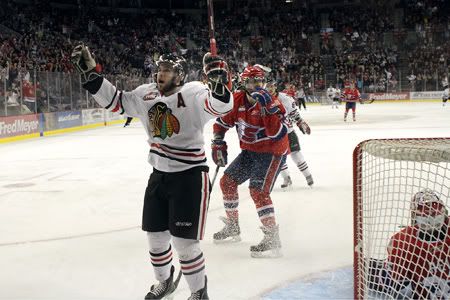 ABOVE: Winterhawks center Craig Cunningham raises his arms to the crowd after scoring in the third period.
"They were trying to force (the Cowen matchup) as much as they could," Johnston said. "We got it in Spokane, I wasn't going to give that to them tonight. I was going to make them play against one of the two (Johansen or Niederreiter). You could see they had trouble figuring out who they would play against."
The game started the same as the previous four, with Spokane scoring first, and quickly. Tyler Johnson got behind Portland defensemen and beat Carruth, who had given up six of the eight goals Friday, 59 seconds into Game 6.
Johnston wasn't worried.
"Goaltenders in the playoffs have to be ready for those types of things," Johnston said, of deficits.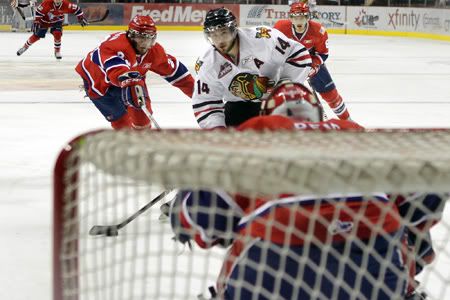 ABOVE: Craig Cunningham prepares to shoot, and score.
And, the Chiefs contained to play their structured, hounding defensive style to limit the Hawks' offense for nearly the entire first 40 minutes.
But Portland cranked up its power play late in the second period, with Rattie ripping off two shots at Spokane goalie James Reid, and with Reid stoning Bartschi on an attempt.
Just after the power play ended, Bartschi got wood on Joe Morrow's point shot, and the puck went by Reid to tie the score with 33 seconds left in the second period.
"It hit my stick," Bartschi said, sheepishly. "Kind of surprised. I closed my eyes and hoped it would hit my stick."
"Momentum turner of the game," Johnston said.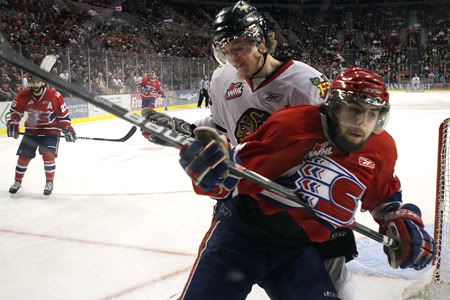 ABOVE: Tayler Jordan of the Winterhawks checks Davis Vandane of Spokane.
The momentum continued into the third period. Bartschi slid the puck to defenseman Taylor Aronson along the boards, and Aronson passed long to Rattie, who beat Reid with a one-timer, through the legs at 5:22 of the third.
"We talked about going low to high (on plays), stretching their coverage out," Rattie said. "Aronson has great eyes and found me. Luckily it went in the five hole."
Later, on a line change, Bartschi passed the length of the ice to a streaking Cunningham - his usual line partner - and Cunningham made no mistake in beating Reid high. Portland led 3-1 with about eight minutes left.
"You can't give away breakaways in the third period with the game on the line," Spokane coach Don Nachbaur said. "That was the difference, they converted those chances."
But Spokane made it a one-goal game a minute later, on Mitch Holmberg's goal.
Spokane pulled Reid with a little more than a minute left in the game. Bartschi added to his stellar night with a blocked shot. Johansen batted away a puck, mid-air, risking a high-sticking penalty. And, the Winterhawks survived the four faceoffs in the final 18.5 seconds, with Johansen clearing the puck, the puck shot out of play, Cunningham blocking a shot and clearing it, and the Johansen flopping move.
ABOVE: Ty Rattie skates by a happy Winterhawks bench.
With about 25 scouts in attendance, Bartschi, a Swiss player and potential first-round draft pick, stepped up.
"Bartschi was outstanding, our best player," said Johnston, who was particularly impressed by his blocked shot, as well as his length-of-the-rink pass to Cunningham while being tired after a backcheck, adding it was "a special play."
And, the line changes worked.
"It was on the fly, we went with it, and we know (Johnston's) a smart guy, so go with the coach, it pays off," Rattie said.
The Hawks will have to see what adjustments Spokane makes to keep the series alive Monday.
The Game 4 loss didn't linger with the Hawks, Johansen said.
"We knew it was one of those games, they got a few lucky goals, we got a few unlucky bounces," he said. "They did a few things better than us. We fixed that tonight and got the win."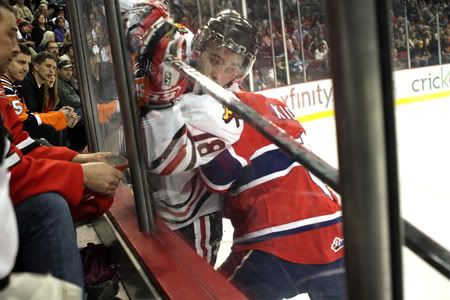 ABOVE: Portland forward Brad Ross absorbs a check from Spokane's Brendan Kichton.
Johnston said his players responded well to adversity Saturday, given the long bus ride back to Portland after the Game 4 loss and playing on lack of sleep - Spokane, obviously, had to do the same thing. The game was very competitive, Portland outshooting Spokane 43-41.
"It's a tough series, and going back to Spokane will be very difficult," Johnston said.
"I really give these kids credit. Young kids, home at 4:30 in the morning, up at 10:30 for breakfast, going through their routines. I thought that was a phenomenal hockey game. If (fans are) paying to watch hockey, they got their money's worth, the way (players) battled, the skill demonstrated. That was an entertaining game. I was happy to see how we played."
Said Nachbaur: "We feel comfortable at home. By no means are we going to roll over. We'll give it our best effort. We expect to come back here" for Game 7 on Tuesday.