FONT
SHARE THIS
MORE STORIES
---
Great hall of sound
Details

Jason Vondersmith
Oregon Symphony ready to wow Carnegie Hall audience
Well into the Oregon Symphony's performance today at Carnegie Hall, the symphony's first appearance at the venerable concert palace in New York City, Jon Greeney will make his presence known in 'Music for a Time of War.'
---
The symphony will wander through Charles Ives' 'The Unanswered Question' and John Adams' 'The Wound-Dresser,' before Greeney puts the mallets to the timpani for Benjamin Britten's 'Sinfonia da Requiem,' before the conclusion with Ralph Vaughan Williams' 'Sympony No. 4.'
'It should wake people up,' he says. 'Since there's no pause between the pieces, it will shock the audience. That's the effect … out of nowhere, bam, as loud as you can.'
For Greeney and other members of the Oregon Symphony, it's a once-in-a-lifetime experience to play at Carnegie. The Oregon Symphony, around since the 1800s, has never played the hall, and the best thing of all: The symphony didn't have to pay to play there, being invited for the first Spring for Music Festival.
It turns out that many members will make a return visit to Carnegie in 2013. The symphony has been invited to play in the Spring for Music Festival again in two years, even before displaying their sound, expertise and talents on stage in the Big Apple.
Some longtime members, such as bassoon player Robert Naglee, have never played at Carnegie. Principal bassoonist Carin Miller, who grew up in New York, playing in the New York Youth Symphony and attending Juilliard School, has played there many times. She says symphony members who haven't played there will be quite impressed.
'It's absolutely perfect, beautiful,' she says. 'Everything is crystal clear. The balance is perfect. You can hear across the stage, the sound carries throughout the hall. From the stage, everything feels the way it sounds in the hall. You get a real sense of what you're doing and how it's being perceived. It's a true acoustic.'
Principal cellist Nancy Ives has played at Carnegie many times as well during her days as a freelance musician in New York. But, it has been awhile since her last appearance there, in 1994, playing John Cage's 'Atlas Eclipticalis' with the SEM Ensemble.
'It's big and it works,' she says, of Carnegie. 'It doesn't feel like a barn. Some places feel big like a barn. It's acoustically well-regarded.
And, 'it has caché for us, just like it does for the general public,' she adds of playing at Carnegie. 'There's a specialness about it.'
Then you have the likes of violinist Emily Cole, at 25 one of the youngest symphony members (the youngest being percussionist Matt McKay, 24). She was hired in January, after only her second audition for an orchestra, and now she will be playing at one of the world's top venues.
'People tell me it's a great hall, and we'll be pleased with how we sound,' she says. 'I hope there's a real appreciation for our programming.'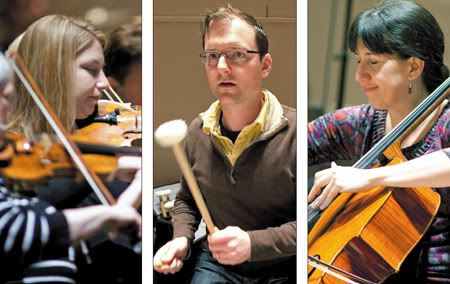 Tribune Photos: Christopher Onstott • Young musicians such as violinist Emily Cole (left) and timpani player Jon Greeney (center) will be among the Oregon Symphony members making their debut at New York's esteemed Carnegie Hall, while others like principal cello Nancy Ives (right) have experienced the fine acoustics of the concert palace.
Attention to detail
It's hard to believe the Oregon Symphony has never appeared at Carnegie, but, again, it's expensive to rent the place, and an invitation hasn't come before this year.
'In America, playing at the Carnegie Hall is the top,' conductor Carlos Kalmar says. 'It's a big deal to go there with my own musical family and all the Oregonians going with me. I've never been there.
'In terms of the great halls of the world, I've probably been in many of them. In terms of reputation, it's Carnegie, Amsterdam Concertgebouw and Vienna Golden Hall, and I believe on top of the world is Vienna Golden Hall.'
Adds Elaine Calder, symphony president: 'I like to describe this orchestra as punching above its weight. We haven't traveled outside our region, and not many people elsewhere in the country realize what a terrific orchestra we have here in Portland.'
The symphony gave a preview concert for 'Music for a Time of War' last weekend during a recording session for a CD to be released in the fall.
Only a 'handful' of Oregon Symphony members have played at Carnegie, Ives estimates.
For the 30-year-old Greeney, it'll be the capper on a first season as a member of an orchestra in the United States. The Massachusetts native says he has auditioned all over the world for jobs, while landing only one in Mexico before being hired in Portland. Hired in September 2010, Greeney, like Cole, has just started a two-year tenure track.
'This is a really nice place to finally win a job,' he says.
Greeney has experienced working with a world-class conductor for the first time as a full-time orchestra member. Kalmar, he says, 'is very demanding. But I really appreciate that, he knows what he wants and he goes after it. We're lucky to have him, and I don't just say that because I'm under tenure. He's something special.'
Cole agrees.
'He's really wonderful,' she says of Kalmar. 'There's a lot of attention to detail. He's very demanding, and people have a lot of respect for his musicianship. Every person in the orchestra brings their best when he conducts.'
Cole can't believe her good luck in getting a job on only her second try. She had just concluded graduate studies at the University of North Texas in Denton. Musicians can audition dozens of times and, because of one circumstance or another, be rejected.
'A lot of hard work went into the preparation,' she says.
Ives moved to Portland, and then was hired to be part of the Symphony 10 years ago.
'For me, it was a bit of a switch to orchestra from other things, I was doing contemporary and chamber music,' she says.
Miller, having left New York, received her masters from Rice University in Houston in 2002 and then played for the Shreveport, La., and Jacksonville, Fla., symphonies. She has been with the Oregon Symphony for 2 1/2 years.
While familiar with Carnegie, Miller realizes that it's a big deal for many members of the Oregon Symphony to make their debut there.
'Everybody's really excited about it,' she says. 'Once there, they'll be even more excited. It's such a beautiful place and New York audiences are fantastic listeners. The acoustic is just incredible. Everybody's going to step it up. It's good for the orchestra.'