FONT
SHARE THIS
MORE STORIES
---
GEARED for GREENWAYS
Portland's east side is squeaky wheel in bicycle 'sharrows' plan
In government, it's often said that the squeaky wheel gets the grease. In long-neglected East Portland, the squeaky wheel is getting … new bike paths.
---
Prodded by neighborhood activists, the city of Portland is shifting money to bicycle and pedestrian improvements in the vast swath of Portland east of 82nd Avenue. East Portland activists say far more investment is needed to improve their end of town, but they're pleased to get some TLC after years of being ignored.
The Portland Bureau of Transportation is working on four East Portland neighborhood greenways - the new term for bicycle boulevards - starting with a north-south route on 85th and 86th avenues from the Banfield Freeway south to Powell Boulevard, says Kyle Chisek, a bureau capital improvements manager.
The route provides bicyclists and pedestrians a safer alternative to 82nd Avenue, site of some of Oregon's deadliest intersections. It also brings a new traffic signal on Division Street near Harrison Park School, where many students traverse the busy arterial to get to and from school.
'I think it's great that the city's making these moves,' says Nick Sauvie, executive director of ROSE Community Development Corp. 'Ten out of the 11 most dangerous intersections of the city are in East Portland.'
Sauvie, a longtime advocate for the area, says he's noticed that more people are riding bikes in that part of town, perhaps because of the high price of gasoline, the sagging economy or environmental reasons.
A bicycling alternative to riding along 82nd Avenue is a major benefit of what the city calls 'the 80s' neighborhood greenway, Chisek says. 'If you bike on 82nd Avenue, you're crazy.'
There may be no bigger supporter of the project than Chris Aanderud, principal for 750 kindergarten through eighth-grade students at Harrison Park.
Motorists on Division often race to and from the nearby Interstate 205 ramps, Aanderud says. 'There's five lanes of traffic. It's hazardous.'
There's a pedestrian overpass to allow safe passage above Division, but many refuse to use it and try to dart across the street. She posts three educational aides on Division before and after school to shepherd students safely across the overpass.
Still, it doesn't work well for moms pushing strollers, for youngsters trying to lift bikes up the steps or others who are simply too scared to use it.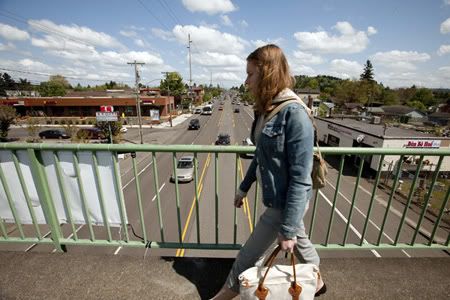 Tribune Photo: Christopher Onstott • Patty Bartholomew uses the pedestrian bridge at Southeast 85th to cross Southeast Division Street. The bridge is not considered accessible for people in wheelchairs, for parents pushing strollers, and even for young bicyclists. Harrison Park School posts three aides on the street below, before and after school, to prevent students from dashing across Division Street.
Why the name change?
City officials found the term bicycle boulevard doesn't do justice to the neighborhood greenway projects, Chisek says, because they also improve pedestrian safety and help slow traffic in neighborhoods.
When the city billed the projects as bicycle boulevards in the past, they elicited cheers from bicyclists, hoots from the anti-biking crowd and apathy from everyone else.
When the city sought community input for a 'neighborhood greenway' on 85th/86th, as many as 50 people would turn out for gatherings, Chisek says.
Before last year, the city had no neighborhood greenways east of 82nd Avenue, Chisek says. There were some striped bicycle lanes on streets such as Division and Burnside, and separated bike paths on the Springwater Corridor and along I-205.
But now, the Portland Bureau of Transportation is expanding the city's bicycle network to the east, and trying to connect new routes to existing ones.
For the 2010-11 fiscal year, the transportation bureau also is adding neighborhood greenways on Southeast 100th and 101st avenues from Bush Street to the Springwater Corridor, along Bush from 101st Avenue to 148th Avenue, and Southeast Mill Street from 60th to I-205, Chisek says.
On deck, the bureau hopes to add another north-south greenway around 130th Avenue, extend the 80s greenway south to the Springwater Corridor, and extend the Mill Street route all the way to Gresham along Mill and Market streets, giving bicyclists a safer ride from Gresham to downtown Portland.
What's a neighborhood greenway?
Neighborhood greenways employ 'traffic calming' methods - mostly speed bumps and stop signs - to slow traffic and dissuade nonresidents from using the new routes as shortcuts.
After the city converted Southeast Lincoln Street west of Mount Tabor to a bicycle boulevard, car traffic was cut in half, Chisek says.
Tribune Photo: Christopher Onstott • A pedestrian holding a child walks across five lanes of traffic on Southeast Division between Southeast 82nd and Southeast 92nd during rush hour, rather than use the pedestrian bridge. A new neighborhood greenway on 85/86th avenues will bring a traffic signal to the dangerous intersection.
For the 80s project, bicycle symbols known as 'sharrows,' which stands for 'shared rights of way,' will be painted on the street. Some stop signs along 85th and 86th will be removed to enable safe and unimpeded travel for bicyclists. Stop signs will be added for east-west traffic, so motorists will proceed carefully across the bicycle route.
At major intersections such as Burnside and Stark streets, the city will make it safer for pedestrians by extending the sidewalks. Other safety improvements include new crosswalks, bioswales and reduced on-street parking at intersections.
Some bicycle advocates worry the city isn't dedicating enough money to carry out its ambitious 20-year Portland Bicycle Plan adopted in 2010.
But the city had 30 miles of bicycle boulevards at that point, and adopted a goal of adding 15 miles a year of new neighborhood greenways. For 2010 and 2011, the city is topping that goal, Chisek says.
Despite the new attention, East Portland activists say much more is needed to bring equal treatment to the area, home to many of Portland's poorest residents, including many immigrants.
Much of the development in East Portland dates to when it was unincorporated land controlled by Multnomah County. As a result, many neighborhoods lack basic sidewalks, paved streets and other amenities that most Portlanders take for granted.
The city annexed much of the area in the late-1980s and early 1990s, and residents say it still looks shabbier than the rest of Portland.
'The city finds ways to prioritize projects,' Sauvie says. 'To this point, they're prioritizing projects west of 82nd.'
David Hampsten, an unemployed planner who lives in the Hazelwood neighborhood, says East Portland, home to 28 percent of the city's population, garners a far lower share of the city's resources.
'Portland continues to collect gobs of taxes from us, property taxes and gas taxes,' Hampsten says. 'They've been collecting money, but they haven't actually been doing any improvements.'
He does credit the transportation bureau for stepping up its projects in the area, but complains that the 80s route was relatively low on the community's list of priorities. Extending the neighborhood greenway down to Lents could just serve to 'gentrify' that area, though Lents is no longer as poor or neglected as neighborhoods to the east, Hampsten says.
East Portland residents would prefer that the city build the Mill/Market and 130th neighborhood greenways, he says.
Chisek says extending the Mill/Market route is tougher than others because it's a common route for ambulances and fire trucks. And the 130th route is very expensive, he says, so the city is trying to leverage some federal funds.
The city is taking pains to assure that new neighborhood greenways connect to existing ones, or to important destinations such as schools, parks, transit stops or employment centers, Chisek says.
'We're basically trying to build out a network,' he says, and give most Portlanders easy access to a 'family-friendly route.'