FONT
SHARE THIS
MORE STORIES
---
Blazers say Cho flunked chemistry test with Allen
Chad Buchanan takes over for now as GM, after Cho's firing
A "chemistry issue" primarily between Trail Blazer owner Paul Allen and Rich Cho was the main reason why the NBA team fired Cho as its general manager on Monday, less than a year after Cho took the job, team President Larry Miller said during an afternoon press conference at the Rose Garden.
---
"There was an issue as far as chemistry was concerned," Miller said. "The decision was made to move kind of sooner rather than later in terms of separating with Rich."
Added Miller: "The main chemistry issue was with Paul. ... I think it was more communication than philosophy."
The Blazers appointed Chad Buchanan, their director of college scouting, as interim GM.
The NBA draft is one month away, set for June 23. Miller gave no indication that the team was concerned about choosing a successor to Cho before then.
Miller said the Blazers will search "at some point" to fill the spot.
"We're not going to be in any rush to do it," he said. "We're not going to have a timeline. We're basically going to take our time and bring the right person into this role."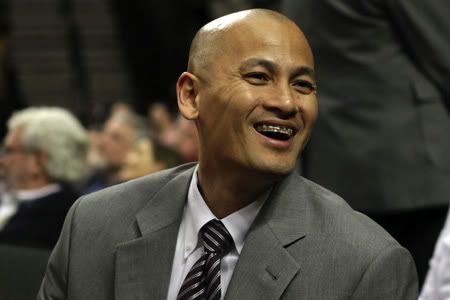 TRIBUNE PHOTO: JAIME VALDEZ • Rich Cho takes in a Blazer game last season.
Miller related the short Cho term and unexpected firing to what the team president has seen in other businesses.
"You think it's the right fit, and after the person gets into the job you realize it's not the right fit," Miller said.
During the end-of-season evaluations after the Blazers' first-round playoff loss to Dallas, "we determined it wasn't going to work out," Miller said.
"There has to be a chemistry with mainly the owner and with the rest of management, and in this particular situation there just wasn't that chemistry," Miller continued, adding that "there was nothing that specific that happened over the last few days."
Looking ahead, Miller said the Blazers will have to define what they want in a new GM.
"For the right person, this is a great job," Miller said. "We have an owner who is willing to spend money to bring players here, an owner who is committed to winning. ... It's our responsibility now to go out and find that right person. I absolutely still think this is a great job for the right person."
Miller said the organization would step back and assess what would constitute that type of GM.
"I think this last year has been a real learning experience for us," Miller said, of a team that also fired Kevin Pritchard as GM and his right-hand man, Tom Penn, shortly before hiring Cho from his post as assistant GM of the Oklahoma City Thunder.
Miller said Cho "was shocked" at hearing of his dismissal.
"I would hope that the fans would look at the results" of recent seasons, including the acquisitions of Wesley Matthews and Gerald Wallace, said Miller.
"We want to get better. We want to deliver a winner to this community, to this city. We feel like there's got to be the right chemistry for that to happen," Miller said.
Owner Paul Allen, who was said to be out of town, released a comment.
"This decision, as difficult as it was to make, reflects our willingness to admit and recognize that things haven't worked out," Allen said. "We're going to be tough on ourselves in assessing what we could have done better, and then go out and find the executive who is the best fit with the needs of our franchise. That chemistry and connection is critically important."
The Blazers also released this statement from Cho:
"Obviously it's a difficult day, but I want to truly thank Paul Allen and Larry Miller for the opportunity they gave me here in Portland. I also want to thank the fans, players, coaches, business office staff and especially my basketball operations staff who have supported me along the way. I feel good about the work we've done here and I know the Trail Blazers are headed in the right direction."