STONE IN LOVE
Journey tribute band proves it is all heart
Diehard Journey fans need to clear their Saturday night.
No excuses, you Beaverton parents out there - get a babysitter, don your best '80s-inspired attire and prepare yourselves for the triumphant return of a true arena-rock experience complete with the lights, sound, energy and music you love.
And, you don't even have to head into Portland and grapple with finding a coveted parking spot.
Stone In Love, a local Journey tribute band, is teaming up with the '80s dance band, Radical Revolution, to stage a 'Westside Totally '80s Night' from 6 to 11 p.m. at the St. Pius X Event Center, 1260 N.W. Saltzman Road.
Proceeds from the 21-and-older dance party and rock concert will benefit Camp Howard and the Catholic Youth Organization, which organizes sports leagues and other events for dozens of parochial schools in the Portland region.
'What makes this event especially unique is that this caliber of concert rarely makes its way to the suburban neighborhoods of Portland,' said Carrie Howard, a mother of a Valley Catholic second-grader who worked with Annemarie Reger, another mother of a St. Pius X first-grader, to stage the event to bring parents together for a worthy cause. 'We were thrilled to bring this type of show to such an accessible location.
'It's a very big deal having both of these popular Portland bands together, too. They have an incredible stage presence and a fan base that is really cool. We're talking salt-of-the-earth people, who just truly love good music. These are the most top-notch musicians, who are also the nicest individuals ever.'
Howard ought to know. She attended Beaverton High School with Jason Fellman, manager of both bands, which also happen to share the same musicians.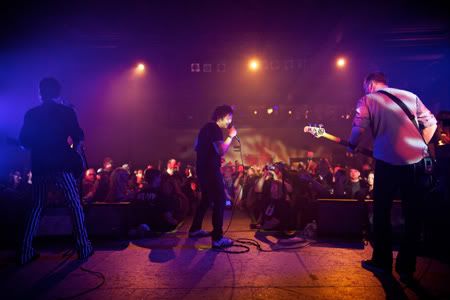 Edge of the moment
She recently reconnected with Fellman and personally saw how generous and accessible his Stone In Love band mates could be when singer Kevin Hahn pulled her 8-year-old son Cooper onto the stage during a sold-out concert at the Aladdin Theater in Portland.
'It literally made his year,' Howard said. 'Cooper loves Journey music, and after the show, they gave him the set list that they all signed. He still thinks that it's the coolest thing that has ever happened to him.'
The experience left a mark with the band as well.
'He was right up front, and you could tell it was his first concert experience,' recalled Fellman, who is also the drummer for Stone In Love.
The other members of the band remember looking out into the audience that night and seeing Cooper rocking out to the music with his eyes wide open.
'I remember when I was that kid,' said Hahn, a Garden Home resident who owns the Opal Recording Studio in Portland. '(Journey's) Escape was one of my favorite records growing up, and a Journey concert was my first show.
'I still remember the sound and the lights and the whole experience of that first concert. Everything was just magic. It was one of those moments that define your life. I knew I wanted to play music.'
Giving Cooper that memorable moment on stage took the talented singer full circle.
'This music takes me back,' Hahn said. 'When we play these songs, I can still feel them like I did as a teenager. It's an incredible feeling to realize, here I am performing the songs I love.'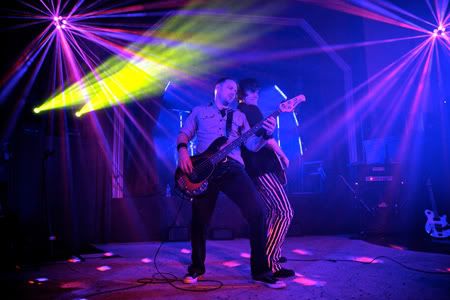 'Rocked-out Journey songs'
Stone In Love is all about making each show an event to remember.
'We are a tribute band,' Fellman said. 'We are not trying to pass ourselves off as the band.
'We play rocked-out Journey songs.'
Hahn nodded his head in agreement and added, 'We are not a look-alike band. Sound wise, we are true to the music, only a little heavier. We dissect the parts and make them our own.'
To pay tribute to the arena-rock roots of Journey, Stone In Love seeks out venues large enough to accommodate its extensive lighting and sound equipment.
'A Stone In Love concert is an event versus a gig or a show,' said Dain Ryan, a Southwest Portland resident who plays bass in the band. 'There's a purpose to it.'
'We bring in a certain amount of hardware,' Fellman added. 'All our shows recreate the arena-rock experience. It's not just about playing the music.'
It's about giving people the music experience they can't find anywhere else, said Davin, a Beaverton resident who plays guitar in the band.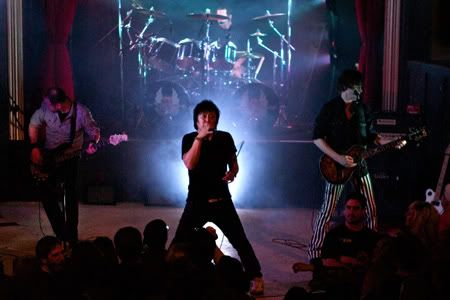 Great response
It was that gap in the Portland music scene that led members of the Radical Revolution to form Stone In Love more than a year ago.
'We thought we would try this out by tacking three to five Journey songs on the end of a Radical Revolution gig,' Fellman recalled. 'The response was crazy. The crowd would just go nuts.
'We had such a great response, that we thought there might be something to this.'
It didn't take long for crowds to catch on and pack venues including the Alberta Rose Theatre, Refectory in Portland, Bossanova Ballroom in Northwest Portland, the Kennedy School and the Aladdin Theater.
Stone In Love also gained the attention of radio station 105.9 FM The Brew, which has been a regular sponsor of concerts across the region.
With each performance, the band notices more and more familiar faces in the audience. As Hahn belts out hits like 'Don't Stop Believin',' 'Lovin', Touchin', Squeezin',' 'Any Way You Want It' and popular rock ballads 'Open Arms' and 'Faithfully,' that sea of faces sings right along.
'We play the hits people know and some for the hardcore Journey fans, like 'Suzanne,'' Fellman said. 'We encounter a lot of interesting characters, and our vision is to build a community. We want our audience to get to know the other people at the shows.'
'It's like an extended family,' Davin added. 'We encourage people to come up and say hi to us. We invite them into our circle.'
Because members of Stone In Love also play in three other Portland bands, the fan base overlaps. Giving their supporters a good experience every time they play is one way to reward their loyalty, Fellman said.
'There's no feeling like performing - it's such a rush,' Hahn said.
'And then to be doing it with your friends makes it even better,' Ryan finished.
The band is looking forward to its first Westside performance this weekend, where it hopes to reach more of its demographic of Journey fans.
'Soccer moms like to party, too,' quipped Michael Johnson, a Beaverton resident who plays keyboards with the band. 'They just have to do it at 7 p.m. and a little closer to home.'
Doors open at 6 p.m. and music begins at 7 p.m. Tickets are $20 online in advance and $25 at the door. Food and a no-host bar stocked with Widmer beer and Duck Pond wine will also be available for purchase during the benefit event. To purchase tickets online, visit www.tinyurl.com/westsidetotally80s .