FONT
SHARE THIS
MORE STORIES
---
Bringing dropouts back home
Details

Jennifer Anderson
Reconnection Center bridges gap for teens who've lost their way
When teens drop out of high school, where do they go? Many times they're sitting on their living room couch, doing nothing at all, Phu Dao has found.
---
Since May 1, Dao - a former probation officer with a degree in social work - has crisscrossed the city, knocking on the doors of dozens of students who've dropped out of Portland Public Schools.
His job is to bring them back.
'I sit down, get to know their story, get to know their barriers,' says Dao, whose yearlong position is funded by a federal grant. 'Once they feel more comfortable, we talk about school. … I bring up their transcript, talk about their needs. I slowly engage them.'
In his month of work so far, he's succeeded in bringing 42 students back into the system. Many of those teens have bounced from high school to alternative programs, ultimately dropping out for a multitude of reasons.
Some went to work to support their family. Some had a baby, succumbed to addictions or got caught up in the criminal justice system. Many dealt with homelessness and poverty. Most lacked a caring adult to keep them on track.
Tribune Photo: Christopher Onstott • Lex McClaurin works online to recover some of his high school credits at the Reconnection Center, which helps students return to school after dropping out. In two years, the center has placed about 200 students in schools.
In the end, they were simply too far behind in credits to feel like they could catch up. So they became part of the all-encompassing dropout problem, an epidemic in the U.S., as well as Portland. The district's four-year graduation rate stands at 53 percent, one of the lowest in the state.
District leaders have been taking proactive efforts to tackle the problem, and some of the behind-the-scenes efforts are starting to pay off.
One of the biggest initiatives has been opening the Reconnection Center in fall 2009 as a one-stop welcome site for dropouts looking to return to the system.
Students are allowed to stay for up to a semester, during which time they recover credits, get evaluated for their best schooling fit - such as an alternative program or charter school - and regain the skills they need to return to the classroom.
Two years later, 85 percent of the Reconnection Center's enrollees - 190 of the 220 that came in through April - returned to school. Six months later, 75 percent of them are still enrolled.
The staff is pleasantly surprised with the success.
'Every one of these students is coming in with a story; they just need a little more guidance to get through,' says Chris Raujol, one of the center's three teachers. 'It's like coming home for them. It's a safe place to come to get off the street for a while.'
Tribune Photo: Christopher Onstott • Mikki Davis says she'd still be homeless and using drugs if not for Portland's Reconnection Center, which hired an outreach specialist to knock on teens' doors and invite them back to school. Community groups and the school district offer dozens of alternative programs to serve disengaged youth.
A turnaround call
From its home in a closed-off wing of Benson High School, the Reconnection Center functions as a mini-high school, sharing space with the Alliance at Portland Night High School.
Classes are held Monday through Thursdays from 1:30 to 4:30 p.m., and 10:45 a.m. to 1:45 p.m. on Fridays; no early rising is required.
Students who come through the center are referred by their teachers, counselors, probation officers and parents. Some have been out of the system for days and weeks; others for months and years.
Mikki Davis couldn't be more grateful to be on her way toward earning her diploma after dropping out a month into her sophomore year.
'I'm not a big school person,' says the 16-year-old. 'I'm always doing something, walking around. I don't get along with many teachers. If they try to overpower me, I push back.'
Since middle school, Mikki had trouble getting along in a traditional school system. She went to school just a few days a week, then once a week, then not at all.
She moved in with her boyfriend, which quickly fell into a downward spiral that had her living on the streets in Sacramento and popping three Ecstasy pills a day to get by.
Mikki says her turnaround began when she got a call from her sister, a UC-Berkeley graduate who lives in Portland. Her sister invited her in on one condition - that she return to high school.
Lonely and desolate, she jumped at the chance.
Last week, Mikki had already collected 13 credits in her two months at the Reconnection Center -'more credits than I ever earned in high school,' she says.
She's caught up on basic math and English skills, with small-group instruction from teachers.
Enrollment changes daily; on a recent day, 38 students went about their routine while their three counselors worked to find their best school placements. One of those counselor positions will be cut next year due to districtwide staff reductions.
Tribune Photo: Christopher Onstott • Arron Roy adjusts his tassel Friday just before the small graduation ceremony for Marshall's BizTech High School. A council of 40 leaders in education, business, philanthropy, government and community organizations have formed a cradle-to-career network to boost the graduation rate, among other goals.
The average age of students coming to the Reconnection Center is 15, and the average grade level is 10.3. Students enter with an average of 4.3 credits. Skill-wise, they're an average of two grade levels behind.
'We're not expecting to see huge academic gains, but we're here building confidence and all of the soft skills they need to be successful,' says Carla Gay, program manager for the district's 24 community-based alternative programs.
Gay says initially district leaders expected to attract older dropouts. But it's the youngest and most recent dropouts who are easiest to engage, she says.
So Dao, the outreach specialist, works from a list of hundreds of names that pop up on the district's 'early leaver report,' generated quarterly.
He cross-references those names with the most recent no-shows at alternative programs. He spends three days a week knocking on doors, texting students, getting chased by pit bulls and told off by angry parents. But he doesn't back down.
'I don't give up until I talk with the student,' he says. 'I'm the bridge to bring them back, step by step.'
---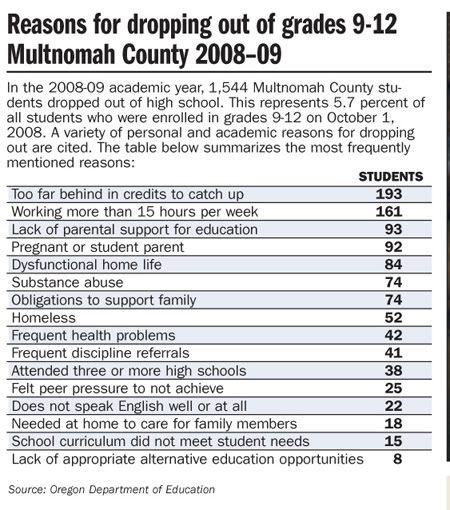 ---
• Academy spins art into education
The much-talked about 'hip hop charter school' is finally set to debut this fall - in the Pearl District.
The location might seem like an odd choice, but it actually makes perfect sense, says Erica Jayasuriya, founder of what's now called the R.E.A.L Prep Charter Academy (which stands for Recording Entertainment Arts and Literacy).
Designed for students most at risk of dropping out, the Portland Public Schools-sponsored charter school will be easily accessible by public transportation and surrounded by media- and arts-rich partners, Jayasuriya notes.
By leaving their own neighborhoods, she says, students will cross racial and socioeconomic barriers to prepare them for real life.
The school has a cap of 250 students but will aim to enroll 200 this fall. It's open to all students who've completed eighth grade and are not yet 21, and who haven't earned a GED or high school diploma.
'We're trying something pretty outrageous, which is to open with whoever needs us,' Jayasuriya says. 'We can be flexible for students who need credit recovery, while also providing structure for those who need it.'
Former dropouts are welcome, as well as those who are 'hanging by a thin wire,' Jayasuriya notes. Fifty students have enrolled so far; street teams will make a push to recruit this summer.
The school is based on an integrated arts curriculum, aligned to state standards, that includes mentorships and job shadows with local businesses.
They'll use the arts as a lens for creative and critical thinking combined with science, technology and entrepreneurial skills.
The 26,000 square feet of space in a historic building at 1440 N.W. Overton St. is set for $1.5 million in seismic upgrades and renovations this summer, funded by local business partners as well as the school's sponsoring nonprofit, Freedom Through Freestyle Inc.
An open house is set for noon to 6 p.m. Saturday, June 11. Tours, talks and live music are on tap.
For more information, visit www.realprepcharter.org .