FONT
SHARE THIS
MORE STORIES
---
Sweet smells of success
New Beaverton police dog's nose knows no boundaries when it comes to tracking suspects
Whether you're the mild-mannered type who occasionally breaks the speed limit or a career criminal on the lam, few experiences are more intimidating than being set upon by an armed police officer with a maniacally barking German shepherd in tow or frothing in the back of a squad car.
---
As scary as this combination may seem, the relationship between officer and police K-9 is rooted in big-hearted affection.
'It's based on a love of animals. If you don't like dogs, this is not the place to be,' says Lt. John Gruber of the Beaverton Police Department, referring to the agency's K-9 Unit. 'They become part of the family - and they're a lot of work.'
When tracking criminal suspects goes as well as it has in recent weeks, the time K-9 officers devote to training and integrating the department's five dogs - including Enzo, its newest addition - seems well worth it.
Enzo's night to shine
Between Saturday evening, May 21, and the following Sunday morning, two of the department's officer/K-9 teams netted seven suspect captures in the 10000 and 16000 blocks of Southwest Cormorant Drive and the 1800 block of Northwest 169th Place.
Five of those successful trackings were the work of Enzo, a 19-month-old black German shepherd imported from Europe, and Officer Robert Wolfe, his designated handler.
'It was Officer Wolfe's third week as a certified handler,' observes Sgt. Mark Hevland, a state certified K-9 handler who heads up the department's training program. '(Enzo) had five captures in four tracks.'
Officer Steve Anderson and Alex, his K-9, led to the other two captures on what was a record-breaking night for the 32-year-old unit.
The flurry of late-night incidents yielded arrests related to trespassing, criminal mischief, attempting to break into a truck and stealing gas.
To have so many successful trackings on a given night is pretty rare, Hevland observes, particularly when the K-9 and his trainer are novices.
'Usually, if you get one capture a month, you're feeling pretty good. They tend to be few and far between,' he says.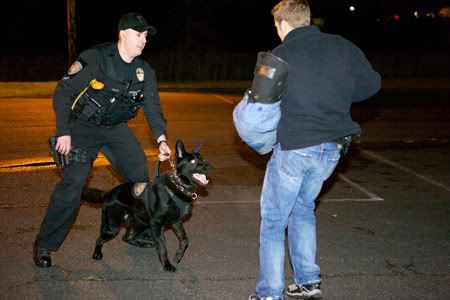 Senses working overtime
Wolfe, who followed Enzo's keen lead through neighborhood backyards, porches and patios, says the key training ritual of immediately rewarding a job well done paid off in spades on that chaotic May evening.
'Every time they find someone, they get their toy,' he says of the highly desired rubber bones and chewy objects. 'It's all based on positive reinforcement.'
Wolfe is one of five on the Beaverton police force who have the desire, disposition and training to be certified K-9 handlers.
The unit members gather at the police station on Wednesday nights to review recent incidents before they head out with the dogs to training sessions throughout the city. Locations range from open fields, which promote exercise, to more 'contaminated' apartment complexes, where dogs can put their sense of smell to the test.
'Contaminated just means there are multiple odors they have to work through,' Hevland explains. 'It teaches the dogs to stay on track.'
The longer officers work with a particular dog, the more they pick up from the K-9's individual movements and behaviors.
'It's funny how much you pay attention to how high his tail is,' Wolfe says of Enzo, 'or listening to how his breathing's changing.'
A dog and his master
Hevland says most of his energy is directed toward guiding those trainees with two legs rather than four.
'If you get a quality animal, they're easy,' he says. 'Teaching handlers is the hardest part. We don't teach a dog to do something, we teach the handler how to teach them.'
Wolfe agrees with his trainer's assessment.
'They don't get to make their own decisions,' he says of police K-9s. 'When they go potty, it's because we told them to.'
Like his fellow officers and their pooches, Wolfe takes Enzo on all calls and brings him home at the end of a shift when their work is done.
'Anytime I'm at work, he's with me,' he says.
The playful-yet-effective Enzo is as adept at winding down with Wolfe's black Labrador as he is chasing after bad guys.
'He gets exhausted just being in the car waiting to come out,' Wolfe says. 'When we're home, his harness comes off, and he has his place, his own doghouse.'
Being a good boy
Much like the human officers that lead them, the most successful police K-9s are those with an amiable disposition.
In other words, Beaverton's dogs aren't the crazed canines you see on crime-chaser TV shows.
'TV portrays animals as these big, mean things that go out and attack people,' Hevland says, 'with the dog jumping on the car and dragging a suspect by the arm across the street.'
In real life in and around Washington County, police K-9s are used most often to locate fleeing or hiding suspects.
'Very little of what police dogs actually do is bite someone,' Hevland says. 'We've had a lot of captures, and no bites.
'One of the key things is how social they are and how they interact with people,' Hevland adds. 'Most of our dogs can walk around a school and have kids pet 'em. They've got to be social, very approachable dogs.'
More recently, the dogs are being trained to find missing objects.
'They find all sorts of evidence, property, officers' keys,' he adds. 'They are out there to find things.'
When an officer is tracking a human being, however, the presence of a police dog can tame even the bravest and fleetest of criminals, observes Officer Anderson.
'Some people will take on the biggest police officer,' he says. 'Then you have a 75-pound dog with you - and they back off.'