FONT
SHARE THIS
MORE STORIES
---
Growing Islander numbers add to regions mixed plate
Details

Jennifer Anderson
Cultural challenges come with increases in local populations
A hundred people from the tiny South Pacific island nation of Tonga gathered Friday for a celebration at a community center in North Portland.
---
They were nearly 6,000 miles from home, but you wouldn't know it by the massive feast piled high across two long tables: roasted suckling pig, taro root, fried fish, bowls of tropical fruit and other island delicacies.
David 'Leka' Koli, the party's honoree, wore a traditional ta'ovala or woven mat around his waist, a crisp white dress shirt, two large diamond studs in his ears and a sweetly fragrant ti leaf money lei, imported that week from Tonga.
The 18-year-old had just accomplished a rarity in his culture, earning his diploma from Roosevelt High School on June 7.
It was no small feat, considering that just six months ago he dealt with the sudden death of his father, and two weeks before graduation he was suspended from school for what his case manager calls a cultural misunderstanding.
Family issues, cultural misunderstandings, language barriers and trying to navigate a confusing system: it's a common story line for the often overlooked population of Pacific Islanders who call Portland home.
'The majority of them are not going to walk (to get their diploma) if nothing changes,' says Kolini Fusitua, a Tongan case manager who works with 40 Pacific Islander students across Multnomah County.
Portland's Immigrant and Refugee Community Organization hired Fusitua as a liaison between families and teachers this past fall. Many of the Islander students, particularly in North and Northeast Portland and the David Douglas district were struggling.
'We value education so much, but it's unknown territory,' Fusitua says. 'We have very few that reach a higher education level. They're not talking to the children about what's exactly needed to get there.'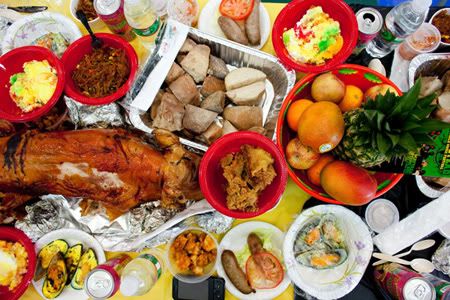 Tribune Photo: Christopher Onstott • Graduation party guests were treated to a traditional feast of roast suckling pig, taro, sweet potato and an assortment of meats, fruit and desserts at last Friday's celebration.
Islander population growth
According to the latest U.S. Census data, Native Hawaiians and Pacific Islanders are the racial group with the largest Oregon growth from 2001-2010, showing a 68 percent increase. That surpasses the Hispanic/ Latino growth of 64 percent, Asian growth of 39 percent and black/African American growth of 24 percent.
Fusitua thinks that so-called growth might be misleading. Scores of Islanders have been here since the 1970s, he says, they just haven't filled out their Census forms. 'There was a fear of the unknown,' he says.
Fusitua, part of the push by the Census this past year to encourage minority communities to participate, believes that explains the 68-point jump.
'Now people know immigration has nothing to do with the Census,' he says. 'Now people are filling out the forms.'
In all, the Census counted 13,404 Native Hawaiians and other Pacific Islanders last year (including 4,145 children in Oregon), still just 0.35 percent of the state's population. Some are Native Hawaiians, while others come from Fiji, the Marshall Islands, Micronesia, Cook Islands, American Samoa, Palau, Guam and Samoa.
The Tongans, as legal permanent residents, don't need formal U.S. citizenship. They can come and go as they please. But they've chosen to come, for economic and educational opportunities.
Fusitua says all of the Islanders he knows live around the poverty line. All but three students in his caseload are behind academically.
Of the seniors he worked with this year, six graduated, but nine did not. That won't change, he says, as long as the disconnect remains.
Parents want to help but 'they don't know what they can do,' he says. 'They think it's buying them new Nike shoes, a new outfit. But the kids don't need that - they need parents to be there for the parent-teacher conference. Rarely do they show up.'
That's not to signal a lack of caring - they show up en masse at Saturday rugby games. But when it comes to the classroom, 'they feel intimidated; they don't feel comfortable, so they just don't go,' Fusitua says.
Tribune Photo: Christopher Onstott • Salote Toutai (left) shares her excitement with Roosevelt High School Principal Charlene Williams about her son's high school graduation. Islander parents want to help their children in school but don't know how, a case manager says.
Like a dream
At Roosevelt, Principal Charlene Williams says Fusitua has helped organize outreach efforts targeted to the island community.
They've coordinated college tours and hosted Asian and Pacific Islander breakfasts and dinners at the school to help answer questions. Coaches also play a role.
Williams and Roosevelt Vice Principal Greg Neuman made a special effort to attend David's graduation party last Friday to personally recognize his accomplishment. The suspension had barred him from accepting his diploma with the rest of his classmates.
The untimely incident happened when David was horse-playing with a girl in class and he accidentally hit in her in the eye, Fusitua says. By Fusitua's account, David immediately apologized but then another teacher stepped in and 'threw the book at him.'
'They said, 'What if this was your sister,' ' Fusitua says, a comment that struck him emotionally since his family has been going through turmoil since their father died.
'That was too much for him,' he says. 'He got really angry. He got tensed up and said, 'You don't know what our family went through, I know I did wrong, you don't have to bring her into it.' He was being vocal about it. And he's a big guy … he could be intimidating. They were not knowing what he's going to do next.'
The whole situation spun out of control because school officials were not familiar with Tongans, Fusitua says. 'When it has to do with family, we get extremely sensitive.'
David was suspended for three days and then faced the district policy that bars students from all school activities - including graduation - within 60 days of a suspension.
Roosevelt administrators stuck to it.
Fusitua thought the next best thing to do was invite Williams and Neuman to the party, an invitation they happily accepted. They spoke to his accomplishment, saying they're confident he'll achieve his dream of becoming a police officer after he attends Portland Community College on a city-sponsored scholarship.
That was all David needed to hear. It was enough to make his mother's dream come true.
'They still have the hope their child is going to make a difference,' Fusitua says. 'But it's more like a dream. When you dream, you're asleep. They don't know how to go about it.'
---
NW climate, network attract Islanders
Whether the latest jump in Islander population reflects actual growth or more participation in the Census, it's not surprising that Portland is a hotspot for Pacific Islanders.
The mild climate, existence of an established cultural network here and recruitment by schools on the West Coast have been attracting Islanders for decades, notes Charles Rynerson, demographer for the Population Research Center at Portland State University.
Hawaii ranks at the top for the most Native Hawaiian (meaning race, not Hawaii-born) and Pacific Islanders, at 10 percent of the state's population. Next is Alaska at 1.04 percent (for the fishing industry), Utah at 0.9 percent (for the Mormon churches), Nevada and Washington tie at 0.6 percent, California is at 0.39 percent.
Oregon ranks seventh, at 0.35 percent of the state's population. That's likely boosted by large recruitment efforts from Oregon colleges and universities, including Forest Grove's Pacific University, which enrolls a quarter of its students from Hawaii alone. The school's Hawaii Club of 200-plus members attracts 2,000 guests to its lu'au each year, and it is the region's longest-running, at 46 years.
The proliferation of island culture has shown itself in many ways. The first King Kamehameha Day festival happened in Portland June 10 on the Hawaiian national holiday, surf gear is mainstream and there are 33 'Hawaiian' eateries in the area, as well as ethnic grocery stores that cater to Islanders or people with island tastes.
'I wish we were back in Hawaii, obviously,' says Veth Hom, North Portland-born Lao who co-owns a Hawaiian and Southeast Asian-style food cart on North Killingsworth Street called Lilikoi. She and her Hawaii-born husband, Dekin Hom, tried living in Hawaii but returned to Portland 10 years ago to open their business - their dream - and raise a family.
'I like it a lot better than here,' she says. 'But living there - a job and everything -doesn't sustain everything you want to do.'