FONT
SHARE THIS
MORE STORIES
---
Rhythm of the streets
City's downtown performers learn to play on the move
Michael Hansen and Bremen McKinney are learning about performance pressure of all kinds this summer.
---
Members of the popular ensemble All The Apparatus, Hansen and McKinney have given up their day jobs in computer sales and customer service. They're trying their hands and mouths at busking during the day, playing guitars and singing on street corners in downtown and on Hawthorne Boulevard, hoping to make enough money to pay rent and buy a few groceries.
Much of the pressure they feel doesn't come from getting enough dollar bills and change in their red fabric-lined suitcase to make a living, though that part of the operation is certainly in question at this point. Dealing with rules and regulations governing street musicians has Hansen and McKinney really on their toes.
City regulations require that each street musician play only for an hour in one spot before moving and leaving the place for someone else. Rules also state that if the music can be heard from more than 100 feet away, it's too loud.
A number of street musicians hoped to change those rules this year, but city officials say that isn't going to happen.
'We had this one (police) officer who would come up and just wait for a mistake,' Hansen says.
Too loud or too long, they'd have to move on. That was on Hawthorne, among the city's most popular busking thoroughfares.
Saturday Market may be the most popular venue for musicians. The market provides a sign-up sheet for busking spots that is posted at 9 a.m. Saturday mornings. Hansen and McKinney have learned they can't arrive at 9 if they want a spot. The line of musicians waiting to sign up starts hours earlier, and Hansen says he's heard some say they sleep in line overnight to get a prime spot the next morning.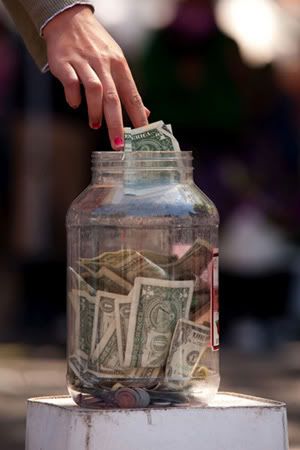 Tribune Photo: Christopher Onstott • Portland buskers are trying to make money while obeying the city's one-hour limit on playing in one spot.
Changing the atmosphere
Halley Weaver, who makes a living playing her harp on Portland streets and accepting gigs for more formal occasions, such as weddings, had hoped to change the equation just a bit for Portland street musicians. Starting last year, Weaver and a few others attempted to organize buskers to improve conditions, an endeavor she admits is akin to herding cats.
Weaver hoped to convince the city's parks bureau to eliminate restrictions on buskers in city parks, especially Tom McCall Waterfront Park, where buskers have been told they need permits to perform.
'There are two schools of thought with buskers,' Weaver says. 'You're out for yourself because you're trying to make money and the other busker is potentially going to take money away from you, (or) I get to meet other musicians and jam together. We're trying to promote the latter.'
A few gatherings last fall evolved into jam sessions and meetings with City Commissioner Amanda Fritz. Weaver and friends also organized the last summer's Big Busk, which returns July 16. Dozens of buskers are signing up to saturate downtown that day with all kinds of music - but not near the river.
Weaver says she has been kicked out of Waterfront Park twice by private security officers who told her she could play her harp there but she could not put out a hat for donations. Weaver would like busking allowed in the park. But a spokesman for Fritz's office told the Portland Tribune last week that, despite the discussions, there won't be any changes to the city's street-musician agreement, which includes no busking in Waterfront Park and the one-hour street-corner limit.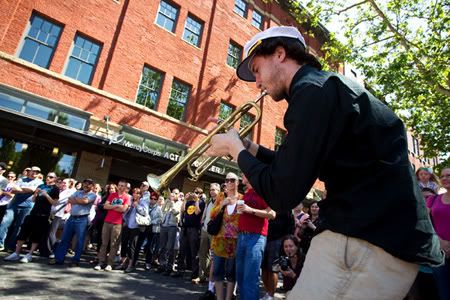 Tribune Photo: Christopher Onstott • John England-Fisher works a Saturday Market crowd while trumpeting for All The Apparatus, a band of street musicians who play "avante-garde dirty gypsy klezmer jazz indie anti-folk rock." Saturday Market busking spots are the most prized and hardest to secure.
Peruvian flute player
Nevertheless, Portland, which doesn't require permits outside its parks, is ahead of most of the country when it comes to dealing with street musicians, according to Stephen Baird, Boston-based founder of Street Arts and Advocates.
Baird, a longtime busker, serves as an organizer and legal historian for street musicians nationwide. He says that almost all major cities in the country - including Los Angeles, Venice Beach, San Francisco and Seattle on the West Coast - have instituted widespread permit systems that require buskers to register with city officials. A slew ofcourt cases, including a 2009 ruling by the Ninth Circuit Court of Appeals striking down Seattle Center busking regulations, are declaring those systems unconstitutional. So, Baird says, many cities might soon follow Portland's less-restrictive guidelines.
Baird says that street musicians are a vital component of a healthy urban street scene. Much of jazz and blues music evolved on the street, he says, as well as what became known as tap dancing. And he insists that even a bad street musician helps a neighborhood build a sense of community.
'People will stand around and say, 'Oh, they're bad.' They'll start talking to each other,' Baird says. 'They'll create that sense that the street is a place to communicate.'
As far as national trends, he says cities around the country are seeing more older buskers since the recession hit - retirees and working musicians trying to supplement their income. Also, Latin American music is becoming more ubiquitous, a result of immigration trends.
Is Portland street music different from anywhere else? Hansen of All The Apparatus has traveled some and isn't so sure the music varies much from city to city.
'My theory is you can go to any city in the entire world and find a Peruvian flute player,' he says.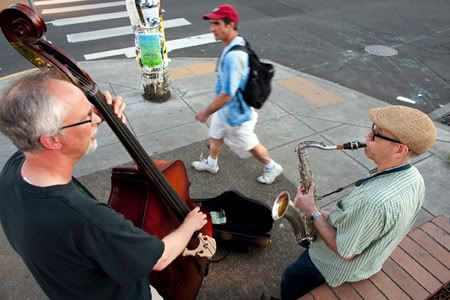 Tribune Photo: Christopher Onstott • Mark Niemann-Ross (left) and Don Barnes play a jazz duet on the corner of Southeast 36th Avenue and Hawthorne Boulevard. As long as they keep the volume within reason, they're street-legal.
No place for professionals
Weaver says Portland's penchant for the 'weird and unusual' might have a distinguishing influence. 'I think we have a lot more of the old timey klezmer country rockabilly kind of music,' she says.
Weaver says there's a piece of the city's street musician agreement that is distinctively Portland: police must wait until a busker's song is finished before telling them to move on or tone it down. Weaver says local officers do just that.
Nora Beck, Lewis and Clark College music professor, isn't quite as sold on the value of street music here. Beck says the thing that makes the Portland music scene unique - its proliferation of small clubs where young musicians can get gigs - is probably keeping many of the best musicians off the street. Most of her students are able to get club dates, she says, and she knows of only one former student playing on the street.
'I think you're getting mostly a step up from panhandling,' Beck says. 'I don't hear a lot of excellent conservatory trained musicians playing on the street.'
Beck taught at Columbia University in New York City, where legend has it that university music students frequently busk on the Upper West Side. She says that's mostly a myth, too. In fact, Beck has assigned her Lewis and Clark students to interview Portland buskers, which most find enlightening.
'It's been my experience they learn pretty quickly that that's not where they need to go to get training,' Beck says. 'They go to nursing homes to play, hospitals, those kinds of things more so than the street. The street is really not the right place for professionals. People don't listen, and they spend a lot of time walking by you.'
Hamlton Cheifetz, Portland State University music professor and Florestan Trio cellist, says the music on the South Park Blocks at PSU ranges from a cellist playing Bach 'not badly at all,' to a mariachi trumpet player playing 'Strangers In The Night.' One of his most gifted cello-playing students used to practice there and made a fair amount of money, Cheifetz says.
'I've actually heard some really good players when the weather allows for it,' Cheifetz says. 'There's quite a range of abilities or skill levels, but there are some very impressive people.'
Thirty-three-year-old Billy D. Stallings is convinced that Portland's buskers have their groove on. Stallings is taking cell phone photographs Monday afternoon of longtime local bucket drummer Emmett Shepherd, across from the food cart pod on Northwest 10th Avenue.
Stallings hails from Austin, Texas, a city noted for its own music scene. He says a lot less of it spills onto city streets, and those buskers he finds in Austin aren't quite so 'eccentric.'
'I've never seen anything like this,' he says, as Shepherd pounds out a beat using broken glass in a bucket to simulate a snare drum sound. 'I've seen people try to do what he's doing, but he's making use of that many different elements. It's remarkable.'
---
• Some big names sang for pennies on the street
Even though the Decemberists got busted for busking two years ago in Michigan, of all places, local street musicians are hard-pressed to name any buskers who played Portland's streets before making musical names for themselves.
But busker historian Stephen Baird lists plenty on the national scene. At 12, Benjamin Franklin composed sailor ballads and sang them on the streets of Boston to earn a few coins.
As proof that the quality of the music doesn't necessarily translate to quality money in the hat, the Washington Post four years ago followed Joshua Bell, one of the world's most renowned classical violinists, as he played anonymously at a Washington, D.C., Metro rail station. More than 1,000 commuters walked by Bell. After 43 minutes, he had collected $32 in donations; only a handful of people bothered to stop and listen.
Other pre-fame buskers included songwriter Irving Berlin, who sang for pennies on the Lower East Side of New York as a 9-year-old immigrant, and jazz great Louis Armstrong, who started out on the streets of New Orleans.
Paul Simon and James Taylor played London's streets to earn money for demo tapes. Tracy Chapman honed her performing style in Cambridge's Harvard Square, as Joan Baez had decades earlier.
'A lot of our cultural initiatives are not born at universities, but out of individual identity and artistic searches, and done in spite of authorities and in spite of current trends,' Baird says. 'What's popular on the street will be a part of mainstream culture 10 or 20 years further on.'
For more background on the history of street performance and performers who made it big, visit Baird's website at BuskersAdvocates.org.