Legal spat shadows Hawthorne mural restoration
'Fun Boy' restores damaged painting as its creator fumes in New Orleans
While 21-year-old Nick Sherbo - known in local graffiti circles as 'Fun Boy' - works this week to restore a community mural on a building at Southeast 33rd Avenue and Hawthorne Boulevard that he tagged in early June, the woman who created the piece 14 years ago is considering legal action, claiming she has the right to oversee the mural's restoration.
'I've lost control of the appearance of my original work,' artist Jane Brewster says from New Orleans, where she moved nine years ago. 'That's just wrong.'
Sherbo is using his own money to restore Brewster's wall-sized portraits of literary geniuses under the guidance of local muralist Liz Hibbard. The mural was vandalized last month and Sherbo has taken responsibility for the graffiti damage.
His repainting project is part of a civil compromise prior to Sherbo's Aug. 17 court date in the case. If he restores the mural, criminal charges could be dropped.
Sherbo declined comment on the case. His attorney didn't return phone calls.
Destroyed in the night
Brewster designed and painted the mural on the building that is now home to Edena Morris' House of Vintage store. According to Morris, graffiti writers regularly tag the property. Since she opened her business in 2002, Morris says she has maintained the mural without Brewster's help.
'It's unfortunate that a mural loved by so many people was destroyed by a kid in the middle of the night,' Morris says. 'We're working from Jane's exact prints.'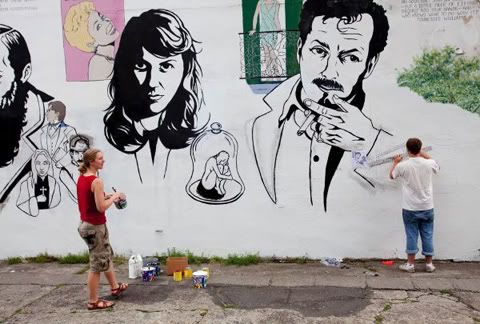 Artist Liz Hibbard, left, is supervising restoration work by graffiti vandal Nick Sherbo, who is repainting the Hawthorne mural that he damaged in June. The building has been hit by graffiti several times in the past few months. • CHRISTOPHER ONSTOTT/PORTLAND TRIBUNE
Brewster wanted to restore the mural, offering to return to Portland to do the work. She's contacted Morris, Hibbard and local business owners several times to complain about the restoration in her absence.
'She screamed at me on the phone,' says Morris. 'I do understand her passion for the piece, but you catch more flies with honey, or whatever the saying is.'
(Artist Brewster disputes that characterization of the conversation. Brewster says she didn't scream at Morris.)
Morris is talking with members of the Hawthorne Boulevard Business Association who are interested in launching a restoration of the full mural - not just the section damaged by graffiti - sometime this year. Association representatives say the project might involve Brewster.
'I e-mailed Jane directly and asked if she'd be willing to come up with a project budget and submit it,' said Roger Jones, a member of the association's board. 'She hasn't yet.'
Attorney Kohel Haver, an arts advocate who's represented the creative elite in Portland for more than 20 years, thinks Brewster may have a legal case.
'Jane was willing to come out for the price of a plane ticket and hand-repair it,' Haver says. 'Is it the right thing to do? It's exactly the right thing to do.'
Haver says the federal Visual Artists Rights Act could apply to this case. Under act, some works of art afford the creators certain rights regardless of subsequent ownership.
'If she had the money to make a point of it, it could be a great public case,' Haver says.
The last laugh?
Sherbo started restoration work in early July, using the Kilz primer and one-shot paint that Brewster specified on a list she sent to Hibbard. Brewster's original drafts are taped to the wall next to him during Sherbo's painting sessions.
'I wanted his little butt out there scrubbing the wall,' Morris says of her input when the civil compromise was negotiated. 'He's stepped up. He wants to do what's right. If he can learn a lesson from this, great. It's not all about Jane.'
The mural needed to be restored before Brewster could visit Portland in late July or August, Morris adds. Two more graffiti vandals hit the building since June and Morris didn't want to leave the graffiti intact.
'You have to take it from the business perspective,' says Morris. 'This building gets graffitied all the time. I can't leave it up for long. If I called her every time the mural was tagged, she'd be flying out every three months.'
Brewster is hoping to buy a plane ticket to Portland with the money she makes from art commissions. She wants to meet Morris and further her cause.
'After the mural was completed, the lines and colors glowed radiantly,' Brewster remembers. 'It measured 18 feet high by 110 (feet long). The repair to it is being handled as if it was repairing a crack in the sidewalk. Writing your name on the wall with a can doesn't qualify you to be the restorer of my painting.'
Hibbard and Brewster communicated in June, but the logistics of Brewster's proposed trip to Portland became too complicated, Hibbard says.
'Nick and I are working together,' she says. 'It's being dealt with and taken care of. She was not on board with our vision.'
Attorney Haver is on Brewster's side of the argument.
'No matter what a pain she was, the building owner blew it,' he says. 'The vandal is the bad guy. He should be shoveling poop somewhere. It's crazy to allow him any part in cleaning up. These taggers drinking their PBR and passing around cans of spray paint - they're getting the last laugh.'