FONT
SHARE THIS
MORE STORIES
---
School program finds comfy summer nook
Details

Jennifer Anderson
Teacher's nonprofit efforts keep students from falling behind
In between camping and playgrounds, ice cream and swimming pools, thousands of Portland kids are in summer school this month.
---
For children at outer Southeast Portland's Harrison Park K-8 School - the largest and most diverse K-8 school in the district - summer school isn't just an option, it's essential.
'All of these kids are going to fail if they don't get this extra support,' says Harrison Park fifth-grade teacher Tim Schulze, of the 32 students enrolled in his new nonprofit program, PDX Summer School.
Those students are among the neediest in the public school system, those who must overcome a double-whammy of learning English as a second language and being poor.
In all, 250 Harrison Park students - one in three - are English Language Learners, giving it the biggest ELL population for a K-8 school in the state. In addition, 84 percent of students receive free- or reduced-price meals, making it one of the most impoverished.
While students at PDX Summer School come with those burdens, they're ready to learn. Teachers recommended them for the program because they thought they'd be most likely to focus during the summer.
Focus didn't seem to be a problem at all one recent morning. In one classroom, five young students sat in a circle around their teacher with a chapter book and took turns reading aloud while their teacher stopped them at points and asked the meaning of a word, or what they thought might happen next.
In another room, three girls sat on pillows in a cozy corner of the classroom, moving small blue plastic cubes around working with numbers in ones, tens and hundreds. In another part of the room, a boy sat at a desk facing his teacher, who helped him work through addition problems with yellow and green tiles to help him visualize the process.
Little nooks of learning - mostly in 4-to-1 ratios - were spread throughout the school. Not a single student strayed from task.
A year ago, Schulze was spurred to create the program after talking with another teacher who feared how much academic progress her students would lose during the summer. One first-grader in particular ended the year at grade-level ability, but fell far behind during the summer because her parents spoke only Turkish at home, Schultze recalls.
'They're not reading' in English throughout the summer, he says. 'We almost have to start from scratch.'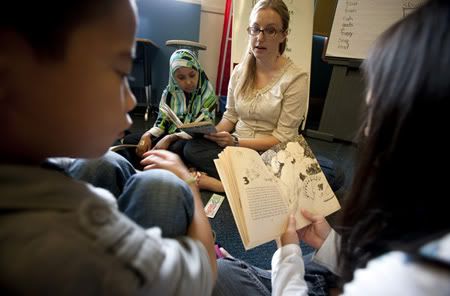 Tribune Photo: Christopher Onstott • Pat Prevost works with students at Harrison Park, one of the poorest and most diverse schools in the state. With more funding, the upstart PDX Summer School could expand beyond 32 students.
Schulze rounded up a board of directors, sought nonprofit status - which he received in March - and started raising money for the program. The group was able to secure $1,600 through various donors, then $6,000 the next year.
The summer school is a partnership with Multnomah County's SUN (Schools Uniting Neighborhoods) Community Schools, which provides afterschool and summertime activities.
But PDX Summer School classes are more academically focused, able to provide smaller learning groups, and targeted to the ELL population.
The classes are taught by teachers from Portland Public Schools and neighboring districts. Students arrive in the morning for their free breakfast, attend an hour-long session of intensive tutoring in reading or math, break for recess and then get another hour-long session of study. They end their day with a free lunch and head home at noon.
It's gratifying work, they say. But they all have the same complaint: 'We need more time with them.'
This year, the summer school runs for four weeks, during the month of July. If more funds were available, Schulze says, he'd look to increase the number of weeks the program is offered, to fill the empty month of August.
Already, a lot of time is spent on pre- and post-program assessments, he says, to determine how far students have come during the four weeks. Teachers constantly refer to each student's folder to see what level they're at and how to push them further.
'A lot of guts'
At recess Friday morning, the PDX Summer School students stretched their legs on the playground as at least three other summer programs at Harrison Park also enjoyed their recess.
As Schulze heads to school every day, he thinks about the life challenges his students were born into. Many came from refugee camps in Somalia, without as much as a book to call their own.
One of the studies he read stuck with him. It said that children identify more with being a reader when they have their own bookshelf. So he drew up a template for an easy-carry bookshelf - a simple foot-long structure with sides and a back.
'I had my dad come in and help,' Schulze says. 'They built it; they have a certain level of buy-in.'
Each student took home their own bookshelf, along with a handful of donated books. Schulze would like to do the same for his summer school kids, but there's a big need for donated books, as well as funds for other learning supplies. Next year, he hopes to possibly expand to another school. He knows the need won't go away.
'These kids have a lot of guts,' he says, 'coming here day after day.'
For more information, see pdx summerschool.com.