FONT
SHARE THIS
MORE STORIES
---
PICK FLICKS
Film puts Happy Valley's Pickathon up close and personal for school's benefit
Two weeks before last year's Pickathon, festival co-founder Zale Schoenborn ran into a problem. The camera crew who usually tapes the festival - a three-day affair at Pendarvis Farm in Happy Valley - backed out.
---
The results couldn't have been better.
Within days, a festival volunteer cobbled together an all-star camera crew, found enough equipment to cover four stages and captured event footage that far exceeded anyone's expectations. The result was so good that Pickathon organizers decided everyone should see it, and Flickathon was born.
Flickathon includes three, one-time screenings of live performances from Pickathon on Jan. 28 and 29 at Northwest Portland's Mission Theater, and is part of the inaugural Benefest, a fundraiser for Buckman Arts Focus Elementary and the Portland Public Schools Foundation.
Benefest also includes three live shows at venues throughout the city, and a streaming video pass that allows fans to watch those shows online. The live shows start Saturday, Jan. 22, with the Corin Tucker Band at Mississippi Studios. Tucker, who co-founded the band Sleater-Kinney, has a daughter at Buckman, and like all of the artists, is performing for free.
'This is totally new. It's a function of having kids in school and realizing that you need to be doing something to help the community thrive,' Schoenborn says. 'Benefest is our collective gift back to the community.'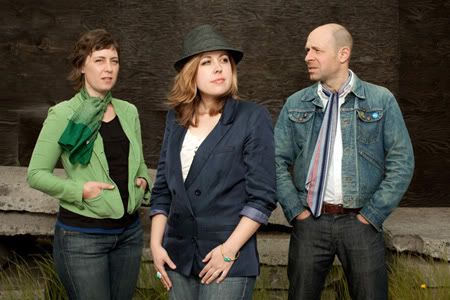 COURTESY OF JOHN CLARK • The Corin Tucker Band plays Mississippi Studios Saturday as part of Benefest, a four-weekend festival of music and film to benefit Buckman Elementary and Portland schools that was created by the organizers of Pickathon.
Capturing something 'unique'
When Pickathon was left without a camera crew, Ryan Stiles stepped in. Stiles was already volunteering at the event, and asked his boss, Neil Wilburn at Limelight Video Production in Portland, if the company would sponsor the Pickathon taping.
Wilburn said yes and Stiles went to work. He posted an online ad seeking volunteers and equipment, and the response was overwhelming. Local directors, a Portland Trail Blazers cameraman, and even an Emmy-nominated camera operator from Southern California, offered their time and equipment.
'It was amazing,' Stiles said. 'People really loved the music and really wanted to be a part of it.'
While previous film crews had primarily documented the event's main stages, Stiles wanted to include the event's Woods Stage, a small, natural amphitheater tucked in the forest. Robert Pallotta, a jib operator who works on Trail Blazers' television broadcasts, was key to that effort.
A jib is a counterweighted boom device with a camera on the end that can swing out over a crowd or stage.
'The Woods Stage had never been covered before, but once I went out there, I thought, 'This is really what Pickathon is about, having these different types of environments within huge Pendarvis Farm covered in a way that's unique and different,' ' Stiles says.
One of Stiles' and Schoenborn's favorites is a performance from Seattle's Cave Singers that's lights out - literally. With bands running behind schedule, the Cave Singers' Friday night set stretched into the night, and the solar-powered Woods stage typically shuts down around 8 p.m.
Palotta asked his 13-year-old son to run back to their car and grab a couple of flashlights, which he shone on the band for the rest of their set.
'The scariest thing about video for me is, every time you go back and look at something you remember so fondly, you feel like you're gonna spoil it,' Schoenborn said. 'But it was better or at least as good as I remembered it.'
Next year, fans won't have to wait for Flickathon to watch the music festival. Organizers plan to stream the entire festival, including all of its stages, online.
TRIBUNE FILE PHOTO: ANNI TRACY • Dr. Dog performs on the Mountain View Stage at last year's Pickathon at Pendarvis Farm in Happy Valley. The band is among three dozen featured in the Flickathon films, three videos chronicling last year's festival.
Benefest to the rescue
Flickathon is just one part of Benefest, which stretches across four weekends. In addition to the Corin Tucker Band's performance, the Caleb Klauder Country Band plays with opener Truckstop Darlin' at The Spare Room on Feb. 4. A trio of songwriters - the Fruit Bats' Eric Johnson, Vetiver's Andy Cabic and Richard Swift - play The Woods on Feb. 12.
Each performance takes place in a unique venue. Schoenborn said Tucker could easily play somewhere larger than the cozy Mississippi Studios. The Spare Room is a former bowling alley that includes a bar on the stage. Johnson, Cabic and Swift play at The Woods, a recently opened, renovated funeral parlor in Sellwood.
Eric Johnson helped organize the show, and he expects some spontaneity.
Anyone who can't make the show can still watch it live. Stiles and colleague Josh Orchard have created a web-based venture, Stumptownbliss.net, that will live stream all three of the shows. It's the first project for the company, but Stiles hopes to continue to stream live shows in Portland, eventually streaming Pickathon in its entirety.
Profits from the events will benefit Buckman and the Portland Public Schools Foundation. Buckman is the only arts-focused elementary in Portland Public Schools, and faces a budget crunch that might force it to cut arts programs and teachers.
'Buckman's arts-integrated academic program has made a difference in so many children's lives,' said Schoenborn, whose daughter attends the school. 'It's such a great program for creative kids, and for kids who don't learn in the standard, cookie-cutter way.'