FONT
SHARE THIS
MORE STORIES
---
Arrests mar May Day protests
UPDATE • Three dozen people charged with offenses during non-permitted demonstrations
Police arrested 36 people both before and after the largest May Day march on Tuesday.
---
Organizers of the 4:30 p.m. march obtained a parade permit and worked with police to minimize disruptions, although some streets were blocked by marchers during rush hour. Thousands of people participated in the march, which was called to call attention to a range of labor, immigration and civil rights issues.
Earlier in the day, police say around a dozen protesters were arrested during a noon march through downtown Portland that did not have a parade permit.
According to police, some protesters almost immediately became confrontational and began walking in the streets and out into traffic as soon as the march left Tom McCall Waterfront Park. Several protesters were quickly arrested at Southwest First Avenue and Pine Street and Southwest Fourth Avenue and Stark Street. Additional arrests were made as the march continued onto Southwest Broadway at Salmon Street.
More arrests were made after the permitted march. According to police, some protesters were combative fought with officers during arrests. Protesters also started a fire in a parking garage on Southwest Main Street between Broadway and 6th which required a response by Portland Fire and Rescue to extinguish.
Police also say that during the evening demonstrations, there were some reports of vandalism and graffiti. In one case, citizens took pictures of a vandalism suspect and gave them to police, which assisted in making an arrest.
Officers also took projectiles away from protesters throughout the afternoon and evening, including bottles and unlit road flares.
Charges include assaulting a public safety officer, interfering with a police officer, disorderly conduct in the second degree, resisting arrest, and criminal mischief.
"As sworn public safety officials, the men and women of the Police Bureau are charged with upholding the law and protecting the safety and rights of all Portlanders. Those who willingly commit illegal acts must be aware of the consequences of those actions, which include requests to cease illegal activity, citations, or arrests," the Portland Police Bureau said in a statement.
No arrests occurred when more than 100 Portland public school students demonstrated against proposed budget cuts outside the district's headquarters early Tuesday morning. Among other things, the students are opposing a proposal to eliminate over 100 teaching positions to help close a $27 million shortfall in next year's budget. Some of those outside the headquarters said such cuts would "devastate" the education system.
The protest began at 7:30 a.m. with students distributing flyers calling for a "student strike." Afterwards, many of the students marched across the Broadway Bridge through downtown to Lincoln High School, where they chanted for students there to join them. They then marched to City Hall before returning to the school district headquarters,
A number of organizations have announced plans for rallies and marches throughout the day. One of them started with a rally at Woodlawn Park in Northeast Portland and continued with march to foreclosed home at 523 N.E. Bryant. Protesters say took the home back from the bank that evicted its previous owner, Alicia Jackson, who entered it after the door was opened.
"Today was a beautiful example of how the community can come together and provide for each others needs,' said Heidi Whipple of Portland Liberation Organizing Council that helped coordinate the event. 'This community action was about how banks don't need home, people do; and when the community controls the land, the homes, and the resources, we make better decisions than corporations.'
A march with a parade permit is also scheduled to begin at 4:30 p.m. Police and TriMet are warning of possible traffic and transit problems in the downtown core.
Earlier Tuesday morning, two banks reported vandalism to police. The Wells Fargo branch located at 3782 Southeast Hawthorne Boulevard reported vandalism to an ATM and the US Bank branch located at 321 Southwest Sixth Avenue reported glass doors broken.
Additional vandalism reports are also coming in, police say.
KOIN Local 6, KPAM 860 AM contributed to this story. Slideshow photos by Nick Fochtman.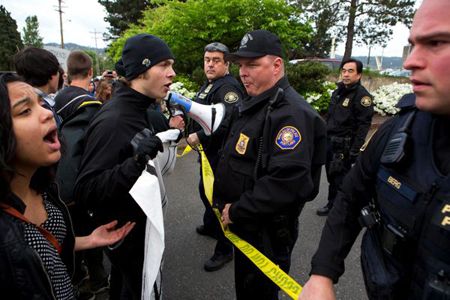 Tribune Photos: Christopher Onstott • Several hundred PPS high school students confront police at the district offices (above) and march over the Broadway Bridge (below) to Lincoln High School in protest of budget cuts and school closures Tuesday morning as part of a series of May Day protests in Portland.