A community on common ground
Six months later, city's most vulnerable make for challenging, often tragic, mix
The most popular event so far at Bud Clark Commons is Bingo. About 20 of the apartment building's residents settle in every Saturday afternoon for a game.
The weekly Creative Expressions class also is popular, with 10 or 11 women showing up to paint masks or mold clay critters. Four men attend the voluntary anger management group.
As far as Building Manager Rachael Duke is concerned, this all illustrates progress. In truth, the ladies playing with clay and the men talking about their feelings represent a most unlikely occurrence.
These are the residents of the $47 million building, near Union Station in Old Town, that opened in June with the intention of housing in private apartments what might be called the 130 worst-off among Portland's homeless community. These are the men who have been on the street for years, sometimes decades. Many residents are women who, in addition, have been brutalized and traumatized.
In a bold experiment that some national housing officials considered a bit too risky, Portland conducted vulnerability index testing last year to determine which of its chronically homeless most needed these apartments (see Life and Death Lottery, May 5). Those judged most vulnerable, most likely to die or get assaulted if left on the street, moved to the head of the list and received the apartments for as long as they want them, rent-free if they have no income.
Substance abuse is high among the residents, mental illness the same. Most have both. Chronic diseases such as diabetes are prevalent. Social isolation the same. These are the attributes that result in high vulnerability scores.
These are the people that Rachael Duke and staff are trying to turn into a community. Ten ladies gathering together for arts and crafts looks a lot different when you consider who these women are, and what they were doing six months ago.
'Ultimately, what will make the building a stable building is developing these connections and relationships between residents and between residents and staff,' Duke says.
Not all the numbers are on the positive side. Five residents have died since moving into their apartments, two from drug overdoses. Five have been evicted. Two disappeared after moving in.
On the other hand, 39 residents are receiving mental health services, treatment they had not been getting on the street.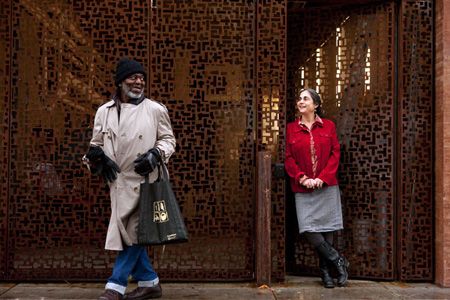 Tribune Photo: Christopher Onstott • Rachael Duke, building manager at Bud Clark Commons, knows many of the building's residents on a first name basis, including Alfie Gordan, who stopped to chat outside the building's Hoyt Street gate.
Skeptic sees negative synergy
Nationally, a number of housing experts were skeptical about Bud Clark Commons when it opened. Some preferred housing the homeless in smaller, scattered sites, rather than in one building. Dennis Culhane, a University of Pennsylvania expert on homeless housing, said he was worried that a negative synergy, called an aggregation effect, could result from housing so many troubled people together without the positive influence of other, less-traumatized residents.
But Culhane says the number of commons residents who have begun receiving mental health services is an initial validation of the building's ability to make use of its concentration of needy residents. Having only five deaths and five evictions represents a 'spectacular retention rate,' according to New York City housing expert Sam Tsemberis.
Those residents receiving psychiatric care also offer a window into what may be the most controversial aspect to the project. The commons is what people on the street call a wet building, and what housing officials call a Housing First model. For years, public housing for the homeless consisted mostly of dry buildings that excluded or evicted people who continued to drink or use drugs on the premises.
For homeless people going through recovery, a dry building can support their abstinence. But for those among the homeless unable to conquer their addictions, dry buildings invariably meant they would be kicked out and returned to the street.
Housing First policy is based on the idea that the better choice is to give people housing, help stabilize their lives, and offer mental health and addiction services.
Audrey Lane, quietly making her wish box at an arts and crafts class at the commons, is familiar with the battle of trying to stay clean in a building where many residents drink and use drugs. On this Friday afternoon, she isn't joining in the chatter taking place between the other women residents in the community room.
'I isolate. It's a way for me to stay clean and sober,' she says.
Lane moved into the commons in August after 10 years of what she calls being 'relatively homeless.' Battling mental illness and substance abuse, she slept in tents in people's backyards and in parked cars, but never, she emphasizes, has she technically slept on the street. In fact, Lane says she would consider suicide before sleeping in doorways or underneath bridges.
Bit by bit, Lane's isolation is showing cracks. She is attending today's class, her first. Lane says when she makes a pot of chili or spaghetti, she takes it around to three or four of the men with apartments on her floor. She's noticed they're not much for cooking.
Lane has noticed a lot in her five months at the commons. One resident, safe inside at night, still pushes a grocery cart full of belongings through city streets during the day, unable to adjust to apartment living.
Some of the commons residents, Lane says, haven't yet adjusted to sleeping in beds. They leave their belongings in their apartments but spend the nights sleeping in the streets.
One woman resident has had an awful time moving in because she's afraid to take the elevator to her floor, and unwilling to leave her belongings unattended for two hours in the commons' warming room before taking them upstairs. The warming room is heated to 194 degrees to kill bed bugs and other critters.
Next for Lane is a crocheting class she thinks she'll try. And she's volunteered to help show some of the other residents how to cook and keep house. The commons, Lane says, is the first place she's lived that is truly her own.
'To have someplace with my name on it, I could stay here for the rest of my life,' Lane says.
Tribune Photo: Christopher Onstott • 'I feel safe in here,' says resident T. Anderson-Hewitt, holding up a "dream box" she made during a crafts workshop as staff member Heather Weitman takes her picture.
Indirect savings
Jack Alexander says he might be dead if it weren't for his apartment at the commons. Homeless off and on for three decades, he came to Portland from Sacramento in October because he heard there were more services for the homeless here. With his new apartment at the commons, he hit the jackpot.
Alexander scored high on a vulnerability test when he arrived, having been diagnosed with paranoid schizophrenia, lung disease and hepatitis C. He wears a colostomy bag down his leg that needs to be drained occasionally - not easy to do living on the street. That combination bumped him to the front of the waiting list, which has 315 people on it.
Alexander has taken to bingo, winning a can opener and a porcelain bowl when the letters and numbers ran his way. He's thinking of attending a men's group. He's receiving mental health counseling. Staff at the day center next door gave him money for a photo ID. He's still adjusting to having a home of his own.
For now, Alexander is taking most of his meals at one of the many soup kitchens scattered around Old Town.
Housing officials have maintained that permanent housing for the chronically homeless, though expensive, leads to a number of indirect, hard-to-track taxpayer savings. Alexander can provide one example. He needs an electronic nebulizer to treat his lung disease. On the street, when breathing became difficult, he'd often call 9-1-1 and be taken to an emergency department for the treatment. Ensconced at the commons, he doesn't need to - he's got his own nebulizer to plug into his own wall in his own apartment.
'I hit Portland, I'm in heaven,' he says.
'Could have been me'
T. Anderson-Hewitt has been homeless in Portland for 20 years. She's been addicted to heroin and methadone. She suffers with mental illness and often carries knives to protect herself on the street. Her criminal history includes convictions for burglary, robbery and theft.
Since moving into her apartment in October, Anderson-Hewitt has received mental health counseling, which she says is making a difference.
'I try not to sabotage myself anymore,' she says. 'I feel safe in here.'
That sense of safety nearly disappeared two weeks ago, when a woman resident at the Commons died from a drug overdose in her room. Anderson-Hewitt was among those who discovered the woman's body.
Building manager Duke says the death has had a profound impact on a number of the people at the Commons, both residents and staff. Anderson-Hewitt says a few hours before the overdose she had been asked by the resident to supply her with illegal drugs. Instead, Anderson-Hewitt, holding fast to her own recovery, went to an Alcoholics Anonymous meeting.
'I came home and found out she was dead,' Anderson-Hewitt says. 'It just killed me. I look at it this way: It could have been me.'
But it wasn't. And this Friday afternoon, Anderson-Hewitt, who says she last had a room of her own when she was living with her parents in 1983, is proud of the butterflies and flowers she's used to decorate her room at the Bud Clark Commons. As far as she's concerned, they're much more than just pretty designs.
'I got me all over my place,' she says.
---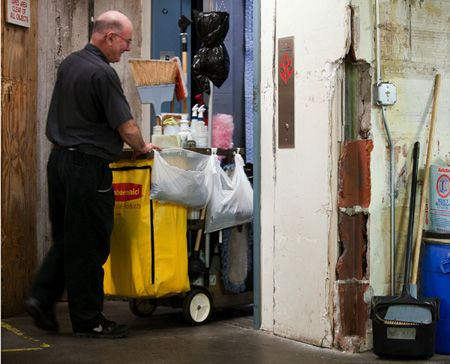 Tribune Photo: Christopher Onstott • The Multnomah County Health Department offices are currently housed in the McCoy Building downtown, where the building is seismically unsound. A move to Old Town may be in the offing.
• Commons opens development door to county health office
City Commissioner Nick Fish says he's particularly gratified that there have been fewer police calls to the new Bud Clark Commons than to the old Transition Projects center on Northwest Fifth Avenue.
'We said from the beginning we thought this could have a positive impact in that neighborhood,' Fish says.
The commons building could be an economic boon for Old Town. City and county officials have been discussing moving the county health department headquarters to a new building that would be built next to the commons. County health clinics would be closer to many of their patients, and more than 250 health professionals would be working and moving about Old Town on a daily basis.
In addition, the project, if approved, would create construction jobs and bring construction workers to the Old Town site.
Multnomah County's health department is at the McCoy building on Southwest Stark Street downtown. That includes the public health emergency command center, which is supposed to guide public health response should an earthquake or terrorist attack hit Portland.
According to county Commissioner Deborah Kafoury, the 88-year-old McCoy building has been declared seismically unsafe.
'It's somewhat of a necessity we get out of there quickly,' Kafoury says.
The city owns the undeveloped half block next to the commons, but the land sits within the River District urban renewal area, and the county has $26.9 million set aside from River District urban renewal funds that could be used on the project.
Kafoury says that the county already has approached city commissioners, asking that the city donate the land to the county. The county would use the $26.9 million on the new building. Additional money probably would be needed for the proposed six-story building, and Kafoury says it could come either from sale of the McCoy building or some other source not yet identified.
Kafoury says the county expects to hear a response from the city within a month on giving up the undeveloped land.
Meanwhile, county officials have been talking with Old Town/Chinatown residents and business owners to gauge their reaction to the proposed project. Most have responded positively, according to Kafoury.
'It gives us a feeling this could be a win/win for everyone,' she says.