FONT
SHARE THIS
MORE STORIES
---
City could set a record in mayoral primary race
May's primary could see record number trying for city's top job
Cameron Whitten perched on a bench outside the Multnomah County Justice Center last Friday morning, not far from where he was twice arrested during the Occupy Portland movement's campsite.
---
On this blustery morning, Whitten wasn't committing any civil disobedience - he was announcing his candidacy for mayor, saying he's just the person to represent the people and return accountability, transparency and genuine public outreach to local government.
'Our reality has become an animal farm, some more equal than others,' he said. 'I've been an activist my entire life. I've seen the oppression the average person lives through, my entire 20 years.'
Whitten is hardly alone in wanting to fix the city's problems as mayor - or at least attempt to spread his message through the campaign process.
A whopping 18 candidates are have filed to run in the May 15 primary election. Whitten's yet-unofficial candidacy brings that to 19.
It sounds like a plot hook for a 'Portlandia' episode, but Portlanders - most of them without prior experience in government or any name recognition at all - like to run for mayor.
'Democracy is alive and well,' says Jim Moore, a political science professor at Pacific University and longtime political analyst. 'It is a time of real uncertainty in the city because of the economy. It's a good time to put your hat in the ring and maybe get some of your ideas out there.'
This is shaping up to be a historic primary election. With six weeks left before the filing deadline, the number of mayoral candidates could surpass the city's record of 23, set in the 2004 primary. That year, Mayor Vera Katz was retiring from office and the race attracted the likes of Extremo the Clown. Former Portland Police Chief Tom Potter ended up beating former City Commissioner Jim Francesconi in the general election.
This year, the cornucopia includes many students - a handful are 22 or younger - as well as a gas station attendant, a jeans shop owner and an architect who's in charge of design plans to rebuild Marysville School.
Seven of the candidates are filing by nominating petition, the process of collecting 100 valid registered voters' signatures, rather than paying the $50 filing fee to the city elections office.
So what's the allure of the mayoral race?
Whether it be through TV ads, community forums or one-on-one coffees, elections are a great way to have your voice heard, Moore says. In order not to be ignored in such a large field, he says, 'you've got to have something other people think is really interesting.'
A case in point: in 2000, unknown Lincoln High School graduate Jake Oken-Berg nearly forced Katz into a runoff, grabbing 27 percent of the vote to her 55 percent. The young musician had befriended Pink Martini's Thomas Lauderdale, whose fame helped lend credibility and media attention.
Moore's advice to aspiring candidates: 'Get someone with credibility to take them under their wing.'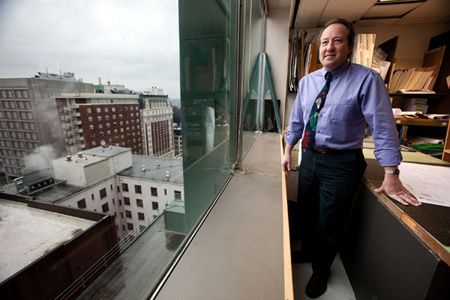 Tribune Photo: Christopher Onstott • Like many who've entered the mayor's race, architect Scott Rose wants to guide change in public education. A lack of name recognition, government experience and funds aren't stopping Portlanders nowadays from tossing their hat in the ring.
Raising a moral standard
Who are these candidates? Here are a just a few:
• Architect Scott Rose is a principal in charge of educational planning at DLR Group Architecture, the firm that won the Portland Public Schools contract to work on the rebuilt Marysville, the Southeast Portland school devastated by fire two years ago.
With 16 years of experience with school districts nationally, his top priority is education, particularly career and technical education. He'd use the mayoral role to influence local businesses to partner with the schools, as well as look at skill training centers for adults who've lost their jobs.
• Designer jeans shop owner Blake Nieman-Davis returned to Portland in 2003 and opened his shop, Blake, on Northwest 23rd Place. He's spent the past 20 years thinking about running for mayor, he says, and now decided to take action.
As mayor, he says, he'd work to give large corporations incentives to locate in the city. His top priority would be the schools. And he's already made a big campaign promise: 'If I win as mayor, I will be donating my first-year salary straight to the public schools,' Nieman-Davis says. 'I will essentially be doing the job for free.'
• Gas station attendant Josh Nuttall dropped out of college after a semester to pursue his 'plan to save the world,' as he calls it.
'We have one of the most creative, intelligent, involved and weird communities in the country,' he says. 'I would dare say that creativity is our most abundant resource, and it is tragic how much of it goes to waste.'
His idea: to start a 'Trade Library Center,' a space for professional-quality tools and workshop spaces for residents to use at no cost. Portlanders would work on product prototypes for local companies, and within 10 years, 'could build anything they can imagine with enough training and the raw materials,' Nuttall says.
• Korean immigrant Steve Sung is a civil engineer project manager for the city who worked on the city's Combined Sewer Overflow project.
He was spurred to run for office by the 'bad influences of special interest groups, bad political decisions, bad engineering decisions, bad engineering management,' excluding the CSO project, he says.
As a leader in Oregon's Korean community, he'd also work to make Portland a hub of Asian business, as well as 'raise the city's moral standard, stop gang violence, stop drug trafficking and create more jobs.'
Experience as a guideline
Portland's 'major' candidates -Eileen Brady, Charlie Hales and Jefferson Smith -are busy continuing their race for endorsements and fundraising dollars, holding events at major venues and participating in a steady stream of debates and forums.
Brady held a major event at the Doug Fir Lounge on Tuesday, celebrating local venture capital support on the heels of her labor endorsement by International Brotherhood of Electrical Workers Local 48.
Hales is going door to door with his 'Conversations with Charlie' volunteers, and promises to 'foster the next generation of manufacturing, bringing more good, living-wage jobs to Portland.'
Smith resumes his other job as state representative on Feb. 1 - and cannot legally raise campaign cash while the Oregon Legislature is in session. He's throwing a bash next week, '100% Portland: A Party with a Purpose.'
Whitten, the Occupy Portland candidate, bemoans the lack of access given to minor candidates like himself; he says prior government experience in a mayor's race is overrated.
'I believe people should never trust any public servant,' he says. 'I believe we should be judging people by their character and using experience as a guideline.'