FONT
SHARE THIS
MORE STORIES
---
Crowding into TriMet Tuesday
Excuses aside, transit riders hope to avoid big fines with a little fare play
Here's what I can't stop thinking about as I'm sitting outside Courtroom One at the downtown Justice Center, awaiting what has become known in judicial and transportation circles as 'TriMet Tuesday.'
---
I'm looking at the collection of about 300 men and women filling the long hallway outside the courtroom, and I've talked to quite a few of them, listening to stories of how they got busted on MAX by an inspector who issued them a $175 violation for riding without the proper pass or ticket. I know that since TriMet has stepped up train enforcement seven months ago, inspectors have been writing about 1,200 citations every month. I also know they've been dispensing about 300 warnings every month.
So I'm wondering: What does it take to get a warning?
Portland State University music student Michael Beaton is sporting a guitar over his shoulder and an amused smile on his face, as he stands in line to sign in for the afternoon's proceedings.
Beaton buys a student TriMet pass every semester. His first semester pass expired at the end of December, during winter break, and he didn't pick up a new one until classes started again in mid-January. But, he says, it never occurred to him that might be a problem, because he'd been riding buses in January unaware that his pass had expired, and bus drivers never questioned the expired pass.
A MAX inspector more than questioned the pass -he wrote Beaton up for a violation on a train headed north alongside Interstate Avenue. But Beaton apparently dealt with a forgiving inspector. He says she told him that if he pled not guilty and showed up with his new semester pass, showing he had paid for both first and second semesters, she'd come to court and recommend the violation be dismissed.
So Beaton separated himself from the masses on Tuesday, received a court date and left the Justice Center early. But not before waxing philosophical on the idea of punishments fitting crimes, specifically, the $175 citation given to all and all alike.
'It's disproportionate (for) a person who can show he actually pays,' Beaton says. 'I don't think it's fair to fine me for the fact that there are others milking the system.'
Tribune Photo: Christopher Onstott • Monica Garvey stuffs transfers into her purse, and couldn't find the right one when a MAX inspector asked her for proof of fare payment.
Crumpled transfers
The hallway on this Tuesday afternoon is full of people grumbling about MAX station ticket machines that weren't working and other excuses that might not hold up in front of a judge but sure sound reasonable.
North Portland resident Monica Garvey was farther back in line than Beaton, and she had bought a ticket the day she received her violation from a MAX inspector.
Garvey buys a $5 all-day pass each day. She had taken a bus to her job downtown and stuck the paper transfer into either her wallet or between the pages of her book. When the inspector came she started rummaging through both and produced a pile of six or seven transfers, but none, apparently, the right one for that day.
Sure enough, when asked to open her purse and the book she was reading in the hallway outside the courtroom, Garvey still has a pile of crumpled old transfers, and she's pretty certain one of them is the golden ticket she was unable to produce on the spot for the train inspector.
But it doesn't matter. Garvey isn't going to fight her ticket today. She's moving east to attend graduate school in two weeks (and to work on a novel).
'It's more than I can afford,' Garvey says of the $175, and possibly more if she were to contest the case and lose. Word outside the courtroom is that those who fight their ticket and lose could end up with fines and court costs as high as $300. Plead 'no contest' and the fine is automatically reduced to $60.
Apparently, $115 is the cost of not showing up and waiting around for a couple hours at TriMet Tuesday.
Ashton McKenzie says she was riding MAX from Clackamas Town Center to downtown Portland with an all-day ticket she had purchased at the station with her credit card. The PSU student says she put the ticket in her back pocket but was trying on pants at stores in the shopping center and the ticket must have fallen out.
McKenzie explained the situation when a train inspector asked for her ticket, and she showed him a bank statement on her smart phone that proved she had purchased the ticket at the station that morning. Sure enough, McKenzie whipped out her smart phone outside the courtroom and the bank statement proof of purchase is still there, ready for a judge's perusal if McKenzie gets the chance to display it today.
The train inspector wasn't impressed. 'He was like, 'It says you have to have a ticket. You could have sold it to somebody else,' ' McKenzie says.
McKenzie, who says her trip to Clackamas was the first time she's been on MAX outside the downtown Portland free rail zone, has heard the hallway scuttlebutt and says she won't fight the ticket.
'I don't have the money to pay $300,' she says.
Tribune Photo: Christopher Onstott • With TriMet seven months into a get-tough policy, Tuesday afternoons at the Justice Center have become dominated by hundreds of riders cited by fare inspectors - including Tribune reporter Peter Korn (center) - hoping to explain their cases to a community court judge.
Excuses, excuses
My story? It's not all that different from the others -guilty, but nuanced.
I was heading to the airport for an early morning flight. My wife dropped me a block away from Jeld-Wen Field so I could catch a Red Line train to Portland International Airport. It was dark and raining and I had my suitcase in one hand, my laptop in the other, and a train was already at the station, potentially ready to leave.
I had a ticket. But running to catch the train I didn't stop to validate it at the platform machine. For a hot minute I thought maybe I'd seen validating machines on trains, not just on streetcars. If not, I figured, I'd toss my ticket when I reached the airport.
Which is what I explained when the inspector hit me up about five minutes from my destination. He even looked me up on his handheld device and confirmed that previously I'd never had so much as a warning.
It didn't matter. At least he didn't make me get off the train and potentially miss my flight.
So, here I am standing in line outside Courtroom One, wondering about the people who apparently had better stories than mine - the people who received warnings instead of citations.
I'm also wondering if anything resembling this TriMet Tuesday scene takes place in other cities. Portland's turnstile-free honor system for riding trains and streetcars just wouldn't fly in most cities, and TriMet's recent stepped-up enforcement is a quirky way of melding something particularly Portland with the same safety and revenue needs faced by every other city.
Gary Radford can answer my question about what qualifies for a warning rather than a citation. After three decades as a TriMet inspector, the good-humored Radford has heard just about every excuse or explanation imaginable, some clever enough to convince him to put his citation book away.
That's the key; at least it is for Radford. Ticket machines out of order? 'That won't fly,' he says, having seen plenty of cell-phone photos of machines ticket-less riders claimed were malfunctioning.
'Crying does not get you off,' he adds, and yes, he's seen plenty of that.
'Give me an excuse that's believable, that I haven't heard before, I'm going to let you go,' Radford says.
Like the guy who produced a ticket from his mouth, wet with spit and hardly decipherable, because, he claimed, when he got nervous he habitually chewed on random things and his transfer just happened to be in his hand.
Radford let that guy off.
Also, tourists from out of town who are heading to the airport can convince him they were unaware of the rules and occasionally get a pass. But not too many others skate past him.
Told about my rush to board a train with an un-validated ticket, Radford has no mercy, partly because he sees so many of them, which he knows can be used again and again.
' 'I didn't have time to pay.' That's probably the worst excuse I hear,' he says.
As for TriMet placing validation machines on board the trains (they're already in place on streetcars), Radford scoffs. 'Twelve other people would kill themselves trying to get to that machine when a fare inspector got on board,' he says.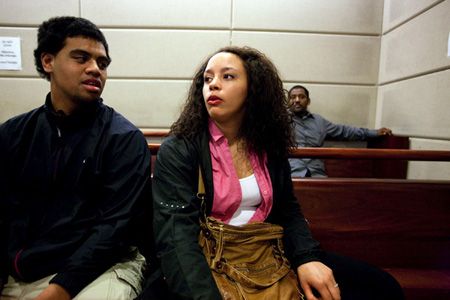 Tribune Photo: Christopher Onstott • About two-thirds of the riders issued citations opted for a $60 fine, but Veronica Jones chose instead to do eight hours of community service.
More tickets, fewer warnings
Though it does occasional fare surveys, TriMet can't produce data to show whether a greater percentage of riders carry tickets or passes. Radford thinks the hoped cause and effect of increased enforcement is starting to take hold. He's hearing fewer riders say they didn't have time or money to pay, though there are still plenty of citations to hand out every time he boards a train.
In addition, every day Radford confronts riders with multiple citations they didn't pay, and exclusion notices that are supposed to bar them from riding TriMet. Recently, he stopped a man who had five citations and three exclusions.
Radford called the Clackamas County Sheriff's Office and waited until deputies arrived to take the offender away in handcuffs. The man will be charged with interfering with public transportation and then released within a few hours with a new court date.
All of which makes it seem as if the citations don't have much effect on people who don't mind a couple of hours in lockup. But Radford figures that eventually repeat offenders will get real jail time.
'You build up enough and judges finally say, 'We've got to do something with him,' ' he says.
What TriMet's latest data shows is that the increased enforcement during the past seven months is sending a lot more citizens to community court for TriMet Tuesdays, and many fewer home thinking they got lucky.
Inspectors issued 1,795 citations in January, compared to 192 in January 2011. A year ago, they gave out 1,223 warnings in January, compared to 559 warnings last month.
The honor system, at least on MAX, is dead and buried, probably under a mountain of paper citation notices.
Tribune Photo: Christopher Onstott • A Clackamas County sheriff's deputy arrests a man who had been excluded from TriMet trains and buses several times after the man was discovered riding a MAX Green Line train in early February.
Three options in court
When the doors finally opened Tuesday afternoon, it was obvious that the number of people holding MAX citations wasn't going to fit into Judge Lewis Lawrence's courtroom. Instead, proceedings were handled in shifts of about 50 at a time.
Lawrence greeted my group with an affable, 'Welcome to TriMet Tuesday.' He explained that each of us had three choices: plead not guilty, for those of us willing to gamble, and we would get a court date a few weeks into the future. Plead no contest, and it would cost each $60, but deprive us the opportunity to explain our special circumstances. Option three was eight hours of community service instead of the $60, which would get the case dismissed and the violation erased from our record.
Lawrence asked for a show of hands, and about two-thirds agreed to the $60 option. A handful -decidedly younger than the norm - opted for community service. One young man told the judge he was in treatment, and a woman said she was homeless. Lawrence had them talk to the court's social service coordinator off to his right, so they potentially could get help.
Sixty bucks seemed a lot more reasonable than $175, so I took it. After all, I was guilty. Technically.
The last word came from Mary Fetsch, a TriMet public affairs specialist to whom I told my story about running to catch a train getting ready to leave the station. An unsympathetic Fetsch corrected one part of my story.
'That wasn't your train,' she said. 'Your train was the next train.'