FONT
SHARE THIS
MORE STORIES
---
Suffrage: Struggle of the century
Statewide campaign celebrates suffrage centennial
True or false?
---
1. The first woman to vote in the West was a one-eyed stagecoach driver posing as a man. 
2. American women fighting for the right to vote called themselves suffragettes.
3. It took six tries at the ballot for Oregon women to win the right to vote, but they finally prevailed under the leadership of Portlander Abigail Scott Duniway.
Answers:
1. True, according to Oregon's chief elections officer, Secretary of State Kate Brown. It was Charley Parkhurst, who voted in the 1860s.
2. False. Suffragette was an insult; they preferred the term suffragist.
3. True and False. It did take six tries, and Duniway rightfully earned the moniker as Oregon's 'Mother of Equal Suffrage.' But the final victory at the polls - exactly 100 years ago - almost came in spite of Duniway, as a new generation of college-educated women moved to the forefront and supplanted her leadership.
Few Oregonians know much of the saga of women's suffrage here, aside from a sentence or two about
Duniway, says Janice Dilg, project director of the Century of Action, a nonprofit formed to honor and celebrate the centennial.
When Dilg tells people about the year-long project, many break into the song 'Sister Suffragette' from the Disney movie 'Mary Poppins.' It's as if their vision of a singing Mrs. Banks, wearing a suffrage sash and parading through her London home, defines their knowledge of a movement that secured the vote - and the long climb from second-class status - for half the nation's population.
'As people get blasé about their rights today, it's important to see what those roots were,' says Dilg, a historian and adjunct instructor at Portland State University.
Courtesy of Library of Congress • Abigail Scott Duniway signs the first Equal Suffrage Proclamation ever made by a woman, in 1912. Oregon Governor Oswald West, who had signed the Proclamation, is shown looking on, along with Dr. Viola Coe.
Early feminist
The 42-year struggle for women's suffrage in Oregon begins and ends with Duniway, whose family crossed the Oregon Trail via ox-drawn cart in 1852, seven years before statehood. Duniway's mother and a brother died on the arduous journey, chronicled by Abigail when her father asked her to write the family journal.
At 17, Duniway worked as a teacher soon after the family settled in Yamhill County, despite only one year of formal schooling. She earned half the pay of the male teachers.
Several years later, her husband, Ben Duniway, was permanently disabled, and the family lost its farm. Abigail became the breadwinner, writing novels and running a dress- and hat-making business in Albany. She traced her feminist conversion to the ill treatment she received as a woman business owner, says Jean Ward, co-author and co-editor of a collection of Duniway's writings, and professor emeritus at Lewis and Clark College.
In 1870, Duniway had a new calling, and helped found Oregon's first women's suffrage groups in Albany and Salem. The next year, she moved to Portland to start a weekly newspaper, 'The New Northwest,' as a platform to champion women's suffrage and other human rights causes. That fall, Duniway managed the Northwest speaking tour of national suffrage leader Susan B. Anthony. On the road, Anthony mentored Duniway in the art of public speaking, Dilg says.
Duniway went on to speak publicly throughout the Northwest and beyond, sometimes 200 times a year, sending in dispatches from the road to her family-run newspaper. She wrote passionately about abused women and the rights of Chinese laborers and blacks.
In 1884, when only the territories of Wyoming and Utah allowed women to vote, the Oregon Legislature agreed to put the state's first suffrage measure on the ballot. 
By then, many women were crusading for the temperance movement, railing against the evils of alcohol. Many a wife routinely saw their husband drink away the family paycheck and then turn against their spouse and children in drunken rages.
But saloon keepers were a formidable political force in Portland. Duniway reported in 1871 that there were 149 liquor dealers in the city of Portland - one for every 60 residents. 
Oregon's all-male electorate - with many fearing women's suffrage could lead to prohibition against alcohol sales - handily rejected the 1884 ballot measure.
After the lopsided 1884 defeat, two Portland doctors, Dr. Mary Thompson and Dr. Bethenia Owens-Adair, pressed Duniway to step back from leadership of the movement, Ward says. The doctors wanted her to embrace the temperance movement more, but Duniway thought that was holding back support for suffrage.
Duniway, a determined woman who sometimes alienated those she worked with, held sway.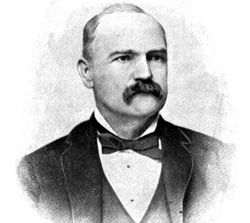 Courtesy of Library of Congress • Harvey Scott, a Portland civic leader, was the longtime editor of The Oregonian. The Portland newspaper's editorial crusade against a 1900 women's suffrage amendment helped defeat the measure, infuriating Scott's sister, campaign leader Abigail Scott Duniway.
Sibling rivalry
By 1900, the tide had turned. Four states had granted women's suffrage: Wyoming, Colorado, Idaho and Utah. The Oregon Legislature agreed to put another measure before voters.
The vote was agonizingly close this time. Duniway blamed the defeat on her brother, Harvey Scott, the powerful editor of Portland's daily newspaper, The Oregonian, whose statue now graces the top of Mount Tabor.
Scott had supported suffrage and his sister's efforts in the 1880s. But he later grew more conservative, and had ambitions of becoming vice president, Ward says. Several months before the 1900 election, Scott told his sister he would 'oppose and whip' the second suffrage amendment, according to Lee Nash, who documented the sibling rivalry in an article for the Oregon Historical Quarterly.
Scott left town before the June election, leaving control of The Oregonian's editorial page with assistant editor Alfred Holman, an outspoken suffrage opponent. During the next 20 days, the newspaper published 14 editorials against the suffrage amendment. Scott returned to Portland right before the election and added his own, 'a devastating 1,500-word editorial,' Nash wrote.
The measure failed statewide, 26,265 to 28,402. But it lost by 3,472 votes in Portland, which means it passed outside Portland, the newspaper's prime circulation area.
'We would have won triumphantly if The Oregonian had not stirred up the ... slime ...' Duniway wrote in a letter to her son. 'It made every real friend he (Scott) had ashamed of him and his paper.'
The reformist Progressive Era, though, was sweeping the country. In 1902, Oregon pioneered the nation's boldest effort at direct democracy: the initiative and referendum system.
National suffrage leaders realized it would be easier to qualify another suffrage initiative for the Oregon ballot by gathering petition signatures. And with the eyes of the nation on Portland during the 1905 centennial celebration of the Lewis and Clark Expedition - a World's Fair-scale effort led by Harvey Scott - the suffrage movement decided to stage its national convention in Portland.
Tribune Photos: Nick Fochtman • Former Oregon Governor Barbara Roberts (below, right) and former Secretary of State Norma Paulus attended a kickoff event for the Century of Action last month at downtown's Central Library (above). The reception, which included the Votes for Women! photo exhibition, was part of a year-long celebration of the centennial of women's suffrage in Oregon.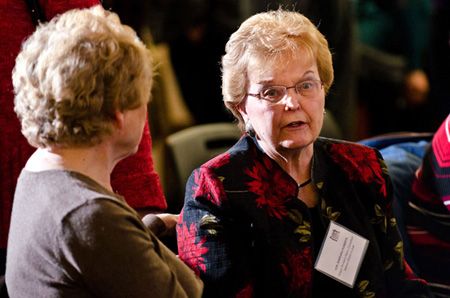 Going in wrong direction
A third suffrage measure did make the Oregon ballot via initiative in 1906, but voter support fell that time. Duniway's leadership again was called into question, and she bickered with local and national suffrage leaders, says Kim Jensen, history professor at Western Oregon University.
The 1906 campaign, which featured the rise of new suffrage leaders such as Dr. Esther Pohl Lovejoy, introduced the modern political campaign, which was anathema to Duniway's tactical approach, Jensen says.
Duniway was a big believer that stealthy campaigns would be the best tactic, so as not to stir up opponents. She advocated the 'still hunt,' referring to those who hunt their prey silently, rather than alerting targets of the imminent danger.
'She was blaming everyone' for the loss, Jensen says. 'She was very frustrated.'
In 1908 and 1910, Duniway tried again. The 1910 measure was designed to reduce opposition, restricting suffrage only to women taxpayers, essentially property owners.
'Most reformers thought this was a step backwards,' Jensen says, and some of them, like Lovejoy, stayed out of those campaigns. Support for suffrage fell again in 1908, and fell more - for the third election in a row - in 1910.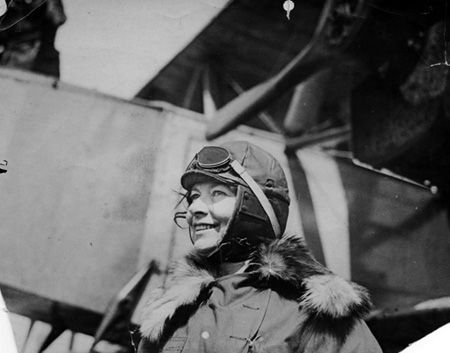 Courtesy of OHSU Historical Collections and Archives • Dr. Esther Pohl Lovejoy, a city health officer, stepped up to help lead the successful 1912 suffrage campaign when Abigail Scott Duniway was ill. Lovejoy is shown in Washington D.C. in 1918 promoting Liberty Loans, which helped finance U.S. involvement in World War I.
Victory at last
It's hard to know how things might have turned out if Duniway hadn't taken ill in early 1912, too sick to campaign, says Jensen, who is writing a biography of Lovejoy. Duniway was very witty and a great public speaker and writer, Jensen says, but not as effective at organizing.
However, by 1912, California, Washington and Idaho had approved women's suffrage, lending a growing sense that it was inevitable in neighboring Oregon.
In Duniway's absence, there was an explosion of grassroots mobilization and coalition-building, and a new type of campaign emerged.
'There were 23 suffrage groups in Portland alone,' Jensen says.
The movement also grew more diverse. There was a new men's pro-suffrage group, and new Chinese and African-American suffrage groups. Suffragist leaders emerged from different backgrounds, such as Josephine Hirsch, who was Jewish, and Hatti Redmond, who was black. Lovejoy helped form a new group appealing to working-class women, with low membership dues.
'They really did welcome all comers under the suffrage tent, really for the first time,' Dilg says.
In contrast to Duniway's 'still hunt' notion, there was an unprecedented emphasis on campaign hoopla: a festooned wagon for the Rose Festival, an auto parade in Medford, people handing out free drinks and sandwiches, even a public campaign event to celebrate the ailing Duniway's 78th birthday. Former Gov. Barbara Roberts delights in the image of well-dressed women campaigning for suffrage at the Pendleton Roundup.
'Clearly, it would be a very commendable campaign today,' Roberts says.
Oswald West, Oregon's progressive governor, endorsed the suffrage ballot initiative, along with labor unions and farmer groups. Harvey Scott had passed away in 1910. For the first time, The Oregonian editorialized in favor of a suffrage amendment. 
The measure passed by a modest majority, 42 years after Duniway launched Oregon's suffrage movement. Duniway was asked to sign a ceremonial proclamation issued by Gov. West honoring the vote. When Multnomah County began allowing women to register to vote, Duniway was the first to do so.
After women secured the vote, their concerns got more prominence in the public sphere. In 1914, Oregonians approved ballot initiatives to enact Prohibition and abolish the death penalty.
Roberts says it's worth noting that men played a crucial role in achieving women's suffrage, too. It was an all-male Legislature that agreed to put it on the ballot twice, and only men could sign the petitions to quality four suffrage initiatives.
But women suffragists risked plenty, Roberts says. 'They were suddenly frowned on for not being ladylike. They paid a price for doing that.'
Roberts says she didn't know the story of women's suffrage here until later in her career, because women's history is so neglected. She is actively supporting the Century of Action project, saying it's important to know how far women have come, and how far they need to go.
Roberts remains the only woman governor in Oregon history, and women have never achieved close to parity in the Legislature. Oregon has had one woman U.S. senator, Roberts notes, and no women Senate presidents, state treasurers or attorney generals.
'It's still a time of transition,' she says. 'It's still a struggle.'
For more information about the history of women's suffrage in Oregon, and activities planned to mark the centennial, visit www.centuryofaction.org.
---
• Passion, justice drove Duniway
From 1871 to 1887, Abigail Scott Duniway used the pages of her Portland weekly newspaper, 'The New Northwest,' to highlight women's suffrage, social injustice and other passions. Here are some of her writings:
n On a visit to Salt Lake City: 'It will never do to allow men too much liberty. They'll all become polygamists if the ballot isn't taken from them.'
n On opposing divorce for an abused woman: 'We believe in that which will eventually prevent divorce, which is nothing more than equality before the law. That is the panacea that will keep both wives and husbands on their good behavior ...'
n On a tour of Wyoming: 'We wish all the opponents of woman suffrage could visit the homes of Laramie, where women vote, and thereby get an opportunity to dispel the bogies that haunt them in the shape of unkempt children, neglected homes, masculine women and general debauchery.'
n On a Portland woman beaten by her drunkard husband and fearing for her life: 'Such a man has no more business running at large than a rabid dog or a wild hyena. Much less business has he to make the laws for sober wives and mothers to abide by ...'
n 'We are glad the Chinaman can get his rights when he deserves them, but we protest against being left in political subjugation to him or any other class of men ... How long, O men, how long, are your wives and mothers to wait and petition ere you grant to them the equal protection which you bestow upon law-abiding Indians, negroes and Chinamen?'
n After being harassed by a mob in Southern Oregon: 'Only one egg hit us, and that was fresh and sweet, and it took us square on the scalp and saved a shampooing bill.'
n '... we do not believe that Prohibition will in our day become the accomplished fact ... We do believe that with women's added power, expressed through the ballot, will come her opportunity to demand that no son or husband shall be drunken or unchaste ...'
- Steve Law
Source:
'Yours for Liberty: Selections from Abigail Scott Duniway's Suffrage Newspaper,' edited by Jean Ward and Elaine Maveety.