Parents get creative to ease school fund squeeze
Without equity grants, many are left on unequal ground
It would be easy for Marieke Mertz to send her two children to her neighborhood school in Northeast Portland, but after considering all her options, her children ended up at Bridger School's Spanish immersion program.
The tiny neighborhood school just east of Mount Tabor, at Southeast 79th and Market Street, has a K-8 immersion program and serves barely 400 students. Two-thirds of its students receive free or reduced-price meals and a quarter are English Language Learners.
It's a small community, and a needy one.
'Our neighborhood school raises a lot of money and has great test scores, but both my children are Hispanic, and I really value the diversity Bridger brings,' Mertz says. 'I really want them to learn Spanish.'
While they're thriving, she's also been struck by one glaring difference between the schools: their fundraising power.
'It seems to have to do a lot with whatever neighborhood your school's located in, how many fun electives you get,' she says. 'The kids all deserve it. So I'm feeling compelled to be a voice for these kids.'
Mertz stepped up to lead Bridger's first off-site auction Saturday, March 10, in hopes of raising $12,000 to boost the enrichment programs the school isn't able to afford with no parent-led foundation of its own.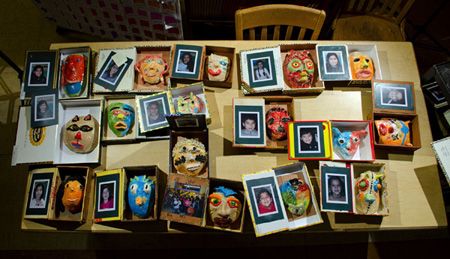 Tribune Photos: Nick Fochtman • Above, led by teacher Hugo Nava, fourth-graders at Bridger created clay masks which will be sold at the March 10 auction to raise funds to support art and music education. They used a technique from Nava's native Mexico: roll the clay and form it over a river rock, build the face, then hand-paint it with glaze and mount it in a cigar box, along with a photograph of the artist. Below, Nava and four parent volunteers helped students design and stitch owls for an art project, a sign of the pieced-together enrichment the school is able to offer.
The $12,000 goal is an ambitious one, double what the Bridger auction brought in last year, yet a paltry sum compared to what some other schools raise.
Last weekend, four PPS schools conducted their annual auctions, some raising in the ballpark of $100,000 that will help fund physical education, art, music, technology, library and other electives, and teaching positions at the schools, to keep class sizes down and fill in the cracks where district funds leave off.
Four more auctions are set for this weekend, run by the school foundations at Beverly Cleary School, Ainsworth Elementary, Robert Gray Middle School and Stephenson Elementary.
The Equity Fund distributed by the nonprofit All Hands Raised (formerly Portland Schools Foundation) has tried since 1994 to level that playing field, by collecting a third of what was raised (after the first $10,000) and awarding it to the neediest schools.
Last year, 39 local school foundations contributed $845,000 to the Equity Fund, which was dispersed to 39 PPS schools.
While schools are grateful for the no-strings-attached funds, Bridger must go it alone, because the school didn't make the cut.
The grants are distributed by a formula established four years ago, to bring greater transparency to the process that had been based on requests for proposals. Most needy schools couldn't hire grant writers to solicit funds, so they lost out.
The formula - which is continuously revisited - includes several factors: the percentage of a school's students on free and reduced-price lunch; English Language Learners and racial demographics, divided by the amount of federal school improvement and Title 1 dollars received; PTA and school foundation dollars earned; and Equity Fund award in the previous year.
According to All Hands Raised, Bridger ranked 28th in demographic need, but 48th in financial need, due to the amount of federal Title 1 dollars the school receives.
The school's final ranking came in 52nd of the 59 whose data was available to apply the formula. Grants were available for 39 of those schools. Sixteen schools - including Bridger - were stuck without an Equity Fund grant or an active local school foundation.
Equity Fund managers point out that many of those schools have robust PTAs that support their programs, and every PPS school has the ability to start a local school foundation, they just need to activate it.
Still, rejection hurts.
'It's the worst position to be in,' says Mertz, of not qualifying for the Equity Fund grant, which ranges from $20,000 to $40,000. 'We have very little.'
'Telling our story'
Jim Bridger's auction on Saturday won't be a black-tie affair with fancy décor and lavish items for bid. But it will be a step up from the small events of he past two years in the school gym. This year, it's an adults-only event at Mt. Scott Community Center, featuring appetizers prepared by school parents who are chefs, and a buffet stocked by local grocery stores.
Local businesses stepped up as sponsors to cover about half the costs: Mt. Tabor Realty, Stumptown Coffee, Mt. Tabor Dental, Atlas Motors, Parkside Clinic, and Uno Dos Tres Academy.
Other community partners are wrapping their arms around Bridger during the school year as well. The Beaverton parkour studio instituted an annual 'Jim Bridger Mountain Man Parkour Challenge' fundraiser May 26 at Mt. Tabor Park, and Grace Baptist Church offered to serve a March 24 pancake breakfast at its kitchen to raise funds for the fourth-graders to go on the Oregon Trail field trip, coming up in April. It will be the first time Bridger has attended.
'It's made the difference just telling our story,' says Deb Dimoff, the school's PTA president and mother of a third-grader in the immersion program. 'We realize we can't do it alone.'
Proceeds from Bridger's auction will go toward enrichment at the school, supporting programs such as the nonprofit music education school, Sound Roots, which is set to come to Bridger in April and teach two 30-minute classes.
Bridger no longer has a music teacher, and the musical equipment - xylophones, congo drums, choir risers - are dismantled and unused. Classroom teachers teach music during once-a-week rotations, and art is taught by a committee of parents, led by a first-grade teacher.
Bridger's middle school students have just one elective, a choice between time with a counselor or a media specialist, doing library research.
Dimoff, who puts in 20 hours of volunteer time on top of her day job as a global program manager for Tektronix, says the PTA raised $16,000 last year to fund the student council, Lego Robotics, an animation after-school program, and the clothing closet, which is highly used.
Four years ago, when the district's focus-option Creative Science School left Bridger, the PTA shrunk to five members through the neighborhood school's attrition. As the PTA has worked to build the community, its membership has grown to 49.
Dimoff sees their work as vital.
'We need to decide what each child should have the opportunity for,' she says. 'If every child should have that, there should be sustainable funding for it.'
Profound effect
Last year's 39 lucky Equity Grant recipients used the funds for various purposes, many choosing to support the district's ongoing equity work.
Boise-Eliot Principal Molly Chun used her two years of $20,000 grants to send three staff members to the 'Beyond Diversity' summit, something she credits for the drastic drop-off in student discipline referrals to her office - from 350 two years ago to 168 last spring.
The grants also fund family involvement activities such as an open house supper and black history night that drew 700 families last fall.
Madison High School Principal Petra Callin used her two years of $40,000 grants to fund equity work as well as to pay for the school newspaper, literary magazine, Writers in the Schools programs, a half-time library assistant and new textbooks for a new class, forensic science.
At Lane Middle School, where 87 percent of students are eligible for free or reduced-price meals, there is no PTA, although Principal Pamela Joyner says the goal is to start one in the near future.
The $20,000 Equity Fund grant this year allowed teachers to learn more culturally responsive teaching practices, as well as to meet in teams to examine student data and target their instruction.
'There is, in fact, a large difference in the ability of parents' groups in different schools in PPS to raise money, and that has a profound effect on the support of students, staff and families in schools in poor neighborhoods,' Joyner says. 'The Equity Grant is one equalizer that addresses that all students deserve access to the same quality education, no matter their zip code.'
This email address is being protected from spambots. You need JavaScript enabled to view it.