FONT
SHARE THIS
MORE STORIES
---
Women choose different paths as single mothers
Growing percentage of Multnomah County's new moms are unwed
The photo wall in the living room of Stacey Katz's southwest hills home is full of striking family images - black and white and color, intimate candid moments and poised family close-ups.
---
On closer inspection, though, the collection of pictures reveals an unexpected theme. No mix here of parents and grandparents, large family gatherings and pictures taken long ago. All the photos concentrate on one person - Katz's 3-year-old son, Lucas.
If there were any questions who or what is the focus of the 47-year-old Katz's life, the photo wall dispels them. Katz, dynamic and successful in the ways anyone would measure career achievement, has made a choice - raising a family trumps all.
Last month, a report from the Washington, D.C.-based nonprofit Child Trends revealed that unmarried women choosing to have children has reached an all-time high. Nationally, half of the women younger than 30 are having children out of wedlock. That same number holds true for Multnomah County.
The rate drops considerably when older women are included. Nationally, four out of 10 births are to unwed mothers. For Multnomah County, the rate is 34 percent. In Washington and Clackamas counties, a little more than one in four children are born to unwed moms.
While a majority of children born to single mothers are born to young, under-educated women, the trend crosses socioeconomic boundaries. More women like Katz - educated, older and earning sizable incomes - are also making the choice.
Some data shows that children born to under-educated single women with little earning power are at higher risk for a variety of social problems, from dropping out of school to ending up in prison. There is little research to date, however, on the offspring of single mothers of means.
Sociologists who study families say a significant shift has taken place, and it may not have to do so much with motherhood as with women's changing attitudes toward men and marriage.
Tribune Photo: Christopher Onstott • Stacy Barna (center) helps her children Ben (center, left) and Lily pick out a movie to watch with friend Lucas (center) and his mom Stacy Katz during family dinner last weekend. Barna worries that her children, raised by one parent, might have trouble creating relationships as adults.
Independent women
Stacey Katz made her choice fully aware of the likely consequences. Her parents were divorced when she was young, and her father lived in another city. Still, she says, she never stopped believing in marriage.
'I guess when I was younger I thought I'd get married,' she says. 'But as I got older, I wasn't so sure.'
Katz never met the right man. By the time she reached her mid-30s, she started thinking about children. She became pregnant at 44 through artificial insemination.
Would she like a life partner? Sure. But not for his money.
'I see strong independent women who don't feel like they need a man to provide for them,' she says. 'It's a somewhat antiquated view of the husband and wife and 2.5 kids. It's the emotional support, having someone to depend on.'
Make no mistake, Katz loves being a mother. But her choice was to become a mother, probably at the expense of ever being a wife. She's protective of her family, and especially of her relationship with her son.
'People ask me, 'Are you dating? Why aren't you dating?' And my response to that is I would have to find someone so stupendous at this point to bring him into this mix,' Katz says.
That includes a desire not to have her son see a number of men coming in and out of his life. Besides, with a high-powered career in sports apparel and most of the rest of her time dedicated to being a mother, there isn't much time left for dating.
Reversing attitudes
A similar choice is being made by an increasing number of middle-age women. Unwed middle-class and wealthier women choosing to have children is a fairly recent phenomenon, according to Elizabeth Wildsmith, a researcher at Child Trends. The most rapid growth in unwed mothers during the past 10 years has been among women younger than 30 who attended college but do not have a degree. But there is also an increase among women with college degrees.
In 1970, only 7 percent of the women who had non-marital births were older than 30. In 2009, that number had jumped to 17 percent.
Wildsmith says the past 30 years have seen only a small increase in non-marital births to unattached women. The greater trend is motherhood for women who are living with a partner, but who don't marry. That apparently has to do with a reversal in attitude about marriage and stability.
'Many women are identifying marriage as something you do once you have reached financial security,' Wildsmith says. 'They see it as sort of the end game, not the beginning of the game.'
Happy as a parent
Seattle Adkins isn't even sure about the end game part. Adkins, living in outer Northeast Portland, is a 21-year-old mother of two, Marshaun and Erika. She feels certain she is providing her children what they need. And she's thought through her choice every bit as much as Katz.
Adkins dropped out of Centennial High School at 18 when she became pregnant with Marshaun. She eventually earned her general education degree through Mt. Hood Community College. She had access to birth control and decided to stop using it, aware that the young man she was seeing was not partner material.
'I wanted a kid at 18 because most of my life growing up all I raised was kids,' Adkins says.
Many parents tear out their hair hoping their children will find a passion, something that will provide them a sense of worth and achievement. Adkins feels she was trained to be a mother - babysitting cousins, caring for a younger brother - and that's the only thing that has made her feel a sense of competence.
'If I didn't have my children, my way of thinking and my personality would be messed up,' she says. 'I feel like this is all I know, basically.'
But having children was only half of the choice for Adkins. At 18, she says, she had already mostly decided against marriage. She says among her friends there are more unmarried moms than married moms, and the happier ones, overall, are those without husbands.
Adkins' attitude toward marriage came from what she had seen all her life: marriage mostly represented trouble, and divorce.
'Being married, I don't want to go through that,' she says. 'The fighting and separating and divorcing and coping with divorce. I'd rather be in a relationship and if I break up it's a break, not going through the process of having to single parent and spend money and having to split everything.'
Adkins worked at McDonald's before she had children. Now she babysits occasionally for cash to supplement the approximately $500 a month she gets in government subsidy, along with a voucher for free child care.
She will soon start taking classes to become a certified nursing assistant.
She'd like to move out of her parents' home. Maybe she'll find a single mother friend with whom she and her kids can share an apartment.
That looks like a stable future to Adkins.
'I'm happy I'm a parent, and a good parent,' she says. 'There's stress that comes along with it, and I deal with it.'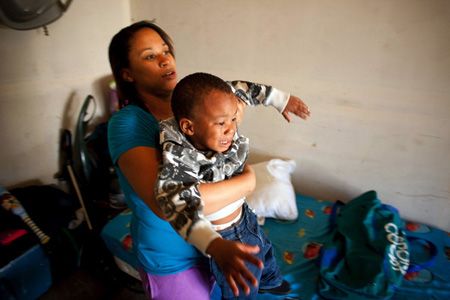 Tribune Photo: Christopher Onstott • Seattle Adkins takes son Marshaun to time-out during a tantrum. Adkins says taking care of kids is only thing she does well and she's seen enough bad relationships that she's not interested in having a husband around, at least for now.
Making a mistake?
Stacy Barna would tell Adkins, if the two were to meet, that she hasn't seen anything yet. Barna, single, 48-year-old mother of 15-year-old Ben and 11-year-old Lily, made the choice to divorce her husband while pregnant with Lily.
She loves her children. She sacrifices for her children. But she's willing to tell other women that having children without a partner is 'a mistake on many levels.'
As her children have approached and hit the teenage years, Barna can't shake the feeling that they deserve better. Her oldest has said he's not sure he wants to leave Portland for college.
'You'd be amazed at the burden it places on them, thinking they have to care for me,' says Barna, who lives in Lake Oswego and works in cosmetics sales.
At 10, one of Barna's children asked if she would please find him a father.
'I explained to him, it wasn't that I didn't want anybody in my life or their life. I couldn't find anybody who was worthy of being their father,' she says.
Barna isn't advocating for more marriages or women sticking around in bad marriages. She'd just like the ground rules of matrimony and parenting responsibility more clearly understood before women choose to get pregnant.
'In this country, we've made a mistake,' she says. 'We've made getting married so easy and made getting divorced so difficult. We need to switch that. Marriage needs to be the agreement that if we have kids and we don't stay together, then your responsibility is this and mine are that. It needs to be decided up front. Do you know how many fewer marriages we'd have?'
Barna is neither wealthy nor poor, but somewhere in the middle. She worries about the children of single mothers from all backgrounds.
'Twenty years from now, we'll see how all these kids come out,' Barna says. 'I think it's iffy at best. If they come from single mothers with a lot of money and have all the advantages, they probably stand a better shot. But what happens to them in creating relationships?'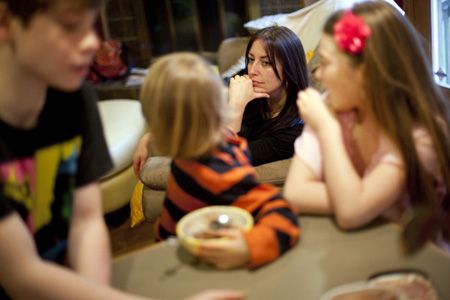 Tribune Photo: Christopher Onstott • Single mother Stacey Katz (center) listens to her son Lucas during family dinner night with friend Stacy Barna, also a single mom. Both women list finding emotional support as among their greatest challenges.
'You made this choice'
Society's attitudes toward single mothers probably will be a factor, says Debby Meltzer, a never-married 43-year-old social worker who chose to have a child at 36.
Meltzer points to media stories last week about a Wisconsin state senator who introduced a bill that would label non-marital parenthood as 'a contributing factor to child abuse and neglect.'
'I think we are split as a society,' Meltzer says. 'The first person I told I was pregnant, she just looked at me and said, 'But there's not going to be a daddy.' And it crushed me.'
Meltzer says she grew up in a traditional family and can only recall one single mother she knew when she was young. But she is one of the regulars at outings sponsored by the local support group Single Mothers By Choice.
Six years ago, Meltzer says, she had a client who, noticing Meltzer was pregnant but without a wedding ring, wouldn't work with her. She hasn't been hearing that lately.
'I see a lot of people waiting to get married or living with their partners and not even talking about getting married,' Meltzer says. 'And they're having children. People don't trust marriage anymore.'
Meltzer is a bit surprised by her own attitudes. Her income is enough for a mother and child to get by, but she's far from comfortable. Already, Meltzer worries that she may not be able to help pay for her daughter's college tuition someday. She could ask her family for financial assistance, but doesn't.
'It's harder to ask people for help,' she says. 'They're like, 'Don't you have it all figured out? You made this choice.' '
In fact, Meltzer, juggling a full-time job and single parenting, says she compensates by trying to do too much with her own time as well, volunteering for PTA, Girl Scouts - just about anything connected with her daughter.
Meltzer says it is unlikely she will find a husband, which is how her daughter likes it.
'She loves having me all to myself,' Meltzer says. 'She's very resistant to me dating.'
Of course, Meltzer's daughter won't have that sort of influence forever. Meltzer says she decided on single motherhood after a breakup with a longtime partner. For a while, she figured she'd find another partner, maybe a husband. But her biological clock became impossible to ignore.
'After the first year I thought, 'I can't count on this. I'll run out of time to have a child,' ' she says. 'But I can always get married. You can get married at 90.'
---
• Cohabitation, changing partners spell trouble for fragile families
Stephanie Coontz, an Evergreen State College professor of history and family studies, and author of 'Marriage, A History,' is one of many national experts worried that the trend toward unwed women having children is a symptom of a more serious problem in the United States.
The problem, say Coontz and others, is the increasing socioeconomic inequality in the United States. The growing number of unwed young and uneducated mothers, in their view, is not simply a matter of values.
'We do not live in a society that makes it easy for people below a certain high level of income and education to sustain stable relationships, in or out of marriage,' Coontz says.
Men used to have value as partners for blue-collar and middle-class women because they had jobs that could support a family, according to Coontz.
'Back in the '50s and '60s, women earned so little that even a high school dropout was a good catch,' she says.
Now, men without college educations are struggling to find family-wage jobs. Women are less willing to commit to such men. Coontz says studies show that a woman's education level and the emphasis she places on education for her children have a greater predictive effect on her child than whether she marries or not.
Sara McLanahan, director of the Center for Research on Child Wellbeing at Princeton University, says most children from unwed mothers start life with disadvantages, but the marital status of their mothers is far from the most significant.
About half of unwed mothers are living with a partner, and most of them won't marry that man. That spells trouble. McLanahan says that a stable household is one of the most important factors in producing successful, well-adjusted children. What she calls serial cohabiters - unwed women who live with a succession of men - create the least stable homes for their children.
Unstable households
The growing number of children born to unwed professional women probably have avoided economic disadvantage, one of the factors associated with higher school dropout rates and behavioral problems. But the other factor, a stable household, may be more important for the mothers to keep in mind, McLanahan says.
'If they're literally not looking anymore for a partner, not moving in and out with different partners, my guess is their children are doing fine,' she says.
McLanahan heads the Fragile Families study, a national project studying 5,000 children, three-fourths of whom were raised by single mothers. She says the study shows that 96 of 100 single mothers eventually have a serious partner they don't marry.
McLanahan would prefer incentives to discourage under-educated women from choosing to have children.
She'd start with a society that offered enough family-wage jobs for men to be seen again as family providers, and a realistic expectation of college and career for young women regardless of their family situations.
But it won't be easy attaining either, according to McLanahan. Her nationally representative study of births shows that half the non-married births are to black women. At the same time, 40 percent of the fathers of those children had been in jail at some point. By the time the children were 5, one in two of their fathers had been in jail.
'These guys are getting locked up,' McLanahan says. 'That doesn't make them very good fathers or husbands.'
Support environment
Living together has replaced marriage for a large swath of the population, says Andrew Cherlin, a Johns Hopkins University sociologist and author of 'The Marriage-Go-Round.' In fact, the greatest rise in births outside marriage is among couples who are living together.
Cherlin says cohabitation in the United States is different than in the rest of the world. For starters, living together tends not to last as long here.
'Americans seem to believe that marriage is the proper place for a long-term relationship and so cohabitating couples will either marry or break up. And increasingly, they break up,' Cherlin says.
Cohabitation has gone from about 500,000 U.S. couples in 1970 to 7.6 million couples in recent studies, according to University of Portland sociologist Robert Duff. Duff thinks that at least partially explains the shrinking divorce rate of recent years.
Duff has been teaching university classes on family and marriage since the 1970s. He and fellow professors have noticed changes in the students they teach, and he thinks the changed attitudes toward marriage and the growing number of children raised in one-parent households, bears some of the responsibility.
'We've got a lot of fragile kids coming up,' he says. 'You'd like to see kids raised in a support environment where they're not fragile. They're anxious about things, they're unsettled, they don't have a strong sense of security that comes from a strong family background.'
Duff can expect more of those fragile students in the years ahead. Robin Neal, manager of pregnancy support and adoption services for Catholic Charities in Portland, says she is seeing an 'exponential increase' in the number of disadvantaged pregnant young women coming to her organization for help.
Most of those young women, Neal says, are in their 20s, already have one or two children, and are pregnant again. That in itself Neal finds mystifying.
'Somehow having had one or two children already isn't dissuading them,' she says. 'They know how much work it is, but they say what you and I will say, parenting is the most satisfying job or task they've ever had.'
- Peter Korn