FONT
SHARE THIS
MORE STORIES
---
Bridging the divide for kids, families
Experimental housing project finds success as it awaits evaluation
Joy Corcoran's favorite New Yorker cartoon shows three cubicles of office workers at their desks. Two of them are ordinary looking; the third wears a court jester's outfit and a peacock's plumage and happily strums a banjo.
---
The caption: "It's a poor heart that never rejoices!"
Corcoran, a 52-year-old artist who's dealt with a lesion in her spinal cord since age 16, moved into North Portland's Bridge Meadows three months ago so that she and her husband, Jim, could feel "rich and joyous" in their community, despite their hardships.
"It's the chance to be around children, to be around community, not isolated from it," says Corcoran. "We're interested in making the last third of our lives the best third by living healthfully, artfully."
Located a half-mile from New Columbia, University Park and Rosa Parks K-8 School in North Portland, Bridge Meadows is a quiet, and by all accounts, thriving intentional housing community, a year after opening its doors to residents.
It's home to 63 people, including 23 foster children in the process of being adopted. The children, age 11 months to 14, had either languished in the system or were on their way there.
While Bridge Meadows Executive Director Derenda Schubert has been bursting with confidence and optimism since the start, no one really knew what to expect.
It is a radical concept: provide on-site social services, recreational and wellness activities, reduced rent and wrap-around support for parents who agree to adopt three to four children from the foster care system within five years; build housing for them and integrate it into the surrounding neighborhood.
Add to the mix a third generation of residents, 55 and older, who are the village "elders" -- adoptive grandparents who are required to pitch in with at least 10 hours of volunteer work each week.
They spend their time babysitting, tutoring, helping with crafts, gardening, cooking or tending to playground duty -- anything that captures their interest.
Is it a success? That depends on whose standards, and the long-term fate of the families and children who live there. While Portland's City Council approved the project in 2006, the city is formally evaluating Bridge Meadows' progress, but Schubert is working with Portland State University's Regional Research Institute to develop an evaluation process and begin collecting data. She expects a report by next summer.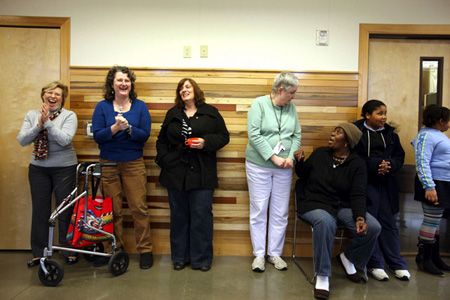 TRIBUNE PHOTO: CHRISTOPHER ONSTOTT • Bridge Meadows executive director Derenda Schubert (left) shares a joyful moment with some of her residents. Now with a year under its belt, Bridge Meadows will get a formal evaluation.
Most neighbors happy
Unlike New Columbia, the low-income housing community nearby, which has seen a recent spate of gang shootings, Bridge Meadows has seen no major crime, and the Portsmouth neighborhood is largely supportive despite the vocal criticism of North Portland activist Richard Ellmyer.
He charges that Bridge Meadows is demonstrative of the "inequitable treatment of North Portland -- the City Council's demonstrable dumping ground for social engineering experiments with troublesome socio-economic classes and the center of its policy of unlimited neighborhood concentration of public housing."
Ellmyer harkens back to the project's controversial beginnings in 2006, when the city razed John Ball Elementary School, and many in the community began thinking of potential uses for the two-acre site.
City Commissioner Dan Saltzman -- who had spearheaded the creation of the Portland Children's Levy in 2002 -- one day presented the idea of Bridge Meadows, which was at first called Hope Meadows.
Despite opposition, the council approved the plan, leading critics to call it a backroom deal and a fait accompli for Saltzman's pet project.
Greg Wilhelm, past president of the Portsmouth Neighborhood Association, doesn't think Bridge Meadows should be judged by the city's politics. He looks at what's happening within the community.
Before construction began, residents had voiced concerns about added traffic, noise and crime. Bridge Meadows responded with compromises in design, like covered garages for each unit to reduce street parking.
Now, Wilhelm says most residents don't have a beef with Bridge Meadows, nor does he: "I personally walk past there every day walking my dog and am very happy with how it turned out."
In fact, Wilhelm says he's seen Bridge Meadows residents participate in some of the neighborhood events and improvement projects "more so than the rest of the neighborhood, ironically."
When issues have cropped up, Schubert was quick to fix them, Wilhelm says. At one point, bus riders had to walk through the Bridge Meadows' mulch landscaping to board a bus; Schubert worked with TriMet to mark spots where the front and rear bus doors opened and two weeks later, there were two concrete pads leading from the sidewalk to the street.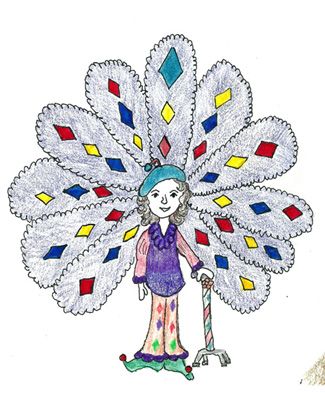 COURTESY OF JOY CORCORAN • Artist Joy Corcoran uses drawing and storytelling to cope with her long-term disability. She teaches kids to read and draw at Bridge Meadows, and encourages her peers to live joyfully.
TRIBUNE PHOTOS: CHRISTOPHER ONSTOTT • Isabella Starr, 8, (left) and Lilli Ana Lopez Hernandez, 7, enjoy some downtime. Bridge Meadows is home to 23 foster youth who've been adopted or are in the adoptive process.
"Overall, I feel that they have done a good job at trying to win over the tough critics ... and in time will succeed," Wilhelm says. "However, there will always be those people that are mad that the neighborhood did not have a say over what the land was used for, but that is not a Bridge Meadows problem, that is a City Council problem."
Schubert agrees: "People were just worried about change and the unknown. We said we'd be good neighbors, and we have been."
While Bridge Meadows has a 99-year lease from the city on the land for $1 per year, the nonprofit owns all of its family homes and has no debt.
The senior family homes are part of the low-income family tax credit program. Fundraising for the whole project was $11.4 million in public and private dollars.
Cozy environment
Politics aside, no one disputes the need for a place like Bridge Meadows.
Just 11 percent of children in the Oregon foster care system leave within three months; the median stay is nearly a year and a half. At any one time, the state serves about 8,900 foster children who have had devastating cases of abuse and neglect.
In 2010, Multnomah County saw 2,800 incidents in 2010: 41 cases of mental abuse, 632 cases of neglect, 222 cases of physical abuse, 285 cases of sexual abuse and exploitation and 1,620 threats of harm.
The children at Bridge Meadows are a diverse group: all but five of the 23 are black, Hispanic or Native American.
Cultural celebrations such as Cinco de Mayo, as well as birthdays and other occasions -- like creating a magical "Whoville" scene to mark Dr. Seuss Month in March -- are the norm.
Designed by Portland's Carleton Hart Architecture, Bridge Meadows has the shiny urban feel of a Pearl District condo building, crossed with the cozy warmth of Timberline Lodge.
The main building, the two-story gathering center, functions as a lobby, with a community center, central mailboxes for residents and staff offices. Upstairs is the library, a small space for tutoring, computer lab and cozy nooks with leather couches for reading or knitting.
The building also houses a room with donated musical instruments -- including a marimba, drums and piano -- that doubles as a book-sorting room, because there's a constant flow of library donations.
An arrangement of duplexes and triplexes provides 4-bedroom, 3-bathroom homes for each family, and mostly one-bedroom apartments for elders -- all with front porches that look out to the neighborhood.
They circle around a large grassy area, the site's common backyard used for summertime Slip 'n Slide and games of tag.
Homes are bordered by fruit trees and blueberry bushes, paved walkways and a boardwalk bridging a stormwater garden and swale. There are also wheelchair-accessible raised garden beds; residents learned to make their own garden boxes and plant their own vegetables last summer.
With solar panels, sensor lights and water heaters, a bike shelter and other green features such as Portland's Viridian Woods recycled pallets used for ceiling beams and wall paneling in the gathering room, Bridge Meadows is LEED gold-certified through Earth Advantage.
Based on Hope Meadows
Although the design is uniquely Portland, Bridge Meadows' concept is based on the Hope Meadows campus in Rantoul, Ill., which has been around since 1994. Located on a five-block neighborhood that once was a military base, that community houses 12 Hope families, 50 children and 60 older adults who live in individual apartments and family homes.
"I talk to my neighbors on a daily basis," says Shirley Gulliksen, 30, a mother to her own 3-year-old as well as her nieces, 9 and 12, whom she's in the process of adopting.
The older girls have turned around in their studies, thanks to help in reading and math, she says. And, thanks to a local dentist she met at a Bridge Meadows benefit in the fall, she's had a mouthful of dental work done that she was unable to afford on her own. While she spent time recovering from the dental work, her neighbors brought her soup, watched the girls and made sure they had everything they needed.
"Here," Gulliksen says, "I don't feel like I'm raising them on my own."
A grand shift
Like most other residents, Joy Corcoran, the artist who's lived at Bridge Meadows for three months, spends her days balancing her life and life in the community. There are weekly social groups for every generation: toddler time, parent circles, "wisdom circles" and campus "happiness hours," a weekly check-in for residents to talk about life at Bridge Meadows.
A therapist from Morrison Children and Family Services comes once a week. Wellness activities include yoga, self-defense, book discussions and pajama time at the library.
Corcoran tries to stay active, despite her disability: her severe arthritis leaves her unable to walk unassisted.
She makes her 10 hours of volunteer work easily by babysitting a group of three siblings every Thursday evening while their mother attends a parenting class, leading storytime every Saturday at the on-site library (which holds 3,000 volumes, all donated) and working with students throughout the week in reading and drawing, partly for the literacy boost, partly just as a creative outlet -- for them and her.
"I get to use my crayons now," she says. "I'm a huge lover of children's books; now I have someone on my level to share it with."
Shortly after moving in, Corcoran blogged about her new life at Bridge Meadows: "I feel this sense among us that we can help patch up a small tear in society. Instead of just being 'low-income' seniors, I feel we are now contributing members of society. It's both a subtle and grand shift in self-perception. We are now teachers, friends, aunties, grandparents, musicians, neighbors, uncles, writers, counselors -- all more than a statistic or a hard-luck story. There are so many creatives and support people, it's hard to figure out what my contribution will be -- but whatever it is, I know I'll get plenty of support."