New Columbia takes small steps toward new life
Residents try to calm once troubled area so families will thrive
Two vacant blocks of land at the heart of New Columbia in North Portland are not much more than soggy patches of grass.
That soon could change.
Plans are on the drawing board to use some of the vacant space for a bicycle hub for the 2,500 residents who call New Columbia home, half of whom are under 18. It would include a pump bike track for kids and a bike repair shop, where residents would be taught how to fix their own bikes.
"Besides just (addressing) recreational needs and health epidemics in low-income communities, it's giving some people the opportunity for leadership development," says Zan Gibbs, adult program coordinator for the nonprofit Community Cycling Center, which has led activities like fix-it fairs and neighborhood bike rides at the North Portland community since 2009.
The organization's motto is: "We believe the bicycle is a tool for empowerment and a vehicle for change."
The goal for the New Columbia bike hub project is to involve residents in the planning and design as well as fundraising and construction, which could begin this summer.
"Folks could trade labor hours to earn a bike," Gibbs says.
That approach -- helping residents to support themselves rather than doing it for them -- is a theme that has started to run through every aspect of the New
Columbia community, now seven years old.
One of the most visible examples is the Village Market, the corner grocery that opened last May to sell healthy food to residents: everything from organic veggies from Sauvie Island to baby food, healthy kids' snacks, fresh soups and sandwiches and injera, the crepe-like Ethiopian flat bread made each morning by one of the residents.
Residents helped in the market's startup and now work there.
On most days, the market is the bustling heart of the community, despite the lingering reminder of the fatal shooting that occurred on that same street corner two summers ago.
Seventeen-year-old Billy Moore was shot to death just after stepping off the bus at North Trenton Street and Woolsey Avenue.
A year later, 18-year-old Shalamar Edmond was shot to death at McCoy Park.
Both were tragic wake-up calls to the community, police and city leaders to step up public safety efforts.
TRIBUNE PHOTOs: CHRISTOPHER ONSTOTT • Devon Whyte, 26, has plans to move out of New Columbia soon with his daughter Ahamni, 6.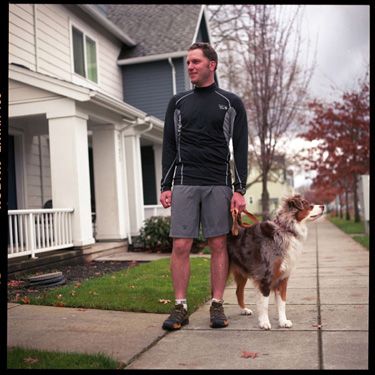 TRIBUNE PHOTOs: CHRISTOPHER ONSTOTT • Daniel Harro, who purchased a home in New Columbia five years ago, says his neighbors are friendly and he feels safe, despite occasional gang activity.
Patrol hot spots
Police and community members had all but quashed gang activity this year until March 13, when a shooting rang out once again.
Twenty-year-old Jose Monroy was shot in an apparent robbery on North Woolsey Avenue, but it wasn't fatal. Police arrested two suspects, Anthony Bagsby, 20, and Cocoa Taplin, 16, in a residence a block away. Investigators say they believe the suspects might be gang associates.
The shooting was a reminder to police and residents not to get complacent.
Gang officers have responded to 33 incidents across the city this year, most of them shootings.
In the past few years, the Boys and Girls' Club, Portland Parks and Recreation's University Park Community Center and the Community Cycling Center have boosted their youth programming on site, and police made McCoy Park a hot spot for patrols.
Portland police also assigned a unit of four officers specifically to New Columbia and its surrounding apartments, to try to stop problems in their tracks. They chase down everything from noise complaints to reports of the smell of marijuana coming from apartments.
They look into non-residents who've parked on site for an extended period, because unsavory guests are usually the source of problems.
"There was a case where a 70-year-old man had a caretaker who was actually a prostitute," says Sgt. Phil Blanchard, the unit supervisor. "He ended up getting evicted."
Last year, police searched an apartment on a warrant for drug dealing that "sent shock waves to other residents," he recalls.
The resident involved, a mother with children and brothers who were associated with gangs, wasn't just kicked out of New Columbia, she was also barred from other federally supported public housing complexes.
"When they saw she lost her housing, that word gets along quickly," says Blanchard.
Officers also make referrals to case managers and try to solve problems by meeting each week with the community's management staff.
"We're not just trying to kick everybody out and arrest everybody, we're trying to make it a safe place," Blanchard says. "There's a lot of people there just trying to get by. If you take out the bad apples, it has a very calming effect."
Two of the New Columbia officers are funded with federal money; two are funded by the city. The officers regularly meet with management to discuss cases, and get to know residents and their families.
Normally, a one square mile area would get three-fourths of an officer's time, not a four-person patrol.
But it's all in hopes of preventing major problems.
At the old Columbia Villa, just two officers were assigned to patrol the site. Blanchard was one of them. He patrolled the Villa for 20 years, until it was so outdated and gang-infested that it was razed in 2003 and rebuilt two years later as New Columbia.
The new community -- twice as dense, with 850 households on the same 83-acre footprint -- is nothing like the old, in his opinion.
After the recent shooting, Blanchard recalls, one of the residents spoke up at a meeting to ask her neighbors to "have some responsibility too; we can't be calling the police all the time."
"I said, 'Wow, where've you been?' " Blanchard says.
On a personal level, Blanchard calls himself a "very conservative Republican" who's been genuinely impressed by the federal investment in New Columbia. "They stopped taking it to a place where, 'Hey, this is a place we're going to house poor people' to 'This is a place we're going to help them rebuild their lives and go forward, where they can get access to education and work instead of living off welfare.'"
TRIBUNE PHOTOs: CHRISTOPHER ONSTOTT • Asha Tuffa and her two daughters Zuveda (left) and Medina (middle) are part of New Columbia's growing Muslim community.
TRIBUNE PHOTOs: CHRISTOPHER ONSTOTT • Kelly White (bottom inset), who has lived in New Colombia for six years, sits in her yard near a large collection of bicycles. A bike hub might soon be built on the site.
Coaching through life
In fact, 100 New Columbia households have just begun participating in a federal program called the Opportunity Housing Initiative, led by two of the four staff social workers on site.
Rather than the typical case manager model, residents work with New Columbia social workers to tackle their issues through a coaching method. The goal, says Roberto Astorga, one of the two case managers, is for people to achieve self-sufficiency by improving their finances, getting a better job, going back to school, saving money to buy a house and moving out of public housing within five years.
Most of New Columbia's units are publicly-subsidized affordable housing; 232 are owner-occupied homes.
Home ownership is a goal for most families, Astorga says. Besides poverty, many are dealing with addictions, mental health or criminal justice issues, immigration and a lack of higher education. Many are refugees (largely African), and many don't speak much English, but all are in the process of earning citizenship and all want to learn English, he says.
Astorga cites the case of a couple from Guatemala who arrived four years ago, at first resistant to learning English. At a gathering for Spanish-speaking families, Astorga recalls them asking their peers why they needed to speak the language.
"All of them said, 'Because you need it to get work, get ahead in everything,'" Astorga remembers.
Convinced, the couple enrolled in English classes, and they are now fluent, with jobs in local factories. But they hope to find something with higher pay so they can own a home.
"It gives you a sense of security, self-sufficiency," Astorga says. "People really care about improving the lives of their families."
He cites another success: a young mother he met two years ago, when she was unemployed and dealing with issues with her gang and immigration issues with her husband. Astorga helped her enroll in a financial literacy workshop, a first-time homeowner class and a program to improve her credit. She got a job, and she's now shopping for a house.
"The best thing for me is to see they're empowered," he says. "Poverty brings a lot of shame; they feel they're not good enough."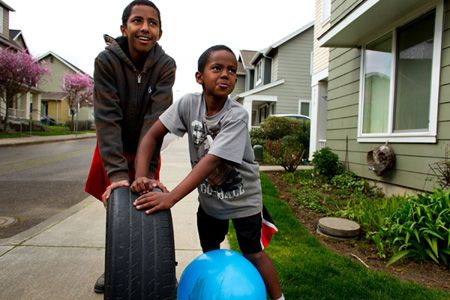 TRIBUNE PHOTOs: CHRISTOPHER ONSTOTT • Ethiopia-born brothers Lammi Kalia (left), 11, and Bona Kalia, 8, get ready to roll a tire down a grassy hill. Half of the 2,500 residents of New Columbia are children.
Pitching in for field
As far as the vacant lots along New Columbia's main street, Astorga agrees there's a huge need for more positive community space.
There are two other potential uses for the site, which could coexist with the bike infrastructure.
There's been talk about adding a mix of senior housing, retail shops and a child development center, since child care is a top need for families on-site.
The Timbers Army is in preliminary talks on a plan to install a small turf soccer field at New Columbia like the group has done at other parks and school sites throughout the city.
"In a perfect world, we'd like New Columbia to be one of those 'signature' projects," says Shawn Levy, a board member for Operation Pitch Invasion -- the Timbers Army-founded charitable group. But many hurdles remain.
Whatever happens to the vacant lots, this year will be a turning point for New Columbia as it adopts its new community-building approach.
"The early years were a lot about managing crises, developing an identity, getting people resettled," says Rachel Langford, resident services program supervisor for Home Forward, the former Portland Housing Authority. "At this point, we're not in crisis management mode. ... When we look at projects like the bike track, community garden, the store, any l arger initiative, we're trying to figure out how residents are going to be a key, integral part of creating and sustaining what we create."
This email address is being protected from spambots. You need JavaScript enabled to view it.
---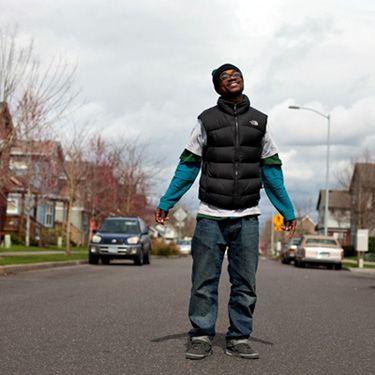 TRIBUNE PHOTOs: CHRISTOPHER ONSTOTT • Egbevado Anaouko, the unofficial ambassador of New Columbia, works to draw out natural leaders and help residents take ownership of their community.
• Eg's toil in New Columbia bears fruit
Egbevado Anaouko knows his name is a mouthful, but he's proud of it.
"It means 'Today has come' (in his native tongue)," he says. "So when people say it, they'll always ask you, 'For what?' "
People call him Eg. They also call him "The Butterfly," because he seems to be everywhere at once.
The 22-year-old is New Columbia's unofficial ambassador. He knows everyone on-site, from the grandmas and kids to the maintenance folks and staff.
He's grown up here, found himself here. But it wasn't easy.
He arrived in North Portland at age 11, straight from a refugee camp in Togo, West Africa. As a child, he'd farmed in his village with his six siblings, growing pineapples, mangoes, peanuts and greens.
Egbevado remembers getting his first bike, soon after arriving in North Portland, and having it stolen off his front porch. He didn't speak English, so he expressed his anger by lashing out. He stumbled through school, finally graduating from Open Meadow High School.
The family moved into New Columbia when it opened in 2003, and his father created a garden for residents, across from the Boys and Girls Club. When Egbevado was 17, his father gave him the choice of either helping at the garden or moving out.
Reluctantly, he chose the garden.
He volunteered and worked there for five years, teaching New Columbia kids not just how to grow their own food but also how to be a leader by being involved and following their passions. Nowadays, he works at the Village Market and mentors youth at his recording studio, where he works with them under his record label, "The Royal Family Music Production."
He wants to go back to school when he can, and aspires to be a police officer.
"If we're able to bring out the youth in this community, figure out how to work with them," he says, "then it's a guarantee this community will be 100 percent safe."
- Jennifer Anderson