FONT
SHARE THIS
MORE STORIES
---
Biotechs broken promise
OHSU/PSU pitched new building for industry, then switched
A monster of a building under construction in South Waterfront bears little resemblance to the development outlined three years ago when it came time to ask the Legislature for funding.
---
When the $295 million Life Sciences Collaborative Building is completed, it will have about 600,000 square feet of space -- about twice as large as the building proposed to the Legislature and Portland officials.
But it isn't the unexpected growth of the building that has a number of people upset. It's who is in the building, and who isn't.
The tenant list is significantly different than what was promised in promotional material used to pitch the project. While the prospectus used to attract funding -- "Opening Portland's Future: The Life Sciences Opportunity at the South Waterfront" -- talked up "a sophisticated complex where ...bio/life science, medical device and diagnostic entrepreneurs and startup companies have the incubation labs, resources and support to achieve success," that isn't what's happening in the building today.
There aren't going to be any entrepreneurs, startup companies or incubation labs at the complex. Neither is there going to be a home for the Oregon Translational Research and Drug Development Institute, a state-supported nonprofit that performs sophisticated drug testing for those startup companies.
Instead, nearly all the lab, office and classroom space in the new complex will be occupied by scientists and teachers from Portland State University and Oregon Health and Science University.
That has people in the bioscience industry -- which for more than a decade has promoted its potential as a major private sector jobs creator -- crying foul.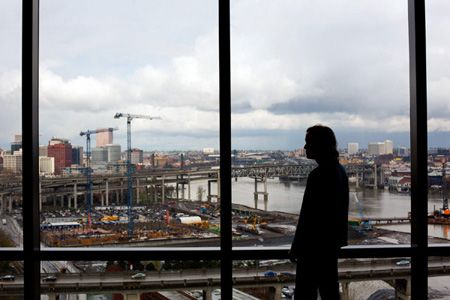 Tribune Photo: Christopher Onstott • An OHSU employee watches construction progress on the new Life Sciences Collaborative Building in South Waterfront, a huge, two-tower research and education complex that will greatly expand lab and teaching space for OHSU and PSU.
Patricia Beckmann, executive director of OTRADI, says she came to Oregon from Seattle, where she had worked at that city's bioscience accelerator, precisely because she was told an accelerator would be built as an extension of the drug development institute here.
An accelerator, sometimes called an incubator, is a place for scientists to nurture small startup companies that grow from their research. As an example, a scientist at a research institution like OHSU will patent a new drug compound or medical device and then set up an office with access to laboratory testing equipment. For a year or two, the scientist works to make his or her idea marketable enough to attract investors who will fund the necessary years of development and clinical trials.
That second step usually occurs in a bioscience accelerator or incubator, where subsidized lab space is doled out to the scientists with the most promising ideas. And that space was supposed to be included in the South Waterfront complex, along with space for OTRADI.
In 2009, Beckmann testified about her support for the project to Oregon legislators to help the Life Sciences complex get state funding. She even participated in the building's groundbreaking ceremony.
Now she is left on the outside looking in.
"The Legislature asked me would there be economic development going on in the building for bioscience," Beckmann recalls. "I said OTRADI was going to be a cornerstone of the Life Science Building."
Critical uses
The narrative behind the building's alteration is complicated, and reads differently depending on who is telling the story. Jay Kenton, vice chancellor for finance and administration for the Oregon University System, was in charge of the funding $160 million request at the Legislature. He says that after lawmakers approved the funding, he handed the project to university officials, mostly from PSU and OHSU, to work out the final design.
"The two entities in Portland did the bulk of the work," Kenton says, adding that projects the size of the South Waterfront complex often "morph a bit" as the details get worked out.
Dan Dorsa, OHSU's vice president of research, confirms that an Oregon bioscience incubator is critical to the establishment of a significant bioscience private sector here.
"There's no disagreement about that whatsoever," Dorsa says.
But Dorsa and David Robinson, OHSU executive vice provost, make the argument that eliminating the incubator and OTRADI from the new building was the fiscally conservative choice. In the long run, they say, the two could have become financial drains on the project, continually requiring more subsidies.
In effect, the decision to exclude private industry and OTRADI, some say, was a giant vote of no confidence for the future of the local bioscience industry.
Dorsa and Robinson say that they envisioned a $250 million building, $160 million from the state and $90 million from donations. The Legislature approved $50 million less than they anticipated and they lost some private matching funds, which left them with a $150 million project.
OHSU officials say attempts to raise private money to keep the incubator in the building fell flat because investors weren't willing to commit to that part of the project, so they eliminated OTRADI and the incubator.
"We pitched a project which was obviously visionary and very compelling at the $250 million mark and at some point had to downsize our vision and scope by a $100 million," Robinson says.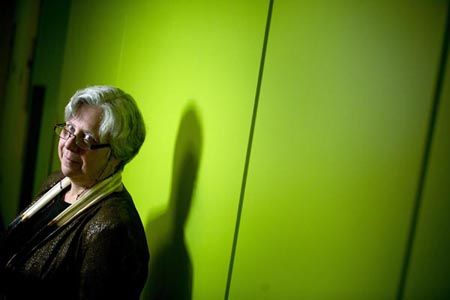 Tribune Photo: Christopher Onstott • Patricia Beckmann, executive director of OTRADI, has seen her nonprofit and its associated business incubator cut out of the 600,000-square-foot Life Sciences Collaborative Building currently under construction in South Waterfront.
Jettisoning a feature
But critics point out that the complex going up in South Waterfront is not a $150 million project. Instead, the complex has added a second tower called the Skourtes Tower. The 300,000-square-foot complex proposed to the Legislature now has close to 600,000 square feet.
Robinson says that after the decision was made to downsize the building, OHSU was able to raise $145 million in cash on its own to expand the complex. That new money is allowing it to build the second tower and move the dental school, the Oregon Center for Spatial Systems and some cancer researchers to the South Waterfront campus.
OHSU officials insist that the two towers in the complex should be viewed as separate entities, despite the fact that even OHSU's website refers to the Collaborative Life Sciences Building as one structure.
In the proposal given to legislators, OHSU was scheduled for only 3,000 square feet of research space and 69,000 feet of classroom and office space. The current design has OHSU laying claim to more than 166,000 square feet of space, much of it for research.
The South Waterfront complex -- just a tram ride from OHSU's Marquam Hill campus -- has quickly become the hottest research address in Portland. OTRADI's Beckmann says that OHSU officials talked to her about $60-a-square foot lease rates -- two to three times the going rate for most Portland lab space.
"It's sort of a showcase, for scientists with grants and prestige," says Jennifer Fox, OTRADI's assistant director.
But, Fox adds, noting her organization's exclusion, "Where's the accountability?"
Mark Gregory, PSU associate vice president in the office of finance and administration, says the building's final makeup represents accountability to his university's core mission.
"Ultimately we've got to pay for the things most important to us, and that's going to be academics and research," Gregory says.
But that's not how state Sen. Betsy Johnson sees it. Johnson, a Scappoose Democrat and a member of the Legislature's Joint Ways and Means Committee, was a supporter of the building as a member of the Oregon Innovation Council. The inclusion of the business incubator was one of the reasons for her support.
Johnson says that if the universities decided to change the building's plan, they should have told legislators.
"If we're building classrooms why not just say from the outset we're building classrooms?" Johnson asks. "It's disappointing that one of the most exciting, significant features of this building has been jettisoned."
Johnson says she would have voted for the building's appropriation anyway, because state universities and OHSU need more space. But she's concerned by what she sees as a pattern -- the Legislature appropriating money to the university system and finding out years later that the money was spent in ways not outlined in the proposals. By the time legislators learn of the changes, Johnson says, it's too late to take back the money.
"It is endemic with OUS that there is an appropriation of funds and not the requisite report back mechanism to the Legislature," she says.
Ken Rocco, Oregon's legislative fiscal officer, says even if the state's piece of the funding came up short, that didn't necessarily give the universities free rein to leave out the incubator and OTRADI.
Most of the state money that was approved for the building, Rocco says, could not have been used for OTRADI or the incubator. The money that would have supported OTRADI and the incubator would have been the privately raised funds.
OHSU officials say they couldn't raise that money, but they were able to raise funds to build a second tower in the complex.
OTRADI's Beckmann says she will try to raise the money herself for an incubator, but she understands that will be a challenge.
"We have very little to attract new bioscience companies to Oregon," she says.
In fact, she points out that a number of local companies have moved out, including AVI BioPharma to Seattle and Receptor Biologix to Palo Alto, Calif.
Tribune Photo: Christopher Onstott • Patricia Beckmann, executive director of OTRADI, has seen her nonprofit and its associated business incubator cut out of the 600,000-square-foot Life Sciences Collaborative Building currently under construction in South Waterfront.
New cast of characters
Portland economist Joe Cortright has his own analogy for the university system's habit of making changes once state money has been approved.
"This is like Charlie Brown, Lucy and the football," he says. "It has been repeated many many times. (The Legislature) gave them money for this one and there's no incubator."
For years Cortright has been saying that public money spent on trying to establish a local bioscience industry here was wasted, claiming that cities such as Palo Alto, Boston and San Diego are so far ahead of Portland that even successful startups here will move where the industry infrastructure is already established, taking their jobs with them.
So, while Cortright faults PSU and OHSU for not following through on the promise of an incubator in the complex, he doesn't think the money would have been well spent.
"I used to think biotech was the hardest thing you could possibly sell because results take too long, 10 or 15 years," he says. "Then I realized this is perfect because nobody could ever prove that it failed. By the time 10 or 15 years has passed there would be a whole new cast of characters -- a new governor, legislature, mayor -- and there's nobody to hold them accountable."
Cortright isn't buying the OHSU explanation that the money raised for the second tower in the complex has nothing to do with the lack of money to include OTRADI and the incubator. In his view, OHSU's choice all along has been to support research, not the private companies that might grow out of that research.
"They're saying the incubator is really important except we can't afford 20,000 square feet out of 600,000 square feet and we're not going to do it unless the Legislature pays for it," he says. "It's very clear this is not an institution attuned to thinking about commercialization in any serious ways."
OHSU officials point to the number of jobs created by the university's research, something Cortright doesn't dispute. But for years OHSU officials have maintained that their researchers would be spinning off companies that would create jobs outside the university.
Those are the jobs that will never be created in significant numbers, according to Cortright.
"We shouldn't pretend that some institution like OHSU is really entrepreneurial," he says. "They had a chance to vote with the money they raised."
---
Experts say Portland ripe for thriving bioscience industry
Incubators are an important component of a thriving bioscience industry, says George Goodno, director of state policy communications for the Biotechnology Industry Organization in Washington, D.C.
The Seattle bioscience accelerator, financed with private venture capital, has been running for nine years, and Goodno says that cities from Memphis to New Orleans have successfully opened incubators in recent years.
Somehow, says Dennis McNanney, executive director of the Oregon Bioscience Association, Portland is going to have to find a place and funding for a substantial bioscience incubator, if the industry is to grow.
Portland State University hosts a small incubator that industry experts say does not meet the needs of most growing companies.
McNanney says he supports the additional space for Oregon Health and Science University and PSU scientists in the South Waterfront complex. But the bottleneck impeding growth of bioscience jobs here, he says, isn't a lack of ideas from local scientists. The bottleneck, he says, is the lack of an incubator.
"It's all a pipeline and the pipeline is filled with ideas that are maturing," he says.
Whether the cause is the lack of an incubator, Portland's historical shortage of venture capitalists or, as economist Joe Cortright says, that Portland is too late to join the biotech party, the promise of large numbers of private sector jobs has not been realized. A 2010 study commissioned by the Biotechnology Industry Organization ranked Oregon 24th for bioscience job creation and failed to list Portland among the leading metro areas.
Yet Goodno says Portland's location between the bioscience hot spots of Seattle and the Bay Area make it a likely location for a thriving industry.
"It's a bit odd that the industry isn't more pronounced there, and it's not," says Goodno. "It's a small presence in Oregon. There are all sorts of reasons that the industry should do well there, but it's not that developed."