FONT
SHARE THIS
MORE STORIES
---
New court connects homeless, services
County's Community Court could be a new model for other cities
On May 4, Multnomah County makes community court history when it opens the first courtroom in a homeless facility.
---
Every Friday afternoon, the Bud Clark Commons in Old Town -- which features a temporary shelter, a day center and 130 permanent apartments for the chronically homeless -- will also host community court Judge Alicia Fuchs presiding over a docket of cases featuring homeless men and women arrested for street crimes.
Officials hope bringing the court to a place familiar to many of the defendants will lower the "failure to appear" rate. For the people who provide services at Bud Clark Commons, the Friday courtroom is just one more in a series of novel efforts aimed at attacking homelessness.
National court experts say no other city in the country has gone to such lengths to bring a courtroom to its homeless residents, and call Portland's new community court an experiment they will watch closely.
Multnomah County's Community Court operates out of the downtown Justice Center. On Mondays, judges hear cases from the city's west side, Tuesdays are dedicated to TriMet riders caught without fares, Wednesdays are for cases from North and Northeast Portland, and Thursdays are set aside for Southeast Portland cases.
But Fridays at the commons building won't be dedicated to a geographic area. Instead, police are being told that when they arrest homeless people for low-level street crimes anywhere in the city they should cite them to appear at the special Friday court.
Connecting services
The new court has been a pet project of Doreen Binder, executive director of Bud Clark Commons. Binder says for years her caseworkers have been unable to get a number of homeless clients into public housing because the clients had outstanding warrants. Typically, people living on the street who get cited by police for crimes such as urinating in public or drinking from an open container tear up their citations and don't appear in court, knowing no obvious consequence will result.
Less obvious to them, Binder says, has been that when they are ready to engage rehab and enter into housing, they have outstanding warrants and fines from the citations they ignored.
As far as Binder and Larry Turner, Transition Project director of behavioral health, are concerned, placing the new community court right where many of those clients get showers and mail, use computers and generally hang out during the day, represents a unique outreach opportunity.
Turner will be able to confront some of the commons' clients and convince them that the key to accessing the facility's services -- from addiction treatment and mental health services to housing placement -- is the building's community court. There, Binder says, the judge can agree to waive fines if the client agrees to work with the social service providers and perform community service.
Turner says many clients have attended community court in the justice center but never made it to the commons to begin working with the social service providers as they had promised. Now that won't be possible.
"The whose purpose of this is you don't leave the building without connecting to the services," Binder says.
Multnomah County prosecutor Laurie Abraham says the district attorney's hope is that the more direct link between homeless offenders and social services will result in fewer street crimes.
"If it helps the 'failure to appear' rate, that's great," says Abraham. "But I'm hoping it will help people change their criminal lifestyles."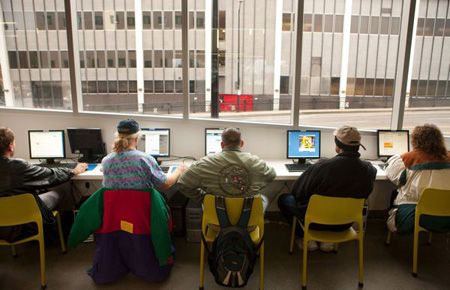 TRIBUNE PHOTOs: CHRISTOPHER ONSTOTT • Homeless men and women sign up for time on the computers in the day center at Bud Clark Commons. Staff are often aware of people with outstanding warrants using the facility, and hope to convince them to attend the commons' new community court to clean up their records.
A barter system
Ironically, nobody in the court system has been able to say with certainty just how many people fail to appear in court in the county, though Abraham and others say the number is significant. Abraham says most of the charges sent to community court involve alcohol in public rights of way or parks, indecent exposure, offensive littering, minor in possession of alcohol, or possessing less than an ounce of marijuana.
Julius Lang, director of technical assistance for the nonprofit Center for Court Innovation in New York City, calls the new court a possible next step in the evolution of community courts nationwide.
Community courts, which originated in New York City, are intended to use the judicial system to get low-level offenders connected to social services and community service rather than jail. Portland's new court will be the first located precisely where all the social services are on hand. In fact, all those service providers are expected to be in the courtroom at the commons, so when a judge determines what is needed for an offender, he or she can hand the case to the appropriate social worker.
But Portland's model will be missing a key element that other cities have found helps lower failure to appear rates, according to Lang. Studies have shown that more offenders appear when their court dates are closer to the day they received their citation. In midtown New York, the community court is nearly always open, so police can arrest offenders and take them right in. San Francisco has gone from a six-week lag to three days, and Hartford, Conn., now has its community court dates within 48 hours of citation.
"If you can't take them right in the next best thing is giving them a date that's really soon," says Lang.
Oregon law allows police officers to set an appearance day up to 30 days from the time they write a citation. In most cases, Abraham says, they use that full 30 days.
The state court system in Multnomah County requires that paperwork go from the arresting officer to the DA and then to circuit court, a complicated process that precludes reducing the time between citation and appearance.
Similarly, says Greg Berman, director of the Center for Court Innovation, studies have shown that offenders are more likely to perform their assigned community service if they can do it immediately. In cities where offenders are told by judges to begin their community service the next day, about 75 percent comply. In cities such as Portland, where often there is a longer period between the sentence and the actual performance of community service, only about half show up, according to Berman.
"Psychologically, the idea is to tie the crime to its consequence ... these are people with complicated lives, many are addicted, homeless and mentally ill," Berman says. "Thirty days gives you a lot of opportunities for other things to intervene in the process."
Turner says that at the new court, many of the offenders sentenced to community service on Friday will be able to start that service on Monday, helping out in the commons laundry room, or cleaning the grounds, for instance. Often the service will be connected to the offender's crime.
"I'm trying to be as creative as possible," Turner says.
Judge Fuchs, who will preside, says she sees the new court at the commons as something close to "a barter system."
"The court's mission has always been about taking care of people and always hoping to make their lives better," Fuchs says.