Warner Pacific gives city a lesson in neighborly skills
Determination, programs keep small private college afloat
Things were looking grim six years ago at Warner Pacific College, a tiny Christian private school on the southern slope of Mount Tabor.
A consultant hired to help remake Warner Pacific's image reported that it didn't have a bad reputation -- it had no reputation at all, says college President Andrea Cook.
And just as the college was trying to reposition itself and boost anemic enrollment, its secret deal to buy the adjacent Portland parks maintenance yard was exposed, infuriating neighbors and triggering a City Hall scandal.
Since that turbulent period in 2005-06, Warner Pacific has quietly engineered a surprising turnaround:
• Total enrollment has nearly tripled.
• Three satellite campuses have been added.
• Its student mix is among the most racially diverse in Oregon.
• Once on the brink of relocating to the suburbs, Warner is embracing its Southeast Portland home and opening up to the community.
• And, sour relations with its Mount Tabor neighbors have been replaced with a new spirit of cooperation.
"They were much more isolated in the past, doing their own thing," says Paul Leistner, a veteran Mount Tabor neighborhood activist. "It's a whole different world there."
Leistner and other observers give much of the credit to Cook, who took over in 2008 as Warner's first president from outside the Church of God denomination centered in Anderson, Ind., that founded the college 75 years ago.
Cook has provided "sensational leadership," says Larry Large, president of the Oregon Alliance of Independent Colleges and Universities. "They've done a remarkable job there."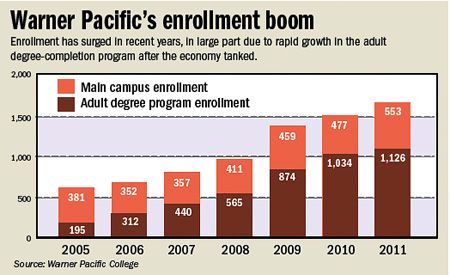 TRIBUNE GRAPHIC: PETE VOGEL
Attracting more adults
Warner's enrollment boom largely stems from its thriving adult degree-completion program, which enrolls older, nontraditional students who return to college mid-career or while raising families. They primarily study at the satellite campuses, distinct from the traditional younger students on the main campus.
Warner formed an adult program in 1989, but enrollment dwindled to 89 students by 2004, Cook says. The college's combined enrollment of around 500 made it difficult to pay for all the services a residential liberal arts college requires, she says.
Though her predecessor Jay Barber was blamed for the botched land deal with Portland Parks and Recreation, he sowed the seeds for Warner's financial revival.
In 2004, Barber contracted advertising and marketing for Warner's adult program to a subsidiary of the Apollo Group Inc., the Arizona-based corporation that also owns the University of Phoenix, a national for-profit program that also caters to adult learners.
Enrollment soon surged and hasn't let up, fueled in part by Portland's high jobless rate. The adult program accounts for 1,126 of Warner's 1,679 students, and the added publicity has contributed to modest but steady growth in its traditional students. Enrollment at the Mount Tabor campus also grew after Warner slashed tuition costs by 23 percent in 2008. Its total tuition and fees, now $18,290 a year, are significantly lower than most competing private colleges, and competitive with public universities for students who earn financial aid.
The booming adult-degree program propelled Warner to expand beyond its lone satellite campus near Interstate 205 and Southeast Division Street, with added campuses on 91st Avenue and East Burnside, Vancouver and north of Beaverton.
Warner also recently proposed a new long-range growth plan for its main campus, including new classroom space, dorms and a coffee shop near Division Street that would invite outsiders onto the once-isolated campus.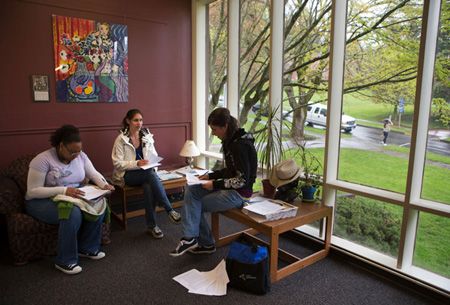 TRIBUNE PHOTO: CHRISTOPHER ONSTOTT • Warner Pacific College students Alexis McCoy (from left), Jeana Dominguez, and Layne Tucker study for an Education Literature class at the main campus library.
New urban mission
Warner has undergone a 180-degree turn in its orientation to the outside world under Cook's leadership.
"We had sat here with an insular mindset, and not really engaging our neighbors," Cook says, acknowledging "significant missteps" in its ill-fated deal to buy the parks maintenance yard for college ballfields.
Warner decided to start taking advantage of its urban location and capitalize on Portland's growing appeal among youths applying to college. Most small Christian colleges are rural or suburban, Cook says, and Warner's location can be a selling point.
Borrowing a page from Portland State University, Cook launched a new urban studies program in 2009. Students take classes at Warner, digging into issues facing the city around them, and then take some final coursework at PSU's nationally recognized program.
The urban studies program is a huge change for Warner, says state Rep. Vic Gilliam, R-Silverton, son of a former Warner president and an alum who studied there in the early 1970s.
"We used to think going downtown was a big deal," Gilliam recalls of his student days. "We felt so removed from downtown."
As a Christian college, Warner had a tradition of community service, but much of it was limited to the campus. "I said if it's happening on campus, that's not service; that's self-service," Cook says.
Now Warner students volunteer with youth at Franklin, Madison and David Douglas high schools. They're helping Catholic Charities, which assists new refugees and other immigrants in Portland, and pitching in at Café Au Play, a nonprofit coffee shop/community center on Southeast Division Street and 56th Avenue.
In a speech, the Rev. T. Allen Bethel, African-American pastor of the Maranatha Church in Northeast Portland, challenged the Warner community to be "in the city and for the city."
Warner took on the challenge and adopted that saying as its new motto.
Students of color now account for 28 percent of Warner's combined enrollment, double what it was just a few years ago, Cook says.
In the fall of 2010, Warner began the Act Six scholarship program, which offers full tuition to some minority students.
Ties to church
Many American private colleges started out as church-affiliated institutions but evolved to be more secular, including Lewis and Clark College, Linfield College and Willamette University.
That same evolution may be occurring at Warner, though it's about 50 years behind the trend, Gilliam says.
"I'm not concerned about that," he says of the church's shifting role.
It's still clearly a Christian college, and students must take religion and faith classes, although Church of God doctrinal classes are electives.
Warner is closely tied to the Church of God, and trains students going into its ministry, says state Sen. Rod Monroe, D-Portland, another prominent alumnus and longtime supporter.
A third of Warner's board members are Church of God pastors, as required by Warner bylaws.
In the 1970s, about 65 percent of Warner students were from the Church of God, Cook says. Now it's down to an estimated 12 percent to 15 percent of students on the main campus, with relatively few in the adult degree program.
The Church of God provides some financial support for Warner, "but we're very dependent on tuition," Cook says.
The endowment has doubled in five years, but it's still a paltry $7.4 million.
Growth plans
Warner is about to start raising money for the first of several buildings envisioned in its long-range plan: a four-story, nearly 40,000-square-foot classroom building fronting Division Street west of 68th Avenue. That could cost $8 million to $10 million.
Future plans call for more student dorms in small-scale buildings that would fit into the neighborhood, Cook says, and another four-story classroom building.
Warner hopes to have 1,200 students on its main campus, and dorm space for 650 students, by 2020. Plans also call for a future performing arts center and a gym and field house.
Expanding colleges often worry surrounding neighbors, but when Warner recently unveiled its new master plan it was very receptive to neighbors' input, Leistner says. "I felt very comfortable that we will be able to work with them."
---
Donation helps erase debts
Warner Pacific College's finances were so tenuous in the late-1980s that some feared it couldn't survive.
In an act of desperation, then-President Jay Barber got a loan by mortgaging his Mount Tabor campus buildings to Geos, a Japanese institute that hoped to send students there to learn English.
"It was very controversial," recalls state Sen. Rod Monroe, D-Portland, an alumnus who was then a new board member. Among other concerns, Geos was not a Christian institution like Warner Pacific.
"If it hadn't been agreed to, the college would have ceased to exist," Monroe says. "It basically saved the college."
The Japanese program sent a small number of students to Warner Pacific, Monroe recalls, but the program never amounted to much.
In 1993, Warner Pacific nearly lost its accreditation, Monroe says.
Later, Barber scored another coup: a donation from a family that wished to remain anonymous. Starting in 2004 and continuing during the next two years, checks totaling $12.4 million came to the college unannounced in multiple chunks, as holdings from the family were sold.
That allowed Warner to repay its mortgage to Geos early, says college President Andrea Cook.
"It was a huge turning point," she says. "It changed our financial status so we could begin thinking about things beyond survival."