FONT
SHARE THIS
MORE STORIES
---
Food Corps hopes to show a healthy link between garden, diet
National program kicks off with gardens at handful of Portland-area schools
Youngsters who get their fingernails dirty by learning to garden are more likely to eat and appreciate fresh vegetables - and less likely to become obese.
---
That's the mission of Food Corps, a budding national program taking off in Portland and elsewhere, starting next month.
Much like the Peace Corps and Teach for America, Food Corps aims to harness the energy, idealism and skills of today's young adults, many of whom are wildly enthusiastic about organic farming and related fields. Participants agree to work for a modest stipend under the federal Americorps program for one year, teaching students in predominantly low-income schools how to grow food, and then arrange to have it served in their school cafeterias.
Growing Gardens, a Portland nonprofit that teaches people how to start gardens in their yards and at schools, will be one of five Oregon groups to pilot the program.
'I see it definitely as a starting point for something much bigger,' says Caitlin Blethen, who manages the Youth Grow program for Growing Gardens.
Growing Gardens, a nonprofit founded in 1996, has helped 900 people in North, Southeast and Northeast Portland establish organic gardens, to fulfill its mission of combating hunger, Blethen says. The group expanded in 2000 to organize school gardens, and now helps operate them at five low-income schools.
'Our goal is to create the next generation of healthy organic vegetable eaters and growers,' Blethen says.
The new Food Corps staffer, Jess Polledri, will help establish after-school gardening clubs at Humboldt School in Portland Public Schools; Earl Boyles Elementary School in the David Douglas School District; Shaver Elementary School in the Parkrose School District; and two schools to be named.
In addition, the Food Corps staffer will organize summer garden camps, in partnership with the SUN school program.
Other Food Corps staffers will work in Tillamook, Salem, Eugene and Corvallis.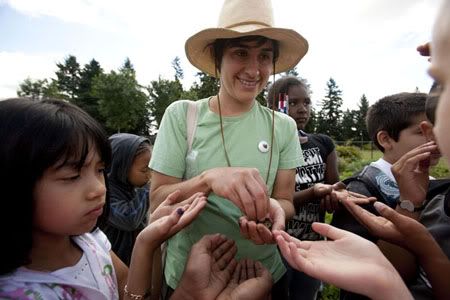 Tribune Photo: Christopher Onstott • Candice Haster, the youth grow coordinator for Growing Gardens, hands out seeds to students in the summer garden program at Earl Boyles Elementary School.
Garden of reflection
Michelle Ratcliffe, farm-to-school program manager for the Oregon Department of Agriculture, describes the advent of Food Corps as 'huge' for the field. It will combine some of the national stars in research and activism in the growing movement, and link them in mutual support, says Ratcliffe, the program's liaison to Oregon.
Food Corps launches next month with 50 participants in 10 pilot states, but it has bigger ambitions. In addition to securing a commitment from Americorps to fund the positions, organizers separately raised $2 million from foundations and other supporters, says Cecily Upton, a Food Corps program director. The group hopes to expand to all states, with 1,000 people in the field, within 10 years, Upton says, putting the group on par with organizations such as Teach for America and Habitat for Humanity.
Two of the three main Food Corps founders have Portland-area connections. Upton settled in North Portland a year and a half ago, and will remain here while overseeing programs in various states. Curt Ellis, who grew up in Lake Oswego and made the documentary film 'King Corn,' is Food Corps executive director.
Upton, who previously worked for the advocacy group Slow Food USA, says experience has shown that school gardens need paid coordinators to be sustainable. They also are essential, she says, to achieve the group's goals of using gardening to weave in school lessons, and arrange to have cafeterias serve locally grown food.
Gardens can provide an ideal setting for hands-on lessons in volume and measuring, and other concepts, Blethen says.
'We think the garden is a beautiful, educational place to learn math, to learn writing and reading, and reflection,' Upton says.
A critical ingredient
Food Corps hopes to demonstrate a positive way to attack the rampant increase in child obesity, which is in turn leading to an epidemic of type 2 diabetes. The program is targeting low-income schools, where there are more people deprived of healthy food, and more serious problems with obesity.
Another goal of the program is to train a new generation of adults in farming, education and related foodie fields.
'We're keen about cultivating agripreneurs,' Ratcliffe says. 'The child has a seamless experience between what's served on the lunch line, what's taught in the classroom and what they do in the school garden.'
Upton, who hails from the other Portland in Maine, was part of a high school environmental studies class that decided to grow a garden at school.
'I know personally about how it can change the trajectory and interests and skills and ideas of who students want to be when they grow up,' she says.
Several studies have shown the benefits of school gardens, on a variety of levels. But Food Corps is in a position to do broad national studies, and do more extensive measurement of how student attitudes are changed by the experience, Upton says.
Portland, and Oregon in general, are already fairly advanced in promoting school gardens, with more than 200 of them by the last count, Ratcliffe says. 'But a lot of the necessary boots on the ground are missing.
'Food Corps is one more critical ingredient. Maybe it's the salt.'