FONT
SHARE THIS
MORE STORIES
---
Puentes bridges barriers to success
Latino youths discover learning, value of education
It can be as simple as not knowing how to say a word in English, or as complicated as not having documents - issues that many Latino students face, leading them to drop out, miss class, do poorly in school and lose hope.
---
One local program wants students to know that those roadblocks don't have to impede getting a high school, or even a college, education. With a more than 60-percent increase in the Multnomah County Latino population over the past 10 years, the program's services guide more students now than ever.
Puentes
The Puentes program, run through the Ninth Grade Counts initiative from the office of the mayor of Portland and the Portland Schools Foundation, is a four-week, half-credit summer program that helps Latino youths transition from eighth grade into high school.
'The transition from middle to high school is pretty challenging, and research has shown that if you don't make a successful transition, the graduation rate is lower,' said Alison Dunfee, the school-based service program manager for El Programa Hispano, a social services organization that helps Gresham and Portland-area families.
Puentes, which translates as 'bridges,' operates for four weeks at two locations - this year at Marshall and Gresham high schools.
'We have a huge dropout rate in Multnomah County,' Puentes Program Coordinator Evelyn Salazar said. 'That's the main reason we tend to focus on education. We want to instill in our students a passion for learning and for them to understand that education is what gets you ahead.'
The Gresham program, which began Monday, July 18, and ends Friday, Aug.12, has 40 students - half from Gresham-Barlow and half from Centennial and Reynolds school districts. The teens take math and reading/language arts classes in the morning and participate in fun activities, such as art and sports, in the afternoon. They also go on field trips to local businesses and colleges.
El Programa Hispano
Though Puentes, which is in its third year, is part of a group of similar summer transition programs across the state, it's specifically geared toward Latino youths and the unique issues they face. Thus, the driving force behind the program is El Programa Hispano, which is run through Catholic Charities.
'We recognize that there's a need to have a culturally specific Ninth Grade Counts program so we can provide them instruction in both English and Spanish,' Dunfee said. 'It's important to have that bilingual instruction.'
With its downtown Gresham and Portland offices, the program offers a plethora of social services for the Latino community: everything from translation, to legal counsel, to cultural events. El Programa Hispano Division Manager Gloria Wiggins estimates that it serves about 14,000 people each year.
'We don't have a lot of providers out here,' Wiggins said. 'It's important to be where the community is.'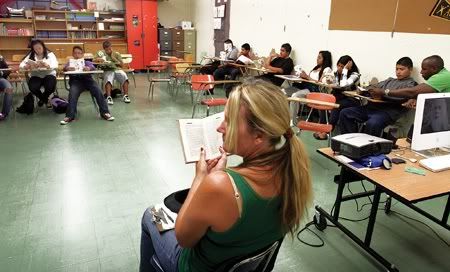 Latinos in schools
One of El Programa's major focuses is education-based services, which include case management, after school activities and summer programs.
Latino students, who as of 2009 data, make up 20 percent of Oregon's student population, are largely concentrated in certain parts of the state. A study from the Chalkboard Project revealed Gresham-Barlow and Reynolds are two of the 10 school districts that enroll half of the state's Latino students.
Ayesha Freeman, vice principal at Gresham High, said Gresham's Latino population has tripled over the past four years, reaching about 15 percent last year.
And yet the Latino student population growth is not reflected in graduation rates.
The graduation rate for Caucasian students in Multnomah County is 63.9 percent, but just 38.1 percent for Latinos.
Minerva Llerenas, a student case manager through El Programa Hispano, said many Latino students struggle with English proficiency, problems at home and poverty, causing them to test lower than Caucasian students and graduate at a lower rate.
Latino students also may have poor attendance either due to lack of motivation or because their parents need them to help translate for them at appointments or jobs.
Carlos Romero is a Latino youth education coordinator with Northwest Family Services and has provided case management to Reynolds students for six years. He said lack of documentation is one of the main contributors to this decreased motivation.
'What I see is when they are in 10th or 11th grade, they start being exposed to the idea of college and many of them lose hope because they don't have documents,' he said. 'What we see is a lot of kids dropping out because of that.'
Salazar agreed, saying many students don't understand that they can actually go forward in school.
'It's a big misconception in our community that if you're undocumented, you can't continue your education,' she said.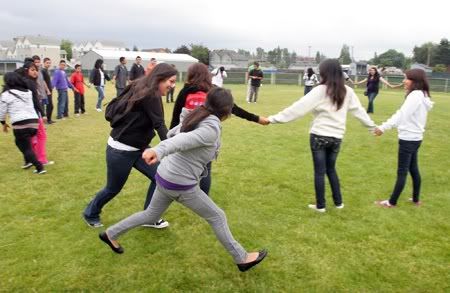 It's helping
By helping students get a confident start to high school, Puentes ensures they overcome many of the problems that might impede their education.
Although poor attendance usually plagues Latino students, Puentes' participants have shown up week after week, day after day, ready to learn, in spite of the fact that almost all of them take public transportation to school each day.
'They are here every day and that really shows a lot,' Llerenas said. 'They feel part of something, that they belong to something. That's the connection we want to make with them before high school.'
For undocumented students, Puentes lets them know that their immigration status does not have to hurt them. The program does not discriminate or even ask the students if they are legal residents.
'We explain that it may make you think you can't go to college, but we tell them that it is possible, and we can give them the tools to make sure they are able to get into college,' Salazar said.
The program also helps students with the simple insecurities that can come with being a Latino student.
Puentes student Pamela Zuniga, 14, who will attend Reynolds in the fall, said she is often embarrassed to ask questions in her English classes because the teacher and other kids will 'think I'm not smart.'
But the program is helping.
'We're growing confident in the class,' she said. 'We do everything without being embarrassed.'
Nearly every Puentes teacher is bilingual, as are all the case managers from El Programa Hispano, who help with the classes during the day.
'When you don't know the word in English, they say it in Spanish,' said Diana Valencia, 15, who will be a freshman this year at Centennial High School.
And the summer program is not the end. Gresham will now have a case manager from El Programa on site during the year.
'Studies show that teens learn better from adults who understand them culturally,' Freeman said.
With only three years of operation, a Puentes class has not yet graduated from high school, but leaders say they've already seen the program's success. Program graduates feel more comfortable once they get to high school, get better grades, participate in after-school programs and have better attendance.
'I can see them already doing good in school,' Llerenas said. 'The majority of them really took this seriously. It helps them get ahead.'