FONT
SHARE THIS
MORE STORIES
---
Dynamic Duo
Children's Cancer Association honors Tyler and Tanner Jenkins as 2012 Community Heroes
The Green Lantern and Batman don't hold a candle to Tyler and Tanner Jenkins when it comes to being a hero.
---
When the Bull Mountain brothers were each in the thick of battles for their lives, this true dynamic duo's inner strength, courage and force of will shined through.
The Children's Cancer Association recently named 6-year-old Tyler, who valiantly fought acute transverse myelitis, and 4-year-old Tanner, who bravely battled lymphoma, 2012 Community Heroes. Their stories are featured on a traveling Wall of Courage that will be displayed across the region over the next 12 months, offering inspiration to other children and teens as they too fight serious and life-threatening illnesses.
Both charismatic boys left lasting impressions on association volunteers and their medical care providers, who nominated the brothers as inspirational heroes.
'It was an honor,' their mother Reina Jenkins said of learning her sons were selected. 'You feel so privileged, so proud to know that of the thousands of kids these medical professionals care for, your sons are selected because people think that highly of them.'
Their father, Ty Jenkins, agreed. He knows how powerful the Wall of Courage can be to draw strength from and help your children face difficult medical challenges and hardships ahead.
'When we were at Emanuel, the wall was up, and we would go down and read every story,' Ty recalled. 'It was encouraging to read about what each of the heroes had overcome.'
Knowing their sons' champion spirits impact others in a positive way is a gift, Reina said.
'Tyler always has a positive outlook, rarely letting life's challenges get in his way,' she said. 'For Tanner, being a hero means protecting people from bad things. But what he may not know now is that he's a hero himself.
'They make a difference and inspire people. With everything these kids have endured, their personality just shines through.'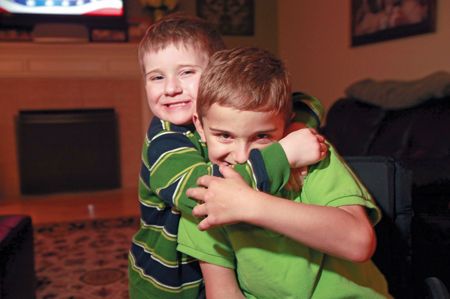 Nothing can hold him back
Tyler was 9 months old when he was diagnosed with acute transverse myelitis, an inflammation of the spinal cord that initially left him paralyzed from the neck down.
'He was days away from walking,' Reina recalled, as she watched her oldest son zip around the house in his wheelchair with flashy wheels.
Initially, it took doctors about a week to figure out what ailed Tyler, who had never been sick. 'It was like having an infant again,' Reina said.
'He couldn't hold his head up, couldn't eat and had to be on a feeding tube,' Ty added.
Tyler spent a couple months in a pediatric intensive care unit, going through countless tests and medical procedures to flush out his system and help him regain some motion in his little body. He also began a steady regimen of occupational and physical therapy.
When he was released to return home, his parents didn't know what to expect.
'When he got his first wheelchair, it only took him an hour to learn how to wheel around,' Reina said.
'And, we haven't been able to stop him since,' her husband added.
Tyler continues to suffer from respiratory problems, which have forced him to return to the hospital, and must undergo regular tests to monitor his kidneys. But despite the medical hurdles that pop up, the Mary Woodward Elementary kindergartner doesn't let anything hold him back and has regained motion from his hips up. His wheelchair is in constant motion as he races from one project to the next with a seemingly never-ending supply of energy and enthusiasm.
And, he's very protective of his best friend, Tanner. 'Tyler has always been very helpful,' Reina said. 'They have always supported each other.'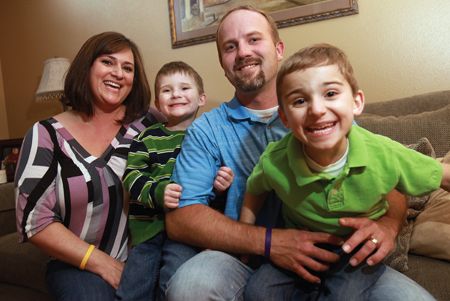 Endless love
In November 2009, Tanner started getting frequent high fevers that would last several days at a time. Months later, the 2-year-old was diagnosed with anaplastic large-cell lymphoma and immediately began aggressive chemotherapy.
'He was always such a healthy boy and his health deteriorated very quickly,' Reina said.
Tanner's road to recovery has been a long one, which included extensive chemotherapy and a complicated medication regimen. His cancer went into remission briefly before symptoms resurfaced, forcing additional chemotherapy treatments - this time even more intense. He also began participating in a clinical trial for a new drug, which has proved successful in his battle with cancer, and underwent radiation and a bone marrow transplant.
'Within three days of starting the trial drug, Tanner was more himself than he was for two years,' Reina said.
Now cancer-free, Tanner is back up to speed and keeping up with his brother. The comedian and performer of the family, the precocious 4-year-old is also very affectionate. Whether it's pressing his forehead up against his brother's or wrapping his arms around a loved one, he's not shy when it comes to letting people know he cares about them.
'Even when he was sick and in pain, he would take my blanket and cover me up,' Reina said, brushing away tears. 'Tanner is the lover.'
Watching the brothers play and wrestle with each other while dressed in superhero costumes, brought smiles to their parents' faces.
'They've endured a lot and to see them still smile and laugh and make others feel comfortable is really endearing,' their mother said. 'They give me strength.'
Despite facing illnesses and through all the confusing and painful treatments, Tyler and Tanner inspired those around them by finding joy in each other and seizing every moment.
'They're my heroes,' Reina said.
---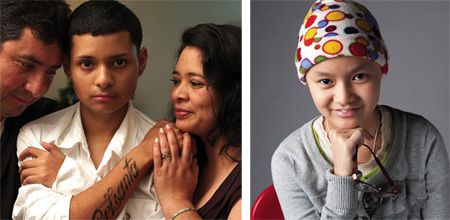 Children's Cancer Association adds to Wall of Courage
The Children's Cancer Association also honored two Tigard residents, who left lasting impressions during their lifetimes, as 2012 Community Heroes. The late Carlos Martinez Santacruz and Tina Nguyen were among the 26 children and teens recognized for their exceptional courage, wisdom and grace in the face of serious medical challenges.
Throughout his battle with acute lymphoblastic leukemia, 16-year-old Carlos Martinez Santacruz's strength was a source of inspiration to his family and friends. He will be remembered as a hero for his incredible maturity, his respect for his family and his determination to face his disease with courage.
Eleven-year-old Tina Nguyen, who battled Ewing's sarcoma, will be remembered for many admirable qualities, including her role as an adoring big sister whose inner beauty was a bright light amidst a devastating disease.
As Community Heroes, they will be honored and celebrated over the next year and will be featured on the CCA's Wall of Courage - a traveling display of photos and profiles sharing the achievements of each hero. Traditionally, the display travels between the year's Wall of Courage corporate sponsors and CCA partner facilities. The wall will be displayed at Paradise Harley in June, Target's Hillsboro headquarters in July and Randall Children's Hospital at Legacy Emanuel in August.
The 2012 Community Heroes were selected from a group of 100 inspirational young people nominated by local medical professionals. A panel of medical professionals, nonprofit leaders, CCA program staff and community representatives selected winners from among the nominations.
Honorees were announced at a private event for heroes and their families May 23 at the Oregon Museum of Science and Industry.
The Children's Cancer Association is a Portland-based nonprofit that provides seriously ill children and their families with programs and services not offered by other organizations, including Music Rx and Chemo Pal in-hospital programs, the LifeSupport Family Enrichment program and use of its Caring Cabin, a family retreat home on the Oregon coast.
For more information about CCA, call 503-244-3141 or visit www.JoyRx.org .