FONT
SHARE THIS
MORE STORIES
---
TBA11
Details

Jason Vondersmith
If you've got the time (and an open mind), they've got the art
Artists and followers gather in Portland for the Time-Based Art Festival, Sept. 8 to 18, where the unusual becomes the norm and one must bring an open mind or be totally confused.
---
It is contemporary artistry at its best, and TBA:11 continues to entrench itself into the Portland landscape.
'We have a hard time limiting our scope,' publicist Patrick Leonard says. 'We get excited about all our projects.'
The ninth event, headquartered at old Washington High School, Southeast Stark Street and 13th Avenue, brings together artists in the disciplines of stage, screen, movement and visual arts to produce works that are 'their most provocative, most revelatory and most sublimely beautiful,' says outgoing artistic director Cathy Edwards.
It's put on by Portland Institute of Contemporary Art, and extensive information can be found at pica.org. Tickets and packages vary in price; see website or call 503-224-7422. A free opening night, 8 to 10 p.m. at Washington High, gets things going. Many exhibits are on display till Oct. 30.
Here's a snapshot of things to come: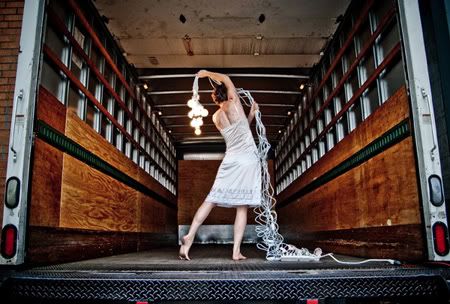 Courtesy of Jason Travis • Atlanta's mobile art venue Dance Truck presents 'Tailgate Party,' just one of dozens of contemporary performances and exhibitions showcased at PICA's 9th annual Time-Based Art Festival in September.
• Kyle Abraham's 'Abraham.In.Motion' will do two stage pieces, one about a lost community radio station and the simultaneous diagnosis of Alzheimer's with his father ('The Radio Show'), the other a solo as the Pittsburgh choreographer re-imagines Pinocchio in urban context ('Live! The Realest MC').
'He and his dancers are just amazing,' Leonard says. 'I think he'll be a big hit. Definitely a rising star.' He'll be at Winningstad Theatre, 6:30 p.m. Sept. 9 to 11, and Washington High, 8:30 p.m. Sept. 13.
• In 'The Method Man,' Rude Mechs re-enacts a fictional theatre company's final rehearsal of 'Streetcar Named Desire' and the life and techniques of choreographer Stella Burden. It'll be at Imago Theatre, 8:30 p.m. Sept. 9 to 11, 6:30 p.m. Sept. 12 and 13.
• A hit last year, the Japanese group Offsite Dance Project will embed three choreographers in urban settings on Portland's Central Eastside Industrial District with 'Edges.' The piece will start at Olympic Mills Commerce Center, 7 p.m. Sept. 14 to 17.
• Mike Daisey has also been a hit in recent years and his 'All the Hours in the Day' will be a 24-hour monologue performance, done in one-hour increments. It starts at 6 p.m. Sept. 17 at Washington High.
• 'The Hidden Life of Bridges' is an on-site project by Ed Purver and Tim DuRoche, and it'll feature large-scale video projection and sound, transforming the Hawthorne and Morrison bridges into a radio and a cinema. It'll happen at 9 p.m. Sept. 8 to 10.
• Some regional flavor will be at TBA:11. 'Home Made,' by Portland-based tEEth, combines music and movement (6:30 p.m. Sept. 10 and 11, 8:30 p.m. Sept. 12 to 14, Zoomtopia). Patrick Rock, who runs Rocksbox Fine Art and galleries at Portland State University, has created a 36-foot diameter pink elephant bounce house (noon to 6:30 p.m., Sept. 8 to 18, Washington High). Springfield artist Jesse Sugarman stages slow-motion car accidents and with 'Lido (the pride is back' he uses 42 air mattresses and three mini-vans (4 and 7 p.m. Sept. 10 and 11, Washington High).
• THE WORKS, with art exhibits and performances, goes all day and night at Washington High.