FONT
SHARE THIS
MORE STORIES
---
Smith finds his focus in mayor's race
Details

Jennifer Anderson
Young legislator built the 'Bus,' now he's building a base
Jefferson Smith was nervous - very nervous.
---
Exactly a year ago, Oct. 20, the young state representative waited backstage at the Oregon Convention Center while upwards of 5,000 people stood inside, waiting to hear President Obama stump for Gov. John Kitzhaber's re-election during a West Coast tour.
Smith was their opener - the rallier-in-chief - and although public speaking comes naturally, the magnitude of the event put him in a tizzy.
'It was one of the scariest things I'd ever done,' he says now. 'My larynx was in knots.'
When his name was called, Smith jogged to the podium, high-fiving people in the crowd along the way. His voice boomed: 'My name is Jefferson Smith and I am here to recruit you. Oregon is Kitzhaber country. Oregon is Obama country. … Because I'm getting a sense I could say anything and you'd cheer really loud, why don't you just cheer really loud!'
Say what you will about Smith - the 38-year-old Bus Project cofounder who's giving up his legislative seat to run for Portland mayor in 2012 - but he can wow a crowd.
A rising young political rock star to some, a reckless liberal and a loose cannon to others, Smith is poised to be a serious threat in the mayor's race despite some skepticism around various issues that have surfaced: unpaid traffic fines, a suspended state bar license due to late payments, and questions about fuzzy financing between the Bus Project and its foundation.
Smith insists the Bus Project's financing is by the book, pointing to yearly internal audits of both the 501(c)(3), done last year, and the 501(c)(4) that is due out soon.
Regarding the traffic fines and state bar dues, Smith revealed that he has been diagnosed with and has taken medication for Attention Deficit Hyperactivity Disorder and admits he's 'woefully imperfect,' but says it hasn't kept him from making big policy changes in the Legislature.
Coincidentally, the national nonprofit ADHD Aware contacted Smith last week, appreciating his candor. They asked if he would issue a statement and record a 30-second video spot in time for ADHD Awareness Week, which runs through Oct. 22. They want to use the material to inspire and educate families dealing with the same diagnosis.
Smith was happy to oblige, noting in his statement that it's 'nonpartisan, affecting both Democrats and Republicans alike.'
In all seriousness, Smith says he's working on his focus.
'There are certain things I have to work harder at,' he says. 'I'm best at identifying and bringing together really talented people, to accomplish those tasks.'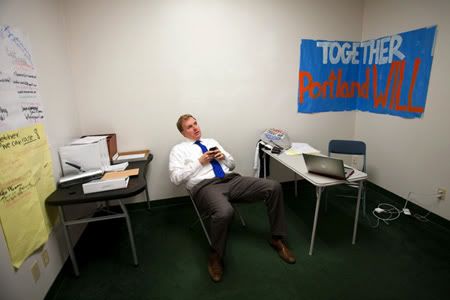 Tribune Photo: Christopher Onstott • Jefferson Smith sits in a back office of his temporary campaign headquarters, a sparsely decorated walk-up at Southeast Oak Street. Best known for his charisma, the East Portland lawmaker arguably has the most to lose in the mayor's race, since he'd lose his legislative seat if unsuccessful.
'He gets it'
Last weekend, Smith's ego swelled when he was the darling of the biennial Oregon Democratic Straw Poll Party in Sunriver, an event held since 2005 during the Oregon Summit.
The only Portland mayoral candidate to attend, he was in his element among the 300 elected Democrats, activists, staffers and consultants in attendance - basically, a party for policy wonks.
Smith swept the straw poll with 135 votes, compared to 32 for New Seasons cofounder Eileen Brady and five for former City Commissioner Charlie Hales.
Naysayers might dismiss the victory since Smith's stepmother, Meredith Wood Smith, is chairwoman of the Democratic National Party, a seat Smith's father, R.P. Joe Smith, previously held.
But the straw poll is unaffiliated with the DPO and the results are not endorsed by the party. Smith's supporters see the straw poll as a show of grassroots, progressive strength in what amounts to a virtual Democratic primary.
That's got to rankle Brady and Hales, who are competing for the same grassroots support. Hales opens his official headquarters today, and Brady unveiled her plan to 'grow jobs and the local economy' Wednesday morning at the East Portland Community Center - not far from Smith's Hazelwood neighborhood home.
Since the trio shares many of the same progressive views, their character, experience and records become magnified in the race. With every speech - and there are many - Smith seems to be winning new votes.
'I think that he gets it,' says Leanne Murray, who heard him speak for the first time last week at the Governor Hotel. 'He's one of those people that understand the value of small business and he's truly been the champion for it.'
Murray is assistant director of the Oregon Microenterprise Network, which presented Smith with a 'Small Business Champion' award last Thursday. While the organization does not endorse political candidates, Murray admits the crowd was impressed with Smith's sincerity and commitment to policy change in the area.
Smith was recognized for his legislative work to establish a statewide 'economic gardening' council, which will connect entrepreneurs with resources needed to grow their businesses. The bill passed with bipartisan support and was signed into law in March.
While accepting the award, Smith put some of his favorite stump-speech stories on hold and went for his usual language play - and some self-deprecating humor.
'This is a small thing, in thanks for being a relatively big thing, that is for a smaller thing, that is about the bigger thing,' Smith said, playing on the organization's name.
He continued: 'This is hugely appreciated. In my eighth-grade year, I was runner-up of the KBPS citywide spelldown. That same year I was named best dancer of middle school. And I meddled that summer in sprints, in Portland summer track meets. That little bag (holding a gift bag they'd presented him a moment ago) beats all three combined.'
Never give him up
Born in Northeast Portland to J.P. Smith and Suzanne Peck, Smith's parents split shortly after he was born ('I blame myself,' he quips), and his mother moved to California to raise Smith and his older brother, Lincoln.
Smith moved in with his father in seventh grade, attending Beaumont Middle School and then Grant High School. His mother became ill with breast cancer and died during his senior year, devastating him.
While she was sick, he says, 'I wasn't as good a student, wasn't as kind a person. It was not a great time in my life.'
His mother was 'brilliant,' Smith says. 'She really cared about people. She was funny.'
The rest of Smith's rise - to Harvard Law School, starting at a New York City law firm only to be asked to represent Big Tobacco, moving back to Portland and starting the Bus Project in 2002 - has been well-vetted.
Still, seven months away from the May 2012 primary election, Smith is just getting started raising money, having gathered $62,000 since Sept. 16. Brady has raised nearly four times as much, $226,000, and Hales' pace has slowed, at $180,000.
As seen in the first round of questionnaires by the Portland Business Association - posted this week at valueofjobs.com - the candidates are competing heavily for the business lobby. The PBA board could endorse as early as November or as late as January.
There are lots of accomplishments Smith is proud of during his three years in the Legislature. Ironically, the one that's received the most attention is not anything to do with policy, but with his 'rickrolling' stunt, the social media phenomenon that - not to give too much away - has something to do with 1980s pop star Rick Astley.
Last session, Smith secretly approached a number of fellow lawmakers with lyrics from Astley's 'Never Gonna Give You Up.' He didn't ask just anyone - there were two rules: 'You've got to be cool, and you've got to be down.' In other words, they couldn't blab about it.
During a period of two weeks, they recited the lyrics within the context of their bills and Smith had them spliced together to produce a YouTube sensation, with 1.3 million views.
Smith, tongue firmly in cheek, calls it 'the greatest political prank of all time, unless you want to call the Tea Party a prank,' and waves off the criticism. 'We were all done with our bills; no time was wasted,' he says. 'It was a little silly, but that was the point.'
Those who appreciate the stunt say it's about the relationships Smith was able to build. The most notable is with state Rep. Bob Jenson, R-Pendleton, with whom he forged an unlikely partnership to work on the Umatilla Basin Aquifer Restoration Project.
The effort - which broke ground early this month - involved an innovative solution to irrigating the land, filling the dry basin and helping maintain the Umatilla River flow for fish, by pulling water from the Columbia River in the winter months.
From his home in Hermiston, Jenson told the Tribune: 'I think he probably would make a good manager for the city of Portland. He's basically young, well educated, very bright, very alert, and he has a deep commitment, I think, to working for the betterment of society, of people.'
Jenson's not alone. 'A lot of Republicans feel, I think, the same as I do - they respect his commitment, his ability to have insights into things, grasp problems quickly, and his willingness to take on the problems.'
Smith's other proudest legislative work includes Oregon's 'Cool Schools' initiative; the state's first human trafficking bill; championing the bill to put the whole state budget online; and to reduce middle management in state government.
Not everyone is smitten by Smith's charm - conservative critics have slammed him in recent weeks. Smith says he doesn't read the blogs but knows he has 'haters,' as he calls them. 'My guess is they have their motives,' he says.
He counts the Bus Project as the hardest thing he's done.
'If anyone wants to attack the bus, that's on them,' he says. 'If I died tomorrow and that was the most important thing I've done, I would not have died in vain.'
This email address is being protected from spambots. You need JavaScript enabled to view it.