FONT
SHARE THIS
MORE STORIES
---
Snitch City
City's complaint-driven policy brings power to (some of) the people
Michael Wright may be a convicted murderer and drug dealer, but one thing he's not is a rat.
---
Some might think that Wright, who owns the controversial downtown property at Northwest Burnside Street and Fourth Avenue, right next to the Chinatown Gate, has every right to file a series of complaints with the Portland Bureau of Development Services. He's certainly got the goods.
Last summer, Wright, for years a thorn in City Hall's side, decided to turn his empty lot on Burnside into a food cart pod. He put in a water line and electrical connections and signed leases with two cart owners. But the city said no, despite the fact that the food carts added neighborhood value to an eyesore of an empty lot, which until then had primarily served as a place where transients defecated.
Wright had to remove his nascent food cart pod because food carts are not allowed on gravel (Wright's lot is not paved). He could not pave the lot because that would technically be turning the site into a parking lot, and there is a moratorium on new parking lots in Portland's central city.
The city's Bureau of Development Services started issuing Wright fines that reached $1,200 a month. Wright evicted his food cart tenants.
End of story? Not quite.
Wright says he began to notice just how many food carts were parked on gravel all around the city - making them illegal under city code. He drove around the city writing a list that he says reached 35 food cart names and locations, intending to turn them all into the Bureau of Development Services.
But he hasn't done it.
It's not so much that turning in other illegal food cart sites would make him a rat or a snitch, Wright says. He figures the people it would hurt most are just food cart owners struggling to eke out a living. They're not the problem in Wright's eyes. The problem, he says, is the Bureau of Development Services and its complaint-driven system of dealing with code violations and other problems.
'They say they're complaint driven,' Wright says. 'I didn't know we lived in a world where you have laws only applied when you have a complaint. There's either a regulation or there's not. That's a lousy way to run a government. You make a rule, you enforce it.'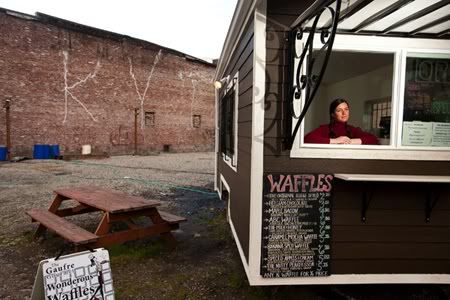 Tribune File Photo: Christopher Onstott • When Michael Wright decided to turn his vacant lot next to the Chinatown Gate on West Burnside Street into a food cart pod, somebody complained. The city imposed fines that forced Wright to abandoned the project. Charlene Wesler (above) was caught in the political crossfire and had to move her Gaufre Gourmet food cart off Wright's lot last summer.
The bureau, its officials say, is understaffed and overburdened. Property owners big and small who violate city code - be it by building an illegal parking lot or constructing a fence that inches onto their neighbor's yard - only get bureau attention if a formal (and always confidential) complaint is made.
City officials often are aware of code violations and do nothing for lack of complaints. For example, three weeks ago Wright leased his West Burnside property to Right 2 Dream Too, which set up a tent city for the homeless that bureau officials say probably violates city code. The day after those tents went up, two bureau officials paid a visit to Wright's property to start the process that likely will lead to the campsite being declared illegal.
But a week before, Occupy Portland campers had taken over two city parks just 12 blocks away from the Old Town site, violating the same city code that prohibits camping on public property. Yet the bureau did nothing to remove the Occupy Portland campers.
Asked on Monday, Oct. 10, why it had not acted in the case of Occupy Portland, bureau spokesman Russ Caron said, 'Nobody complained.' (Eventually someone complained about the two protester camps and the bureau sent a letter in mid-October about possible violations to Portland Parks and Recreation, which is reponsible for Chapman and Lownsdale squares).
Eyes on the street
Complaint-driven code enforcement has become the standard in many cities. In Seoul, South Korea, the city has become so reliant on citizens acting as its eyes and ears that it pays a bounty to people who turn in videotape evidence of lawbreakers. An entire cottage industry has developed in Seoul of people who make as much as $85,000 a year working full time as private snoops.
Nobody's earning a salary by filing complaints in Portland, but for years the city has had to deal with rumors that business people were using the system to increase their profits, from realtors looking to gentrify blocks on which they hold property, to food cart owners hoping to eliminate a little competition.
Count Michael Wright among those who believe a confidential complaint-driven system leaves the process open to manipulation. In a city where about one in four complaints never get investigated anyway due to short staffing, bureau officials have tremendous leeway and ready-made excuses for coming down hard or not coming down at all on lawbreakers.
Hoyt Street Properties, the primary developer of the Pearl District, for three years operated an un-permitted parking lot between Northwest Northrup and Overton Streets in the neighborhood without being fined so much as a dime, despite a 2008 complaint filed with the Bureau of Development Services.
Michael Wright, never a favorite at City Hall, gets fined $1,200 a month for putting two food carts on a deserted gravel lot, and Hoyt Street Properties paves its lot, puts in parking stripes, rents out space and for three years nothing happens.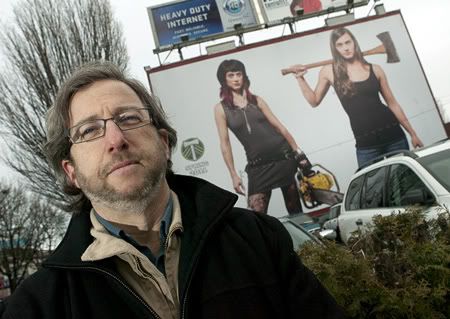 Tribune File Photo: Christopher Onstott • Jeff Joslin, former city land-use supervisor for the Bureau of Development Services, pointed out that a number of illegal signs had proliferated around the city last spring. But until formal complaints reached the bureau, nobody had taken a look.
Mike Liefeld, enforcement manager for the Bureau of Development Services, says the city's system takes politics out of enforcement, making it more, not less, fair.
'The complaint-based program equalizes and levels the playing field,' he says. 'It's based on complaints. It's not based on what we are seeing out there. We just respond to complaints.'
Last year the bureau received 8,353 complaints - and that's just one city agency. Many more complaints came to agencies ranging from the parks and recreation to transportation bureaus.
Two years ago, the Bureau of Development Services, with its enforcement staff trimmed from 37 to 20 people, began prioritizing and officially recognizing that it could never follow up on all complaints.
Without a complaint-drive system, Liefeld says, it would be worse.
'With all the codes we administer there are potentially thousands of code violations every day,' he says. 'If we weren't complaint-driven I wouldn't have close to enough resources to administer the codes. We look at complainants as partners. They are our eyes on the street.'
The absence of enforcement unless there are formal complaints is felt throughout the city. In August residents around Northeast Prescott Street and 31st Avenue noticed workers ripping up a sidewalk and right of way one morning, and soon discovered that a T-Mobile cell phone tower and transmission equipment was going up in their neighborhood.
A quick call to City Commissioner Dan Saltzman sent a crew out with a notice to stop the work. T-Mobile, it turns out, had begun putting the machinery in place on a permit that had expired three years ago.
But no city inspectors were going to stop them until work began and neighbors complained. If the installation had been completed before neighbors noticed, the complaints would have been too late, according to Steve Backer, who has been among those leading the fight against cell phone towers in residential neighborhoods.
'The tower would have gone up, and once they're up you're not taking them down,' says Backer.
Backer says his neighborhood was lucky with its last-second complaint, but he figures other neighborhoods aren't so fortunate.
'We pass these laws and yet no one is following them because no one in the city is being held accountable,' he says.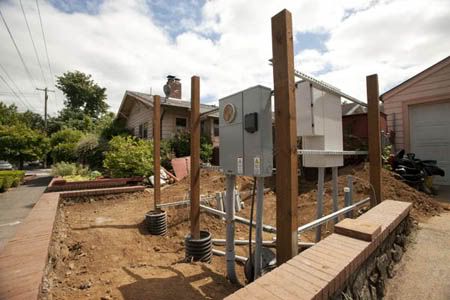 Tribune File Photo: Christopher Onstott • Construction of a T-Mobile wireless transmission structure on Northeast Prescott Street was halted in August even after crews had begun construction - the result of a last-minute complaint from neighbors.
Fueling feuds
Early this year, the sides of dozens of buildings downtown and fronting expressways were covered with new, oversized vinyl billboards. Many of those hard-to-miss advertisements violated a city ban on new billboards, but the Bureau of Development Services did not take up the matter until a complaint was made.
Leifeld says that one in four complaints never gets investigated. Wright is convinced that the complaint-driven system makes bureau staff more susceptible to political influence since they have to pick and choose which cases to investigate.
'Either you have regulations or you don't,' Wright says. 'Perhaps you shouldn't regulate something that you don't have the wherewithal to regulate.'
Even without political influence, in a complaint-driven system the people who know the rules and have the time to find violations end up wielding more power than those without the time or the understanding of city government.
Wright says he had no idea that a food cart could not be situated on gravel. He probably also doesn't know that his neighbor's lawn is in violation of city code when it grows higher than 10 inches. There are hundreds of code rules, and only a few people who have become familiar enough with them to really play the game.
Sauvie Island farmer Don Kruger says a government that relies on complaints to initiate enforcement can also degrade a community. Two years ago Kruger fought county land-use officials as he sought to host farm-to-table weddings on his property. A neighbor complained, Kruger hired attorneys and the county ruled that Kruger could no longer host weddings, which he says took a major bite out of his bottom line.
But what has Kruger steaming is that there are other farms on Sauvie Island that advertise and hold weddings.
'You know why they get to do it? Because nobody has complained,' Kruger says. 'It's a horrific way for this county and city to do business. It pits neighbor against neighbor. It has created a society where a complaint can turn your life upside down. All it takes is one person to complain to turn your life upside down.'
Kruger says he knows who complained to county officials about his events, and so do his neighbors. He calls the man 'a notorious complainer.'
'This guy complains about everything,' Kruger says. 'That's what he does. I think that the county and city need to really start to study a better way. The problem is they're creating feuds and hatred that lasts forever.'
This email address is being protected from spambots. You need JavaScript enabled to view it.
---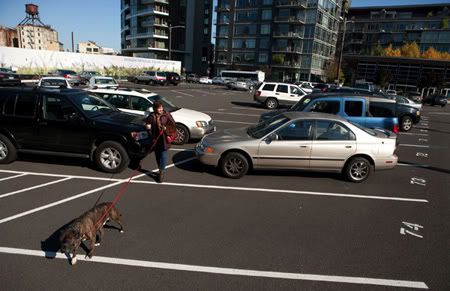 Tribune Photo: Christopher Onstott • This parking lot on Northwest 11th Avenue at Overton Street, has been paved and sells monthly parking permits despite a central city moratorium on new parking lots. For three years the city took no action. Now, the lot's owners are fined just a fraction of the income the lot generates. More complaints, say city officials, might up the ante.
• Illegal parking lot sees fines as business cost
Striped parking stalls, signs telling drivers they need a permit to park, a few dozen parked cars - the paved Pearl District property between Northwest 10th and 11th avenues and Northwest Northrup and Overton streets sure looks like a parking lot.
In fact, Hoyt Street Properties, developer of most of the nearby high-rise condo buildings, owns the land and started parking cars there almost three years ago.
In theory, the same parking lot moratorium that prevents prevents Michael Wright from paving his Old Town property applies to the Pearl District site, city officials say.
'It's an illegal parking lot,' says Mike Liefeld, enforcement manger for Portland's Bureau of Development Services.
City records show that in 2008, a formal complaint about the Pearl District lot was registered with the bureau. A city inspector even went to validate the complaint. And then, nothing was done for three years.
A new complaint was filed in January, 2011, according to Liefeld. An inspector went out in February and verified that the parking lot was indeed illegal.
Finally, in April, another complaint came in and the bureau began to take action. A letter was written, and Hoyt Street agreed to block the empty lot so it could no longer be used for parking. But that was never done.
Asked why no action was taken against Hoyt Street's illegal parking lot for three years, Leifeld says the case 'fell between the cracks.'
'I don't have a good explanation for this other than it didn't get followed up on,' Liefeld says. 'For some reason we didn't take timely action on that. There's no other reason other than we got buried.'
Three months ago the bureau began fining Hoyt Street, $641 for the first two months and $1,282 per month since.
Hoyt Street has paid its August and September fines, according to city records. But their parking lot in the Pearl contains 112 marked and numbered spaces for which rent is $100 a month. Those fines may simply be the cost of doing business for Hoyt Street.
In fact, that's exactly what they are. Tiffany Sweitzer, president of Hoyt Street Properties, acknowledges that her company has maintained the property as a parking lot for three years without a permit.
'We'll continue to pay the fines because that's how it works,' she says.
Mike Liefeld insists Hoyt Street has not gotten a break because it is one of the city's most influential development companies. He says he doesn't think it's OK for property owners to view paying fines as a cost of doing business.
As for what it would take for the bureau to decide the Hoyt Street parking lot deserves a code hearing and possibly larger fine, Liefeld comes back to the reality of Portland code enforcement - citizen complaints drive the system.
'If we're getting more complaints, that could help elevate this to a code hearing sooner rather than later,' Liefeld says.
- Peter Korn