FONT
SHARE THIS
MORE STORIES
---
Occupy Portland moves into next phase
Without camps, group stays focused on economic issues
Portland State University students walked out of class Wednesday afternoon and a protest at local banks is planned Thursday as the Occupy Portland movement began its next phase.
---
The group, which had set up camp for five weeks in two downtown parks, says it plans to 'evolve' and focus locally on economic justice issues while supporting a national movement that began in mid-September on Manhattan's Wall Street.
'The American Dream told us to, 'work hard, play by the rules, and go to college,' ' says Occupy PSU organizer Jacob Sherman. 'But the dream has become a nightmare because it no longer offers the prosperity that it once provided to some of our role models, neighbors or family. Instead, it now promises likely unemployment, tens of thousands of dollars in debt, feeding oneself with food stamps, and returning after graduation to live with our parents.'
Since the weekend's forced evictions from Chapman and Lownsdale squares, the movement has debated its next steps. Portland police arrested 51 people during the two-day confrontation that ended peacefully when nearly 1,000 people marched from streets around the two parks to Pioneer Courthouse Square.
Tribune Photos: Christopher Onstott • The Occupy Portland encampment at Chapman and Lownsdale squares attracted many homeless people (above), because organizers set it up to offer free food, medical care and shelter to anyone taking part in the protest. Almost all occupiers vacated by Sunday morning, giving police (below) an opportunity to peacefully clean up the camp sites without significant opposition.
During more than two hours of debate, protesters talked about moving the Occupy camp to PSU and setting up a location for future general assembly meetings for the group.
The meeting came after a couple of days of sometimes-tense standoffs between about 300 riot-geared police officers sent by Mayor Sam Adams to clear the two parks.
Adams said Nov. 10 that the Occupy Portland camps would have to leave the two parks by midnight Saturday or face eviction. Between 200 and 400 people had been camping in the parks since Occupy Portland hosted an Oct. 6 rally and march through downtown in support of the Occupy Wall Street movement.
So far, the movement has focused on issues such as income inequality and Wall Street's part in the 2007 economic collapse. In Portland, the two camps attracted homeless people and others with mental health issues. Police said crime around the camps increased, and nearby businesses complained that the camps were scaring customers away from downtown.
Early Sunday afternoon, city workers moved sections of chain link fencing around the parks as protesters crowded the streets nearby. Police formed lines to push them back and threatened to use chemical weapons if they did not move onto the sidewalks.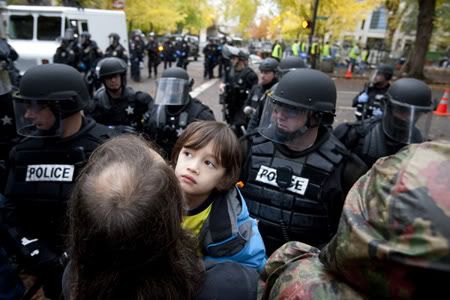 Tribune Photos: Christopher Onstott • Protester Nathan Jorg holds his son Asa, 5, while confronting police along with other occupiers holding a line across from the two downtown parks Sunday morning.
For several hours Sunday afternoon, about 1,000 people jammed into a one-block section of Southwest Main Street between Fourth and Fifth avenues next to the Portland Building. Police have announced several times that the crowd would have to move out of the street, but the protesters did not budge.
Police in riot gear were also stationed in front of the crowd on Fourth Avenue. Two lines of riot-geared police officers were preparing for action at about 3 p.m.
By 5 p.m., however, people packed onto Southwest Main Street moved out of the area, walking on streets and sidewalks to Pioneer Courthouse Square. A handful of protesters remained behind trying to block traffic. Police convinced them to move to the sidewalk without incident.
At one point, protesters produced a distinctive pink box of Voodoo Doughnuts and passed them around in the crowd. Several people offered doughnuts to the police officers in riot gear, who politely declined.
About an hour later, some protesters offered pizza to people in the crowd.
Tensions increased early Sunday morning, after police began moving protesters out of a park while Occupy organizers were discussing their next moves. The crowd around the parks increased after that and police tried to move them out of the streets.
'I've always said this would be a balance between free speech and keeping the city moving,' Adams said after an overnight tug-of-war between protesters and the police.