FONT
SHARE THIS
MORE STORIES
---
Crafty firms get grip on bike gifts
Local entrepreneurs ride into BikeCraft with handmade accessories
Amid the rain and wind, bike riders on the Hawthorne Boulevard fight the elements and slosh to their destinations - and they look good doing it.
---
That's because, despite the cold weather, Portland's bicycle accessory businesses and their consumers are more active than ever this holiday season.
Handmade accessories are in demand as gifts for anyone who participates in the city's ever-growing bicycle culture, as they are usually made of high-quality material and help put money into the local economy.
And, most importantly, the vintage, handmade-looks of the accessories are fashionable, too.
'People in Portland are especially aware of where things are made,' says Curtis Williams, who started bicycle backpack and pannier company North St. Bags two years ago. 'It's becoming an issue for people to seek out locally made products that are high quality and keep the money in Portland.'
Like most local bicycle accessory designers, Williams came up with the idea of making his own product after he couldn't find anything like it on the market. He sewed a high-strength nylon waterproof backpack that he could fit on his bike during long rides across the city. Soon, all of his friends wanted one like it, which led Williams to start his own business.
His colorful, handsewn creations can be seen hanging off bikes all around town. Retail price is $40 and up.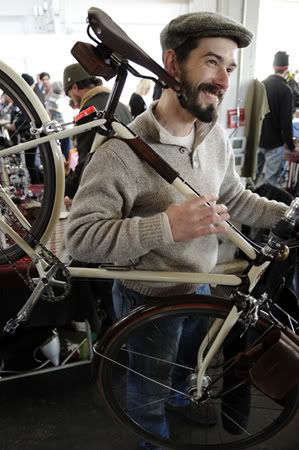 BikeCraft features one-of-a-kind designs from over 50 local craftsmen, including Geoff Franklin of Walnut Architecture and Design Studio (above), who makes custom bike parts;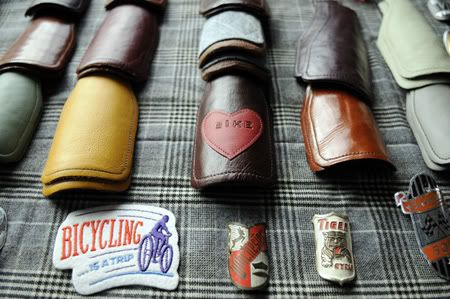 Gram Shipley's valve caps and custom leather mud flaps;
Paul Conte's bamboo water bottle cages;
and Saya Prigoff of Urban Legend Threads' eccentric bicycle hats.
Photos courtesy of BikePortland.org
'Want something useful'
North St. Bags is just one of the small bike accessory companies that popped up in Portland in the past five years. Each sells creatively designed products that reflect both the mindset of the creator and the city's biking community.
'Because the bicycle industry itself is growing, there is obviously a need for these types of products and innovation within them,' says Amos Hunter, who is bringing together local designers and artists for BikeCraft, a showcase of handmade bike accessories Dec. 3 and 4 at Sandbox Studio, 420 N.E. Ninth Ave. (free admission; info at bikecraftpdx.com). 'When somebody has a new and creative idea, and they have the local resources and economy around them to support that idea, then it makes it easier for people to start up these projects.'
Many products featured at BikeCraft are one-of-a-kind designs, never to be replicated. Gigi Lascurettes, for example, makes Helmuffs (retail $15-$20) - cozy patches of fabric designed to keep your ears covered on cold bike rides - that each have a unique design, like a carefully stitched flower, or a mean-looking skull and cross bones. All of the material she uses is recyclable, as it's taken from old wool sweaters.
'Here in the Northwest, there is so much cycling individuality,' says Lascurettes, who was a database consultant before she started selling Helmuffs as her main source of income. 'People don't want to look like bike racers; they're using their bike as a way of life, so they want something useful.'
Other vendors, such as Rebicylist, which sells belts made from old bike tires ($30), or Double Darn Clothing, which crafts handsome, custom-fitted cycling caps ($30-$36), are often gifts for bikers who want to dress well while also demonstrating their commitment to the two-wheel lifestyle.
Of course, there are also the accessories that make the bike itself look good, not just the rider. Geoff Franklin, who owns Walnut Architecture and Design Studio, makes fine-grained leather parts for bicycles - from handlebar grips ($45) to beer holder straps ($52).
Courtesy of BikePortland.org • BikeCraft is a good place for Portlanders to find the perfect gifts for their friends and relatives who are bicycle enthusiasts.
Part of the community
Like Lascurettes and many other local bike accessory vendors, Franklin turned his hobby into a profession after his other career - in this case, architecture - was derailed for a bit because of the poor economy. Franklin says he's unsure yet of whether there are economic benefits to his new business, but because he's doing something he loves, he says it's worthwhile.
'It's been a challenge, but it's been a successful challenge,' Franklin says. 'It's been taxing; it's taken all my energy, but I would do it all again.'
Franklin's handmade leather handlebar grips are throwback replicas of those used on bikes of the 1960s, and are an effective way to improve both a bike's appearance and grip. OffBeat Seat, which makes crocheted, multicolored seat covers ($18-$23), and Light Fun Reflectors, a local company that sells retro-reflective stickers in elaborate shapes ($4.95), also are great places to go for bike necessities that have some flair.
Buying local bike accessories is not just about improving the look or even the comfort of bikes, though. Portland is one of the most bicycle-friendly cities in the world; its bicycle network has grown from 60 to 260 miles since the early '90s. As a result, biking has become a way of life for thousands of Portlanders. Handmade accessories add even more enthusiasm to the culture.
'When better and new bicycle businesses pop up,' Hunter says, 'people become more interested in cycling because they see it as an important part of their community and economy.'