FONT
SHARE THIS
MORE STORIES
---
A Hawks life is not lonely
Details

Jason Vondersmith
Two young Swiss players adjust to oddities of life in the U.S.
It's a long way from the Swiss Alps to Beaverton, but Nino Niederreiter feels right at home.
---
A year after moving from Switzerland to play hockey for the Portland Winterhawks, the star forward and National Hockey League prospect has adjusted well to the fast pace of the big city, language, school, food, girls and everything associated with being an 18-year-old in the United States.
'The first year being away from the family was tough,' Niederreiter says. 'This year, it's a little easier.'
His parents visit him, and the power of the Internet helps him keep in touch with family and friends thousands of miles away in his hometown of Chur - 'With Skype, it's easy,' he adds.
And, Niederreiter hasn't been lonely, thanks to the Winterhawks luring one of his countryman to join the team this year. Sven Bartschi, also 18, a childhood acquaintance of his, has been adjusting to life in the U.S as well. It helps both, for the company and camaraderie.
'(Nino) said good things about me, and it was an easy choice to come to Portland,' says Bartschi, who hails from Langenthal in the interior of Switzerland. 'It was great for me, Nino being here.
'It's not a lot that I miss (about home), but I miss my family, my brother (Kevin). We always did things together.'
In the junior-level Western Hockey League, each team can include two European players, taken in the Import Draft. The Winterhawks have featured some outstanding foreign players in their history - Richard Zednik and Marian Hossa the most notable - but the organization had troubles recruiting them prior to the ownership of Bill Gallacher taking over almost three years ago. The Swiss players came to North America for more exposure, to prepare to be NHL players, and it has worked, so far.
'I think they have adjusted well,' general manager/coach Mike Johnston says. 'They take English in school (in Switzerland), whereas the Czechs, Slovaks and Russians have a tougher time with the language barrier.
'These guys got here, and we got them a tutor and within two months, that's all they needed. It's amazing. They haven't shown any homesickness.'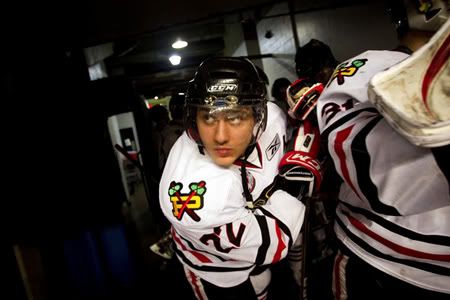 TRIBUNE PHOTO: CHRISTOPHER ONSTOTT • Nino Niederreiter, a second-year player from Switzerland, has found great success with the Portland Winterhawks. He was drafted in the first round of the 2010 NHL draft.
Cheese, watches, banks
Niederreiter, the No. 5 draft pick of the New York Islanders in 2010, made his NHL debut this season before being returned to juniors. The Winterhawks expect Bartschi to be a first-round NHL pick this year.
'When you get (European) guys like that, it certainly helps you,' Johnston adds.
The vast majority of WHL players are from Canada, with a smattering of U.S. and European players. It can make for some interesting relationships and communication. When Niederreiter and Bartschi break into their Swiss-German native language in the locker room, fellow players quickly razz them.
Although Swiss schools offer English, neither Niederreiter nor Bartschi took the courses. So, each had to learn English on the fly. Each struggled initially, but like Johnston says, they quickly learned how to communicate clearly.
The funny thing is some expressions are common throughout the hockey world. As players go on the ice before games, they'll say, 'Let's (expletive) Go, Boys!' It's uncanny how universal it is. Niederreiter says they say the same thing back home, in English, as the Swiss-German version 'doesn't make any sense,' with Bartschi adding, 'It doesn't get you pumped up.'
Some things are just better at home, though. Niederreiter's Chur is a city of about 40,000, whereas Bartschi's Langenthal is a town of about 10,000. In both places, walking and bicycle riding are essential forms of transportation for young men, especially with the driving age being 18, and they can reach the hockey rinks or hangouts in minutes.
The little country in the middle of Europe is known for many things - the Alps, chocolate, watches, bank accounts, being rich and neutral, and featuring the beautiful cities of Zurich and Geneva, the latter the home of the human-rights Geneva Convention.
Niederreiter says the chocolate he enjoys in the U.S. and Canada just doesn't rate with the fine Swiss chocolates of his youth.
'I definitely miss the Swiss chocolate,' he says. '(Here), it's not the same touch.'
The two Swiss guys have their opinions on some of their home country's noteworthy subjects:
Being neutral: 'It's good to be neutral, that way you don't have problems with other countries,' Niederreiter says; Bartschi adds, 'that's more politics, and I don't care.'
Swiss cheese: You put it on your Subway? 'Always,' Bartschi says; Niederreter adds, 'I go with cheddar.'
Bank accounts: 'Yeah, I got one,' Bartschi says; adds Niederreiter, 'I have one here and in Switzerland … you say you're from Switzerland and (people) see dollars signs in your eyes, or they think you're rich people. It's a rich country, but that doesn't mean everybody's rich.'
Watches: 'I got four of them, they're special and look very nice,' Bartschi says, while Niederreiter, after signing an NHL contract, can afford something more like a Rolex, but he doesn't put much worth in watches - 'I'll check on my phone to see what time it is.'
Niederreiter's hometown of Chur has two McDonald's, but he hasn't seen a Burger King or Subway and, 'I'm not sure about Starbucks,' he adds. 'It's not that popular in Switzerland.'
Makin' it easy
Barbara Rankin, the billet for Bartschi, has housed several other Europeans in past years. Bartschi likes carbs, she says.
Says Niederreiter: 'I like steakhouses.'
Niederreiter says what people might not know about Switzerland is that it's 'way too businesslike, in everything. It's so strict over there, with school - it's way easier here than back home. Even now for the easy jobs over there, you almost have to go to university, it's getting tougher and tougher, you gotta expect more and more from the youth.'
Living in the U.S. has been an adjustment, but a fun one.
Bartschi says that he attended about 10 movies, total, growing up. Since his arrival here, he has seen about 50. He arrived in Portland on Aug. 22 and 'I went to a movie.'
Niederreiter recently purchased his own bowling shoes. People in Switzerland bowl, but it's expensive. 'My high is 188, I had a good run,' he says, of his bowling prowess.
Then you have the the omnipresent girls who gravitate toward hockey players. Having spent the past year and a half in the U.S., Niederreiter is impressed.
'I actually don't mind the American girls, I gotta say that,' he muses. 'I've figured out that ladies are almost everywhere.'
As far as sports, the Swiss like their hockey and winter sports and, of course, soccer. The NBA? The NFL? Unless you're an athlete, they don't register on the Swiss radar, Bartschi says.
Niederreiter's father visited him here last year, and remarked that, whereas Swiss hockey fans sing for two hours during games, U.S. fans sit and eat and drink.
The Swiss Winterhawks had to adjust to taking long bus rides to Washington, British Columbia and Alberta - the mode of transportation for junior hockey teams. Thank goodness for onboard Internet, Bartschi says. Niederreiter has enjoyed the luxuries of playing for an NHL team, if only briefly, and he won't miss the bus rides when he eventually stays in big-time hockey.
Niederreiter loved his time in New York with the Islanders. Bartschi recently played in a prospects game in Toronto - nice city, he says, but really big.
They are more than comfortable learning the ways of North American hockey in Portland.
'It feels like everybody is so friendly here,' Bartschi says. 'Everybody wants to make it easy for you.'