FONT
SHARE THIS
MORE STORIES
---
It's all about 'Avatar'
Details

JASON VONDERSMITH
Portland native Moore plays key role in James Cameron epic, and relishes in Oscars fanfare
Joel David Moore will be in attendance at the Academy Awards on Sunday in Los Angeles when a little feature film called 'Avatar' will surely be highlighted early and often.
---
For Moore, a Portland native, being part of an epic film that has made nearly $2 billion worldwide, earned nine Academy Awards nominations and set industry standards for creativity and technology has been an extraordinary experience.
'It's been such a crazy ride, the entire experience,' he says. 'Just from spending 2 1/2 years shooting something … usually you spend two or three months. It was a long commitment, and you know you're going on a ride with (director) James Cameron and it's going to be special and epic.
'You don't know how an audience is going to receive something; I had seen a lot of (the film) up until the London premiere, but until I saw it together I really didn't know. Expectations were through the roof. We knew we were on the forefront of technology and creativity and making a movie that was taking a lot of chances. There is always a risk, but it tends to pay off with that guy (Cameron). It was fantastic.'
Moore played 'Norm Spellman,' an anthropologist and one of three humans-turned-'avatars' who encounter the world of the Na'vi on the planet Pandora in the year 2154. The aggressive, greedy human explorers and the peaceful Na'vi reach conflict, with the avatars caught in the middle. The movie stars Sam Worthington as the disabled veteran 'Jake Sully,' an avatar who falls in love with a Na'vi woman, played by Zoe Saldana, and the people's aboriginal way.
COURTESY OF 20TH CENTURY FOX • 'Avatar' earned nine Oscar nominations at this Sunday's Academy Awards.
There were many poignant moments in the movie, Moore, says, but three stand out (spoiler alert):
• When Sam's and Zoe's characters are engaged in a seven-minute scene, flying their tamed dragon-birds. 'It's one of the most beautiful scenes in cinema history,' Moore says. 'Not a word said, just flying. I think every single person forgets they are computer generated characters. It's a beautiful moment.'
• The exobiologist/avatar 'Dr. Grace Augustine,' played by Sigourney Weaver, dies even with the Na'vi people fighting for her life at the 'Tree of Souls.' Says Moore: 'While shooting, it felt like a big moment, but I was just doing my part … I'm glad that moment stands out. Very touching.'
• And, when the humans and their war machinery lay waste to the Na'vi's tree home, it drew Moore to tears watching the part on screen. 'It is emotionally staggering, one of the most important scenes for storytelling and captivating your audience,' he says. 'So many reflections of scenes from our lives, like 9/11 and natural disasters, you can draw upon your own imaginations. It helps us understand the issue of the powerful majority taking advantage of the weak minority.'
In the end, Moore's avatar dies, but his human form lives on for … a sequel? A trilogy?
Moore has been quoted he has signed on for a sequel, which he amends by saying he and others have agreed with Cameron on a movie in the future.
'We have to tie up loose ends; there is no 'Avatar' sequel at this point, but we have gone down that road,' Moore says. ' I'd like for there to be one. Jim is going to ultimately be the authority, the one to write the next movie.
'It could be a movie about ponies in a maze,' he jokes. 'Whatever it's about, if and when he needs me I'll be there.'
Before 'Avatar' consumed most of the past 2 1/2 years of Moore's life, he spent much time in his hometown co-directing and co-writing 'Spiral,' which won an independent award at the Santa Barbara Film Festival and enjoyed good theatrical and DVD releases.
Working with Cameron on 'Avatar' was an enriching experience, because he and the director often chatted about the making of the movie.
'You grow up watching his movies, and he has made such a mark on history,' Moore says. 'It was not only a blessing, but incredible. When shooting the movie, he took me under his wing, he was very helpful in showing and teaching me, allowing me to learn and sponge off the entire process. It was like being in a graduate program. He was a whirlwind of information at all levels - arguably the smartest person I've ever met.'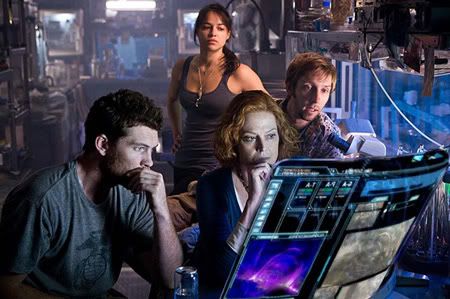 COURTESY OF 20TH CENTURY FOX • Along with a star-studded cast, including (from left) Sam Worthington, Michelle Rodriguez and Sigourney Weaver, Moore (right) played one of three humans-turned-"avatars" who encounter the world of the Na'vi in the year 2154.
Indeed, Moore would like to do more writing and directing, but not at the expense of his acting.
He has signed on to play a character in the NBC pilot 'Nathan vs. Nurture,' starring Bill Pullman and Jay Harrington, and made by James Burrows, whose comedic credits include 'Cheers,' 'Two and a Half Men' and 'Will and Grace.' Says Moore: 'I consider myself lucky to work with people (like Cameron and Burrows) who have a clear understanding of how to make a successful piece of work.'
Moore still considers himself a Portlander at heart. It wasn't too long ago that Moore, 32, attended Benson High School and Mt. Hood Community College, and then finished his college work at Southern Oregon University. He took part in the Ashland Shakespeare Festival for two years, and then moved to Los Angeles. His then-agent, Rachelle Ryan, had moved to Hollywood before him and Moore credits her with getting him started in the business. A few years in, he landed his first movie role in 'Dodgeball: A True Underdog Story' (2004), working under Ben Stiller and Vince Vaughn. 'It was nerve-wracking,' he says. 'I was so new and green.'
Comedy came easy, he says.
'I grew up on the streets around Mt. Tabor, and I thought I wanted to be a clown,' he says. 'I was beat up by my neighbors a lot, and the way to not get beat up was to make them laugh. … I would be goofy in church plays. At Benson, at the time they didn't have a theater program, I was a part of KBPS radio, and I was able to train my voice. I did goofy cartoon voices. It helped me figure out what I wanted to do, and one thing led to another.'
He has enjoyed several television and movie roles, highlighted, obviously, with 'Avatar,' which won Best Motion Picture (Drama) and Best Director for Cameron in the Golden Globe Awards. Moore expects tough competition for 'Avatar' from the likes of 'The Hurt Locker' and 'Inglourious Basterds' at the Academy Awards.
Sunday, Moore will be walking the red carpet for the Academy Awards for the first time. 'I'll be pretty for it,' he jokes, of his appearance. 'I've done 15 features, and you have premieres for a lot of them, a lot of red carpet events. The first three or four times it's cool, about the fifth time it gets to be a little draining. You answer the same questions, look pretty and be funny. I'm a tall, goofy white guy, I'm not trying to put anybody on.'