FONT
SHARE THIS
MORE STORIES
---
Art for the longhaul soul
Details

JASON VONDERSMITH
Former trucker-turned-artist finds healing in inspired ceramic creations
Victoria Shaw could be considered your typical artist. She wears a beret, works countless hours on her ceramics, takes inspiration from the spiritual world, spreads the love by teaching young people, and puts such care into pieces - it's not surprising that some sell for more than $4,000.
---
'People ask me, 'How long does it take you to make this?' ' she says, standing amidst some of her work at the Stark Street Studios and Gallery. 'I say, 'Oh, about 35 years.' '
She laughs about the pat answer. 'It took me that long to get to the point where I am now.'
Then again, how many artists have been a religious postulant and a truck driver?
Shaw has all the vocations covered in her life - religion, blue collar, educator, artist. Actually, she spent only nine months in the convent, studying at Sisters of the Holy Names of Jesus and Mary at Marylhurst College (now university), fresh out of high school in 1964-65. Shaw could see herself being a nun and teaching at a high school or college, until one day she simply decided not to pursue the nunnery any longer - it took seven years at Holy Names to become a nun.
'I tell people I was reborn into the world,' she says, smiling.
'At first, I didn't think they would take me because I was from a broken home. That was the 1960s, and not a lot of Catholics were divorced in the '60s. … I did enjoy it, but after I'd been there awhile, it hit me. I prayed about it and decided to leave. A year after that point, I thought I had made the wrong decision. Everything seemed so noisy out in the world. But my mother told me they were going to ask me to leave, anyway. I had lost so much weight, I'd gone from 135 pounds to 119 pounds. And (nuns) took that as a sign from God that you shouldn't be there.'
© 2009 VICTORIA SHAW • Shaw's ceramic specialties include totems and "stone healers," and her pieces are often adorned with spiritual carvings and braille (above). The braille on this piece, entitled 'Totem in Honor of the Ghost Dance,' is an old Native American poem.
Shaw, who said doctors diagnosed her as borderline anemic, finished her sociology degree and minors in art, English literature and philosophy at Marylhurst and then went about continuing an eclectic lifestyle. From 1973 to 1980, she drove trucks for Starflower, a natural food wholesaler in Eugene, where she lived through her childhood and early adult life.
At the time, Shaw had long, straight hair and loved to pilot her Kenworth, with 26- or 42-foot trailers attached.
'There was hardly any women doing it then,' she says. 'But (Starflower) was mainly a women's company, only one or two men worked there. I was taught by a woman how to drive.
'It was great, had a lot of fun. (The rig) was actually easy to drive; I liked the 26-foot trailer, you could really whip it around. … My favorite run was to Redding (Calif.), then over to the coast and Arcata and up the California and Oregon coast. I also liked the Bend and Boise run.'
She loved the solitude of the road.
'I liked going on long distances,' she says. 'You don't have to think about anything at home, you're in the now. But there are a lot of bad drivers out there. It kind of wrecked me as a driver because I'm impatient with bad drivers.'
Stone healers
Shaw's journey with ceramics started in the early 1970s - 'I just fell in love with clay,' she says - and Shaw completed her bachelor of fine arts and master's degree in ceramics at the University of Oregon.
She has lived in Portland since 1988, working on her crafts and teaching at Portland Community College, Multnomah Arts Center and Glen and Viola Walters Cultural Center in Hillsboro. She was president of the Oregon Potters Association in 2009, and still serves on the board.
Shaw's specialties are totems, 'spirit houses' and 'stone healers,' and each are often adorned with spiritual carvings and sometimes braille.
Totems are built with several ceramic pieces, linked by a copper pole. She makes them as big as six feet, selling for $4,400. She has a triple totem installed in a hotel at Park City, Utah.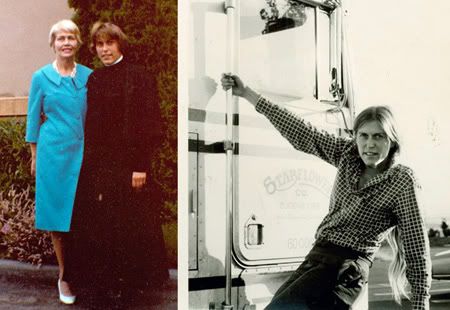 COURTESY OF VICTORIA SHAW • Shaw has all the vocations covered in her life - religion, blue collar, educator, artist - including spending nine months in 1964 at a convent and driving trucks from 1973 to 1980.
'She's sort of seen as an independent innovator,' says Natalie Warrens, a friend and fellow potter at Stark Street. 'She didn't necessarily invent the totems with the pipe, but in this region she's one of the first people to do that.'
Spirit houses are inspired by Japanese lanterns and 'I think of the candle burning in honor of our ancestors,' says Shaw, who's part Mohawk.
Stone healers are built by coils, or molded circularly rather than formed on the wheel. They have five pieces of stone inside, four for each direction (north, south, east and west) and one for the center - 'when you hear them rattle, it's to remind you to take care of the Earth,' Shaw says.
And, carvings include commemoration of endangered species or plant life and other spiritual messages 'in honor of the Earth.'
'Her stone healers are what she's been doing the longest, and are the most successful with people,' Warrens adds.
Shaw, 65, grew up Catholic, and still believes in the religion, although 'it's not quite as liberal as I'd like it to be, and I think a child is born with original grace rather than original sin.'
She admits to an eclectic spiritual life that includes honoring Christ and Buddha. 'I love hiking, and I'm more into meditation and prayer,' adds Shaw, whose partner is a nurse.
Any more creative endeavors on the horizon?
'I want to do more woodcarving,' she says. 'I also want to try welding.'
Shaw's work can be seen at www.vshawsculpture.com. She and other artists will be involved in the Ceramic Showcase, April 30-May 2 at Oregon Convention Center, 777 N.E. Martln Luther King Jr. Blvd. It's free admission; info at www.ceramicshowcase .com. In conjunction, the Gathering of the Guilds features artists from several different forms - beading, handweaving, woodworking, glass, creative metals, etc.