FONT
SHARE THIS
MORE STORIES
---
LARGER THAN LIFE
Details

Stephen Alexander
Portland's First Lady overcomes a 'Crazy Enough' story with amazing grace
On a cold January night in 2009, Storm Large proved just how powerful music can be. Large was at a rally for embattled Mayor Sam Adams, who had recently become media fodder because of his relationship with Beau Breedlove. Large says she saw a man holding a derogatory sign about the openly gay mayor and, in front of hundreds of people, the woman Adams had already declared 'The First Lady of Portland' knelt down in front of the protester and sang a deep and soulful rendition of 'Amazing Grace.'
---
A grateful Adams says the gesture typified Portland's resident rock star.
'It really meant a lot to me that someone who, in a large part depends on public support, in a very difficult situation, a very controversial situation, would stand up for giving me an opportunity to prove myself,' Adams says. 'Heartwarming, touching … doesn't even begin to express my gratitude.'
Three months after the rally, Large opened her one-woman show 'Crazy Enough,' and the deeply personal act drew sellout crowds and rave reviews. Now, the statuesque Large plans to spread her wings.
Large has signed a book deal to write a memoir for Simon and Schuster Free Press. She will travel to Scotland and London to promote 'Crazy Enough' with 24 one-hour shows in 26 days in August. And, she has New York City in her sight, working with a director to take 'Crazy Enough' there in fall 2011 - perhaps a springboard to more shows in other East Coast cities.
It's her moment, Large's opportunity to make it big. So, she's very happy and sane, right? 'Sane is relative,' she says, smiling. 'But I am happy, yeah.'
'Crazy Enough' did leave Large, 40, admittedly 'tapped.' The severely anemic Large had adrenal failure and has been getting fed vitamins through an IV once a week since October. Because an eight-year relationship ended during 'Crazy Enough,' Large had to 'couch surf' among friends' houses.
If a rock star being 'homeless' leaves people shocked, the story of how Large became the 'First Lady of Portland' would take their breath away.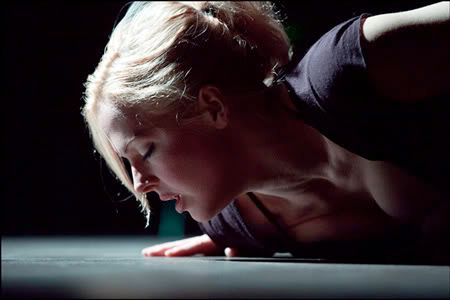 COURTESY OF OWEN CAREY • Storm Large relives a moment in the throes of heroin addiction in her autobiographical musical, 'Crazy Enough,' at Portland Center Stage in 2009.
'Someone to love me'
Large grew up in the small New England town of Southborough, Mass. Her mother was mentally ill, she says, and Large had to deal with her mother's many suicide attempts and subsequent stays at mental institutions.
Large's father, trying to cope, became an absentee parent.
'As I got older I would covet other people's mothers,' Large says. 'If I made a friend and I met their mother I would instantly start calling her 'Mom.' And I would get whatever 'momming' I could from them.'
Wondering whether she might be crazy herself, Large experimented with sex and drugs to find out. Large began smoking marijuana at 13, and became sexually active 'in a very, very casual, well-rehearsed way. Totally unsentimental.'
Large attended St. Mark's School - a prestigious private high school where her father was a teacher. Rich kids in the school would go to Boston or New York and bring back cocaine. Large began using the drug at 14.
At 16, Large would often leave home for Boston, where drug dealers gave her the hot new drug of the day - ecstasy. Large experimented, she says, so dealers could see what would happen.
After high school, Large attended the American Academy of Dramatic Arts in New York City. 'That was where I really started feeling powerful in terms of my singing voice,' Large says. 'There were seasoned musical theater people there who were like 'holy (expletive) your voice is remarkable, you should do musical theater.' '
Musicals like 'Les Miserables' and 'Phantom of the Opera' bored her, and she gravitated instead to bands - Guns 'N Roses, Iggy Pop, The Ramones. Watching bands in NYC clubs, she dreamed of being a lead singer.
'But I thought, you have to be hot to be in a band,' she says. 'And I wasn't hot.'
After graduating, Large moved to San Francisco, where she fell into heroin addiction, still reeling from her childhood.
'I loved drugs, but really all I wanted was to be loved,' Large says. 'I know that's not very rock 'n' roll to admit. But all I wanted was for someone to love me. That was my excuse for all the sex. Because for at least a minute, they acted like they loved me. And the drugs would just cover up my feelings and loneliness.'
It was a very dark time for Large. One night Large awakened after doing speedballs - speed and heroin - and had a panic attack. As she hallucinated and cried, her boyfriend screamed at her, calling her names. A voice inside her head said, 'If you were dead, you wouldn't feel this way.'
But Large vowed not to be like her mother. She says that quick thought was the first and last time she ever thought about suicide.
The last time Large did drugs with her boyfriend, he kicked her out of his house. Staying elsewhere, Large says she was raped. She realized she had to get clean.
'I suffered and died in my apartment,' she says. 'My withdrawal, though it was gruesome and it was just excruciating pain, and shame, was not nearly a fraction of what some addicts face. I was very lucky in my stupid choices.'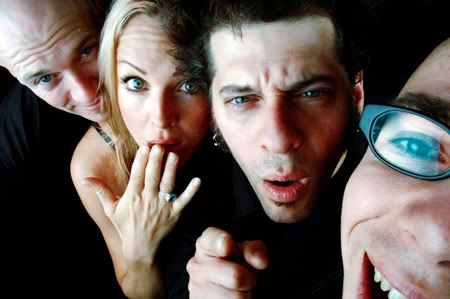 COURTESY OF LAURA DOMELA • Frank Faillace, owner of Dante's on West Burnside, convinced Storm Large and her band, The Balls (above), to begin performing lounge sets with cover tunes and some originals.
Music takes off
Clean, Storm Large - it's her real name - began her career in music, singing in the clubs of San Francisco while working other jobs.
'It's funny, a lot of people start their musical career and they get involved in drugs,' Large says. 'For me it was the reverse.'
Large's goal as a musician was very simple. She wanted the room to be filled with people who thought she was awesome and loved her.
'(Music) is my dope now,' Large says. 'That's why I do what I do. I was so lonely and so (expletive) up. I wanted to be a good person. I learned that if you sing a song it can move someone. And if you do it really well, they'll love you.'
Large moved from San Francisco to Portland with thoughts of going to the Culinary Institute. Dante's owner Frank Faillace, who had heard Large sing in San Francisco, convinced her and her band to begin performing lounge sets with cover tunes and some originals.
'Storm is a one-of-a-kind, dirty mouthed, singing comedian who can get away with saying anything,' Faillace says. 'She's funny, smart, beautiful and has the voice of an angel.'
In 2006, Large made her way onto the national stage when she competed on CBS' 'Rock Star: Supernova.' While Large did not win the contest, the show worked wonders for her in the publicity department.
Large performed 'Ladylike' on the show, and the song debuted at No. 5 on the Billboard Magazine hot singles chart, unheard of for an unsigned artist. 'That's the power of television,' Large says. 'It was like a three-month Storm Large commercial.'
The national exposure helped Large earn a role in Portland Center Stage's 'Cabaret.' She says: 'I was so scared I was going to suck. They knew I would bring people to the theater.'
Her 'Cabaret' experience was deemed a success and, meanwhile, Large began telling PCS director Chris Coleman about her life story, and Coleman devised the idea for 'Crazy Enough.'
The show at Gerding Theater was tremendously popular last year. Says Cynthia Furhman, PCS' marketing and communications director: 'Because it was such a huge hit, we kept extending it and extending it and extending it. We've never had a show have that kind of length of run.'
'Crazy Enough' brought together such a wide range of people, not just tattooed teenagers celebrating the tall, loud, obnoxious and 'sexpot' Large.
'It was one of the most impressive performances - on stage or screen - I have ever seen,' says City Commissioner Randy Leonard, like Adams, Large's good friend. 'She had the entire audience spellbound for the entire show.'
As Large prepares the show for Europe and New York, another of her politician friends, City Commissioner Nick Fish, hopes Large remains connected with Portland. 'I think of her as an ambassador for the arts here in Oregon,' he says. 'My only fear is that at some point she's going to outgrow Oregon.'
Shut up and sing
Large says the next five years will be about taking care of herself and her career.
She lives in Southeast Portland, where she has a big TV that she rarely turns on. She listens to music, reads, writes and has friends over for tea, and will sip wine or Maker's Mark whisky. Single, she would like to be married someday, although she questions the idea of the institution. Traveling interferes with relationships, and prevents her from having a pet - her ideal dog would be a Great Dane/pit bull mix.
For a rock star, she claims her life is 'so boring!'
If Storm ever becomes too 'Large' for Portland, the city will lose more than its first lady. Singing 'Amazing Grace' in support of Mayor Adams, she transcended the spectrum of emotions, moving through rock 'n' roll, politics, religion and bigotry.
She says: 'A lot of people think you should just shut up and sing - 'you're a musician, who gives a (expletive) what you think? Just wear a tight something and just shut up and look cute.' '
While the 6-foot-tall blonde with a perfect smile and piercing blue eyes may be able to look cute, shutting up is another story all together.