FONT
SHARE THIS
MORE STORIES
---
BUCKET BRIGADE
Details

Jason Vondersmith
Street drummer Thomas Brown turns his rhythms into a gig on 'Broadway'
Thomas Brown's clangs, rudiments and riffs fill the air around Southwest Fourth Avenue and Morrison Street, and people stop and admire him and some even start dancing to the beat of the bucket drumming.
---
'It came naturally for me,' says Brown, a 33-year-old Portland resident and longtime drummer who has been playing the buckets for about seven years. 'When I start to play, I don't even know what I'm going to play. Whatever comes into my brain at that moment.'
When Brown counts the dollars donated in his money bucket at the end of the day, he smiles. It's a pretty good gig.
You see, Brown, a married father of three, doesn't exactly fit the stereotype of street musician. He's not destitute. Early this week, he took his exams to be a licensed plumber through the Plumbers and Steamfitters Union Local 290. The spot at the northeast corner of the intersection is his venue for music that he loves. He's an opportunist.
Now Brown has parlayed bucket drumming into an appearance on Broadway - sort of. He won an audition for a part in 'Cirque Dreams Illumination,' a Fred Meyer Broadway Across America show at the Keller Auditorium, Thursday, May 27, through May 30.
He'll play buckets while Robert Muraine, of 'So You Think You Can Dance' fame, performs in Thursday night's show; organizers say that Brown will probably be featured on other nights as well.
The funny thing is another street performer convinced Brown to try out for the part. The guy who plays statues nearby at the entrance to Pioneer Place Mall - Wells Oviatt - told him about the audition.
Indeed, the statue guy does talk.
Brown was one of among 15 people to audition for the 'Cirque Dreams Illumination' part, and then he was invited to appear on the 105.1 The Buzz radio program on May 17. On the air, Brown was declared the winner.
'We were screaming, it was really cool,' says Rachel Harrison, one of Brown's four sisters who collectively perform themselves as The Brown Sisters. 'I was really proud of him.'
One never knows, maybe bucket drumming can take him further in music?
'I don't know,' says Brown, who was recently laid off from his union plumbing apprenticeship, which paid him $30 an hour at the end. If he becomes a licensed plumber, a career handling pipe wrenches and not just drumsticks could be in his future.
Higher pitch
Music has always been part of Brown's life. His mother, the late Charlene Brown, and grandmother, Mary Lawrence-Guthrie, played organ and piano together in church for about 30 years. His sisters - Rachel Harrison, JoAnna Williams, Leah Harrison (she and Rachel married brothers), Dorcas Smith - have been a well-known singing foursome in Portland for years. His brother, Simeon, plays the trumpet and piano, and he'll tie a stick to the one arm that doesn't have a hand to play the drums.
His father, Thomas R. Brown, dabbled in singing, but his influence came in another way.
'He blasted his music and records really loud growing up,' Rachel Harrison says, adding, jokingly, 'We constantly had music playing, and some people might have thought it was abuse and we'd go deaf. But it was great.'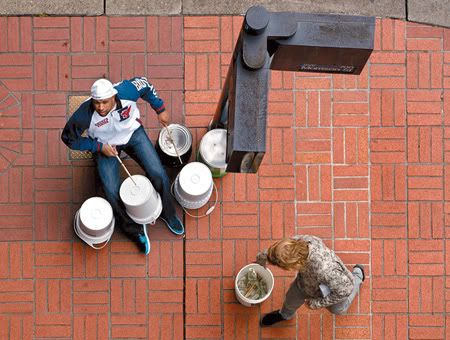 TRIBUNE PHOTO: L.E. BASKOW • All kinds of characters walk by Thomas Brown as he bangs on buckets at the corner of Southwest Fourth Avenue and Morrison Street. He says only a few have complained about the drum "noise."
Brown played drums, mostly in church and with his sisters, through the years. He attended Milwaukie and Columbia Christian high schools, graduating in 1995. From there, he attended 'several' colleges, the last being Western Baptist, and then served on a plumbing apprentice the past five years.
About seven years ago, he walked down the street, noticed a drummer playing buckets and thought, 'Hey, I could do that.' Occasionally he would park himself on the street corner, bang away and watch surprisingly as people donated money.
The past two years, Brown has been more active on the street with his assembly of plastic buckets, a beat-up metal bucket and the top of a metal pot mounted on another bucket for the cymbal, or clang, effect. He'll also rap away on a street pole for more clang - when the cops are not watching, of course.
Different sounds come from using the tips or shafts of the sticks and rims and bottom of the buckets.
'The buckets change (sound) when you play them,' he says. 'After a while, they'll bust, you gotta get new buckets.
'Not any two buckets sound the same. And, you can stack them on each other, and get a higher pitch sound.'
'Gift from God'
It's pretty cool to watch, although friends and family worried about his safety and the stigma of playing on the street.
'My friends used to laugh when I told them what Thomas was out doing,' his wife, Shawntel Brown, says. 'Once they hear the stories and opportunities that come about, they were envious.'
The Brown Sisters have opened for Maya Angelou, sung in 'Gospel Christmas' at Arlene Schnitzer Concert Hall, performed in Martin Luther King Jr. Holiday events and put out their own CD titled ''Tis So Sweet.'
Says Rachel Harrison: 'My friends and I used to make fun of him, that he has a (plumbing) job and 'What's he doing playing buckets on the streets?' Then we found out how much money he's making and we said, 'We need a side gig.' I'm jealous.'
Brown says, on a busy weekend downtown, he can make $1,000 for about 10 hours of bangin' buckets.
'It's definitely a blessing,' his wife says, 'being that we're unemployed.'
Life as a street musician can have its potential perils. Brown says no one has ever ran off with his money. No one has accosted him. Some people yell at him to stop all the noise.
'I pretty much ignore them,' he says. 'Why go back and forth with people like that?'
His family embraces Brown's street performing.
'I lived in Mexico for two months, and with so many street performers there …,' Rachel Harrison says. 'There are a lot of musicians who do it for a living. It's called 'getting your hustle on.' He's entertaining. Kids love it. Adults love it.'
Shawntel Brown sits at home with their sons Malik, 14, and Noori, 11, and daughter Omri, 2, and worries sometimes, but 'I pray … I know God will protect him.'
Says Brown, of his music: 'It's a gift from God, and I thank him for that gift.'